Tech
No Copy? No problem!
Many Copy.com users came to us when looking for a good alternative cloud storage solution. And we decided to make the transition easier for all of you (and us). Plus, we added a really sweet deal.
A few days ago, Copy announced the termination of their service in May, leaving many users facing the difficult task of finding another cloud storage solution and moving their files. And finding a good alternative to Copy isn't easy, we know, but we believe Koofr may be just the thing. While looking through our inbox filled with user requests, we decided there needs to be an easier way to migrate files. And we made it just for you, our current and future users.
Here is how it works. First, you need an account at Koofr (they are free).
Once you've got that covered, you will find a button saying Move from Copy on the right side of your dashboard (mind you, this is all only available through the web interface - switch from your mobile phone to a computer for a second).

The button then. You should click it.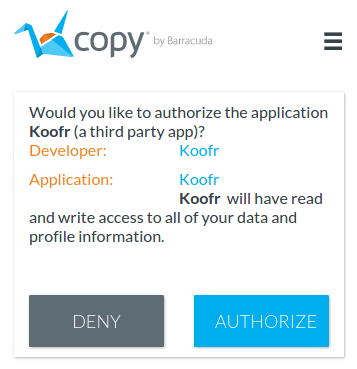 After you authorize Koofr to access your files on Copy, we will do some mathematics. Nothing hard, just a quick count of how much stuff you actually have there. Based on the result, you will be presented with one of two options:
If you have enough available storage space on Koofr, you can just go and start copying. Really, it's that simple. Just one more button click and we're off.

If you have more than your plan can handle, you will be able to choose one of our larger plans, and then proceed to the copying part.
You can always monitor the progress by simply clicking that same Move to Copy button. After the process finishes, you will find all your files neatly stored in a folder imaginatively named Copy.com.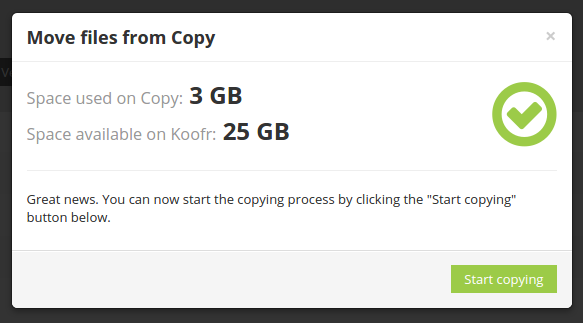 Since we know that breaking up is hard on everyone, we've made it a bit easier on you by means of a special, once in a lifetime discount for everyone that will move files from Copy to Koofr. And when we say discounts, we mean it. How does 70% sound like? But we weren't joking about the once only option either. After you go on with the file copy, there's really no way back to the discounted plans. Sorry, it's a take it or leave it deal (actually, it has something to do with the developers having to produce all of this really fast).
So what are these special plans you ask? We've selected the top three most popular choices and gave them a nice price sticker:

What are you waiting for? Grab your Koofr account and get your files to safety before it's too late.

Want to talk to us? Join us on the Koofr subreddit!