Online tracking and why Koofr doesn't do it
We live in a digital age, where data is extremely valuable. Online tracking and online privacy or lack thereof are important issues of our time. This post sums up the worrisome findings of an international study by Cliqz and Ghostery on online tracking and explains the Koofr view on privacy. Keep reading and see why we do not track our users and why we never will.
If you've already seen the results of an international study made by Cliqz and Ghostery called "Tracking the Trackers: Analyzing the global tracking landscape with GhostRank", which is summed up and available in full here, you know that more than ¾ of websites grab your data.
The study examined the risks data collection poses to users' privacy and the results are worrisome, to say the least. They indicate that at least one tracker is contained in 77.4% of the tested page loads analyzed in the study.
Why is that scary?
This statistic is scary because users mostly have no idea that they are being tracked. On the other hand, site operators are in a similar mess. They frequently have no idea about the tracking mechanisms on their own sites. But they definitely should.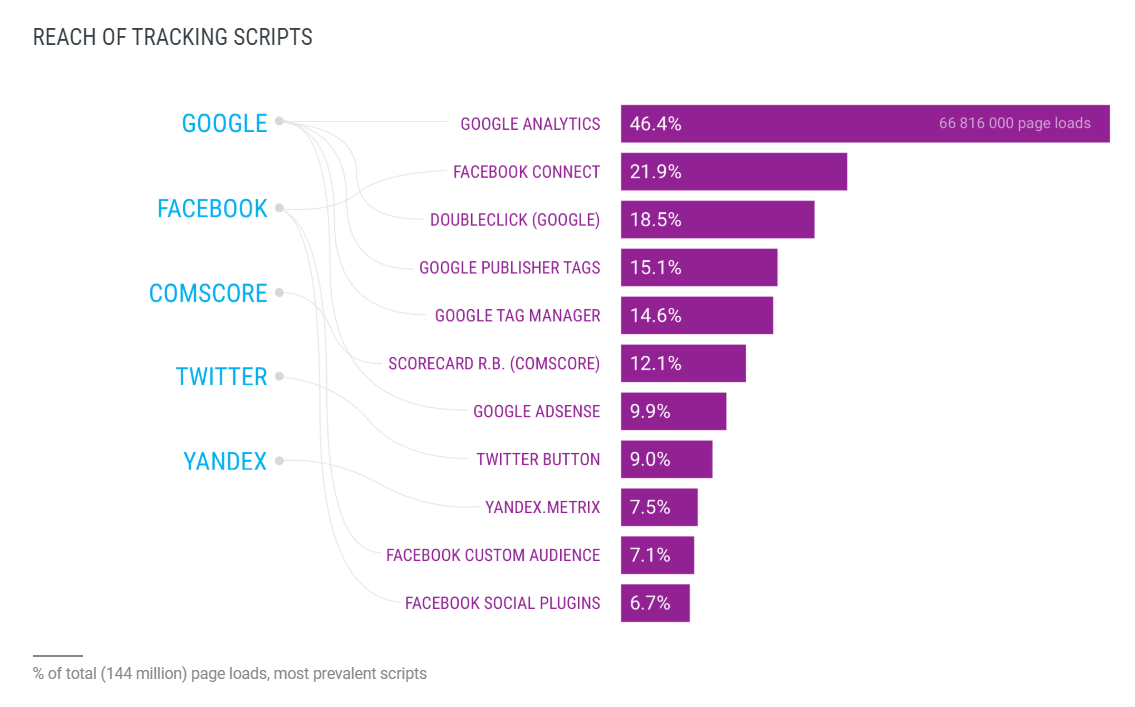 [Source: Tracking the Trackers: Analyzing the global tracking landscape with GhostRank]
In the picture above you can see the most widely used trackers online.
Who is the leader in online tracking?
The top five companies that track you online are Google, Facebook, Comscore, Twitter and Yandex. They basically track you everywhere you go (also anywhere you go around the world, as they have presence virtually everywhere, even though their reach differs across the regions).
They track you and profile you also when you are viewing content that you think is very much private, for example, your bank accounts.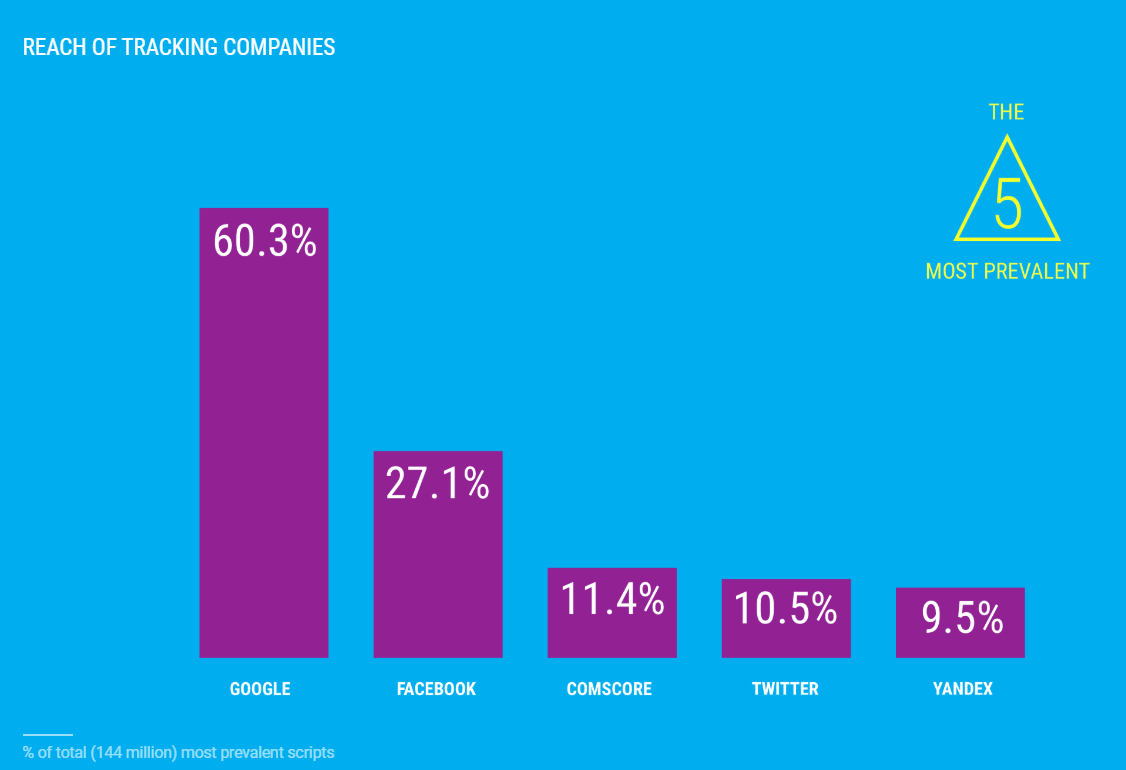 [Source: Tracking the Trackers: Analyzing the global tracking landscape with GhostRank]
A large proportion of internet traffic is heavily tracked, with 16.2% of page loads included in the study tracked with 10 trackers or more. This is, of course, more prevalent on popular websites.
But even sites with no third-party tracking that fall into the 22.6% of web traffic that is supposedly not tracked, can track their users with first-party tracking. Almost 50% of pages with "no tracking" come from only 25 web properties that drive large quantities of traffic.
You might be asking yourself how is that possible. We will explain. When you are browsing, Google combines its third-party tracking data (acquired through its analytics, advertising and social media) with its first-party services (search, maps, YouTube) and thus has a very accurate profile of who you are.
This way Google actually has access to over 60% of all web-browsing activity worldwide. Facebook and its services are approaching the reach of 30%.
Why is that unacceptable?
Aside from the obvious breach of privacy, tracking is unacceptable because this way trackers can access highly personal information about you – from your financial situation, sexual orientation, political views, medical information and religious belief. They can identify an individual user uniquely on the web.
It is an extreme breach of privacy for anyone to have this access and the knowledge that comes with it. And, as the study explains, 15% of the websites analyzed in the study happily share your private data with others.
How do trackers use this data?
It is not transparent how tracking companies use our private data and the answer to this question is effectively a mystery. We don't know which specific data is being collected and where or for how long it is stored. We don't know who has access to it.
How to keep your privacy?
If you want to keep even a shred of your online privacy, you have to take care of it yourself. There are a few ways that you can try to do that and we already wrote about them and about how websites track you in our blog post. Mostly, it comes down to you using services that you can trust.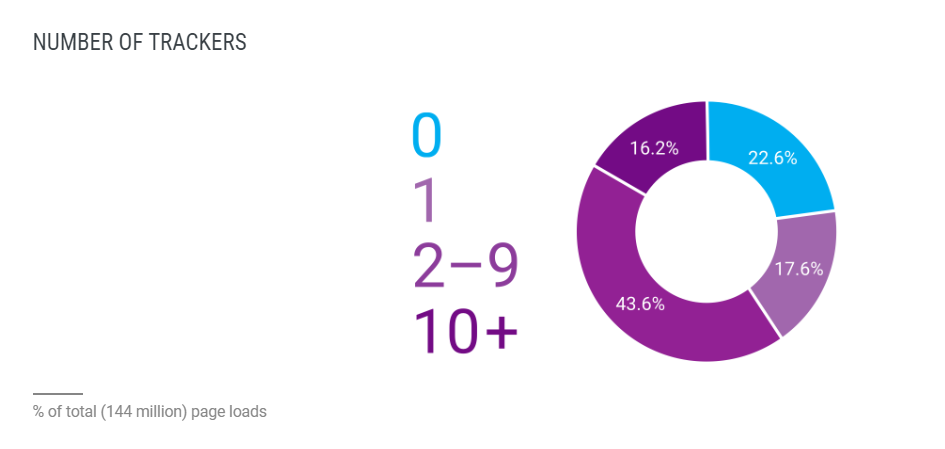 [Source: Tracking the Trackers: Analyzing the global tracking landscape with GhostRank]
As found by the study, there are only 22.6% of page loads that have zero trackers. We are happy and proud to say that Koofr is one of them.
Koofr's view on privacy
Add uBlock Origin, Ghostery or any other blocker extension to your browser, open our website and you'll note that the extensions don't find any trackers on our website. We are extremely proud of that fact because we want to be a service that respects the privacy of its users. We firmly believe that data tracking is not necessary, even though unwarranted data collection has become a norm for many sites on the web. The extent of online tracking is in fact enormous.

In the time that privacy is becoming a luxury, our goal is to hold as little personal data about our users as possible while being able to provide our service to you.
That is why we do not use any third-party tracking tools on our websites or in our services. We do not put any Cookies in your browser, with the exception of the one that keeps you logged into our application.
All communication between you and our service is encrypted from the moment you land on our landing page. Content of your files is kept encrypted on our secure servers. Privacy of your data and information is at the very core of our values and services. And with every new feature, we come up with, considering privacy and the amount of data we would need to collect from users is the first step in deciding whether we should develop it or not.
Read more in our Privacy Policy.
Source: Cliqz and Ghostery Study: Tracking the Trackers.
Want to talk to us? Join us on the Koofr subreddit!