Celebrating Koofr's 10th year of service with 10 GB of free cloud storage space!
Kicking off the last year of our first decade with a fresh new website, 10 GB of free storage space for all our users, and updated paid accounts.
Hooray - Koofr is 9 years old! It seems like just yesterday we were celebrating our 7th birthday, even if the past two years have felt like two decades at times. And what better way to mark the last year in a decade than with a facelift of our webpage?
To celebrate our last single-digit anniversary, we're also rolling out a series of new features and updates to our cloud storage service and apps.
Oh, and we're treating our users too - by scaling up our free accounts: We're giving 10 GB of free space to every Koofr user!
New website
The Koofr website has been given a fresh new look. The content has also been updated to better communicate our values and advantages. Check it out here >>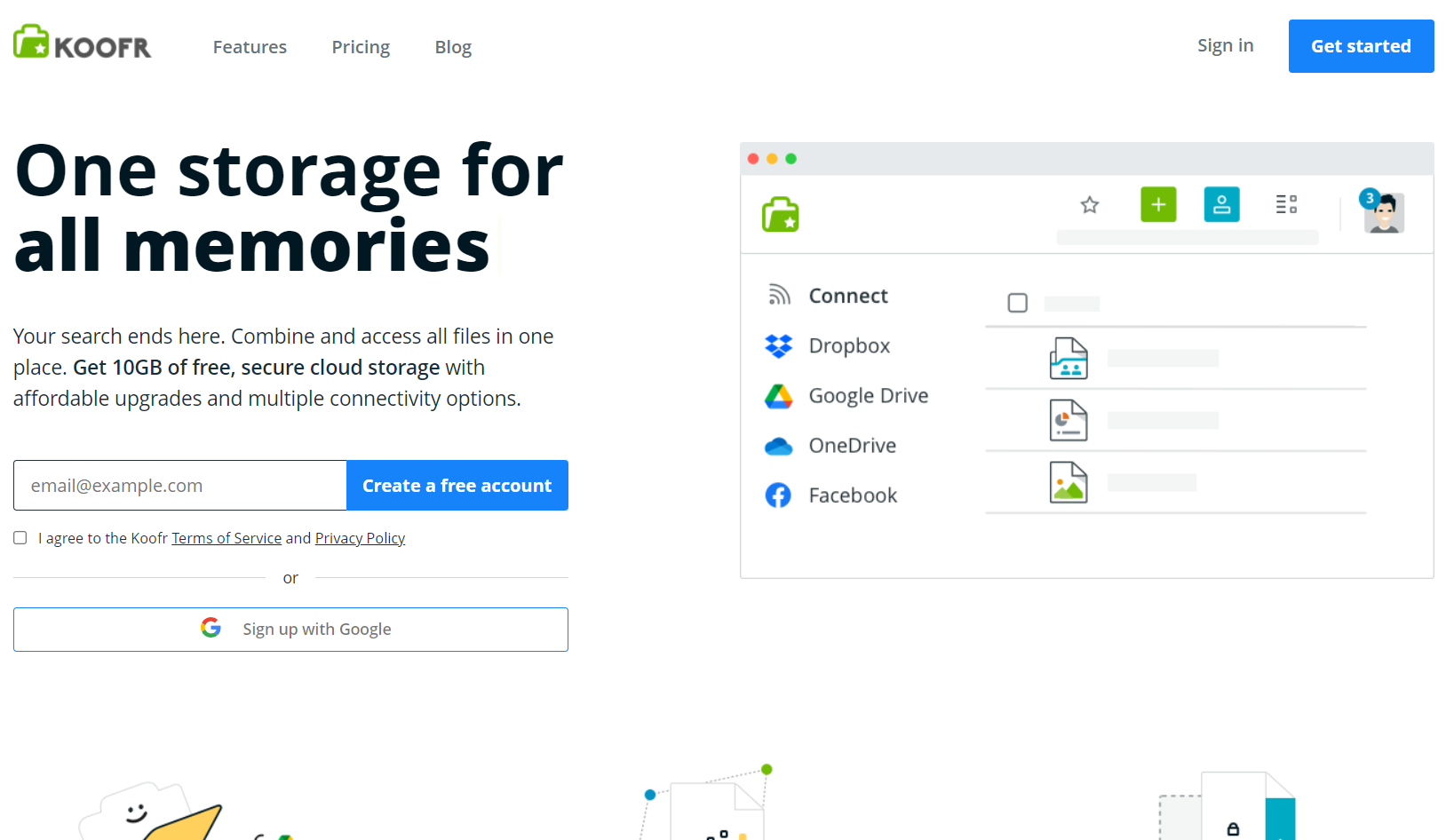 10 GB free storage space for all users
If you're already a Koofr user, you might have noticed that your account now has slightly more storage space. We've decided to give everyone 10 GB of free storage space. New accounts now come with 10 GB in total, up from the previous 2 GB free starter plan!
At the same time, we're discontinuing our friend referral reward scheme, where users could get 2 GB of additional storage space for each invited and registered friend for up to 4 friends in total. Up to 8 GB of additional free storage could be unlocked in this way. Maxing out your invitations would net you a sum of 10 GB of free storage space at Koofr.
And when we say it's 10 GB for everyone - it really is for all users, no matter what plan you're on! This means that users paying for the M plan, for example, will now be able to use a total of 35 GB of space: 25 GB as part of the paid plan + 10 GB free, on us.
Revamped paid accounts and tiers
Our paid account structure has been updated. While before, all paid accounts had access to the same premium features, we've now grouped the plans by size into three paid tiers:
Tier
Plans
Features
Free
Starter
-limited public and private sharing
- up to 2 external cloud connections
- file versioning
- two-way sync
- automatic mobile media backup
- enhanced security
- unlimited file size
- Save to Koofr extension
- Facebook media transfer tool
- 50 GB daily public sharing transfer limit


Briefcase
S, M
- unlimited public and private sharing
- up to 9 external cloud connections
- Microsoft Office for the web
- PDF management tool
- 200 GB daily public sharing transfer limit
-additional sharing options
- Space usage analysis tool
- Duplicate file finder
- image editor
- extented deleted files retention


Suitcase
L, XL, XXL
- up to 18 external cloud connections
- 1 TB daily public sharing transfer limit
- local places


Crate
XXXL, 10XXL, 20XXL
- up to 30 external cloud connections
- 4 TB daily public sharing transfer limit


Each tier includes all features listed under previous tiers; for example, Crate-tier plans include all listed features.
For more information and a comprehensive overview of the features included in each tier, please visit our Pricing page.
What does the future hold?
There is a whole bunch of new features and improvements in the works! As always, we're committed to creating the best possible user experience across the Koofr family of apps. Keep your eyes on our web app notifications or our social media channels to stay informed!
---
Want to talk to us? Join us on our Reddit community!