Tips
How to backup photos and videos from your iPhone
Regularly backing up photos from iPhone with Koofr is simple and hassle free. We've assembled a guide to get you started in no time.
We know that regularly backing up photos from iPhone through iTunes can be pretty difficult. That's why Koofr offers you a much simpler solution for automatically backing up your photos and videos through the application. Here is how it works:
(1) Download our Koofr for iOS app from the App store.
(2) Login or create a new account.
(3) Access the settings through the wheel icon on the home screen and look for the Auto upload section. To enable automatic backups you should enable the option named Backup photos and videos. You can also choose whether the transfers should only occur while you are on the Wi-Fi (default setting) or whenever your phone is connected to the mobile network by toggling the Enable cellular data option. Exit the settings menu by clicking Done.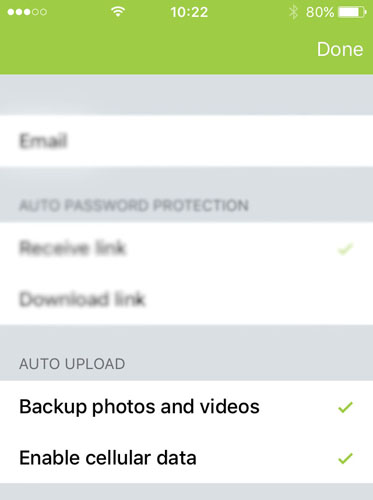 (4) Depending on the number of photos you have on your iPhone, the first upload may take a while to finish. The application will build a list of existing files (this can also take a while, so don't panic if the transfer doesn't start immediately after you click Done) and start to transfer them in the order of creation to your Koofr account. The progress is visible at the top, right under the folder name. You can continue using the application while transfers are happening.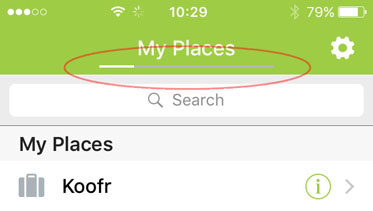 Important: Transfers will only happen while you have the Koofr iOS app open and on top (because iPhone doesn't allow background activities). So you don't have to worry about using up bandwidth or battery if the application isn't on the screen.
(5) I know you are now wondering, where do these files go? You can find them on Koofr in the folder named My iOS Media (this folder is automatically created for you when you enable the auto backup setting). For convenience, this folder will be directly accessible from the left side menu in the Koofr web application, so you have quick access to your favourite photos and videos.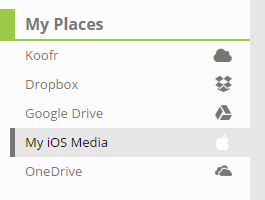 Some frequently asked questions:
If I delete a photo on my iPhone, will it also be deleted on Koofr?
No. This is a backup functionality, not a synchronisation. Once a photo has been uploaded to Koofr, you can safely delete it on the phone to free some space.
I've been using this functionality for some time now, but it isn't working any more, what's wrong?
Please check, that you still have enough free space left on Koofr (because of Apple rules, we cannot give you direct links for upgrading your space inside the application without using their In-App Purchase mechanism). So you should login into our web application and see the options there.
If I delete the application after doing a backup and reinstall it, will all my photos be uploaded again?
No. Our algorithms ensure, that we only upload photos, that are not the same as those already in the folder.
Some of my files on Koofr have an additional number (1) in their name, why is that?
This happens automatically when a file with the same name is uploaded into a folder, to avoid overwrites. If this is happening with your iPhone photos, it could be one of many reasons. iOS sometimes reuses the same name, after you delete a picture. Meaning different picture got the same name as some old picture you backed up before. The second option is simply that you somehow modified one of the pictures on the phone, which our application detected as a new file and uploaded it. If you are a real power user, it could also be a case of having more than 10000 pictures on your phone, in which case iPhone starts to number them from the beginning again, thus creating same file names again. In any case, you shouldn't worry, our system is in essence designed to prevent files from being overwritten because we believe that it's better to sometimes have two same files than lose one.
Want to talk to us? Join us on the Koofr subreddit!