How to host a summer party with Koofr
BBQ, water guns, cocktails and SPF - four essentials of hosting a banger summer party on your terrace or in your back yard. Add Koofr to the mix for stress-free planning and one photo album to hold everyone's memories.
Summer is finally well and truly here, and - barring any heatwaves, stay indoors and hydrated for those! - it's the perfect season for hosting an outdoor party! Time to stock up on the ice, hotdogs and čevapi, turn up Don Henley and slip into some slides. Hey, and don't forget to invite Koofr to your bash! Here are a few ideas for how you can use your favorite cloud storage to help you plan and host a summer fete.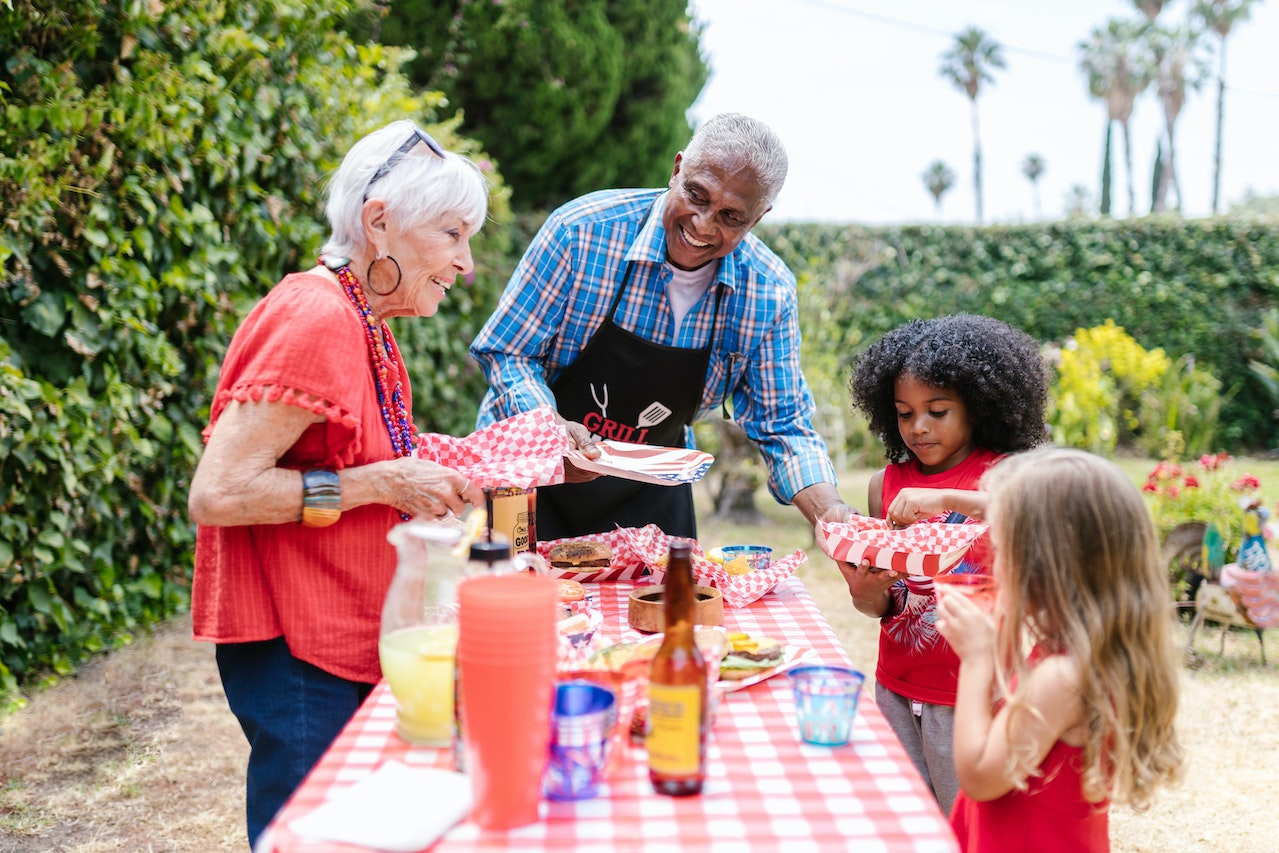 Planning
If adding a theme to your shindig tickles your fancy, you likely spend quite some time browsing the web for decoration and costume ideas. I know I've come across the perfect accessory or decor styling so many times, only for it to disappear into the depths of the interwebs with no trace. Avoid this tragedy by saving your favourite inspiration photos into your virtual moodboard with the Save to Koofr extension!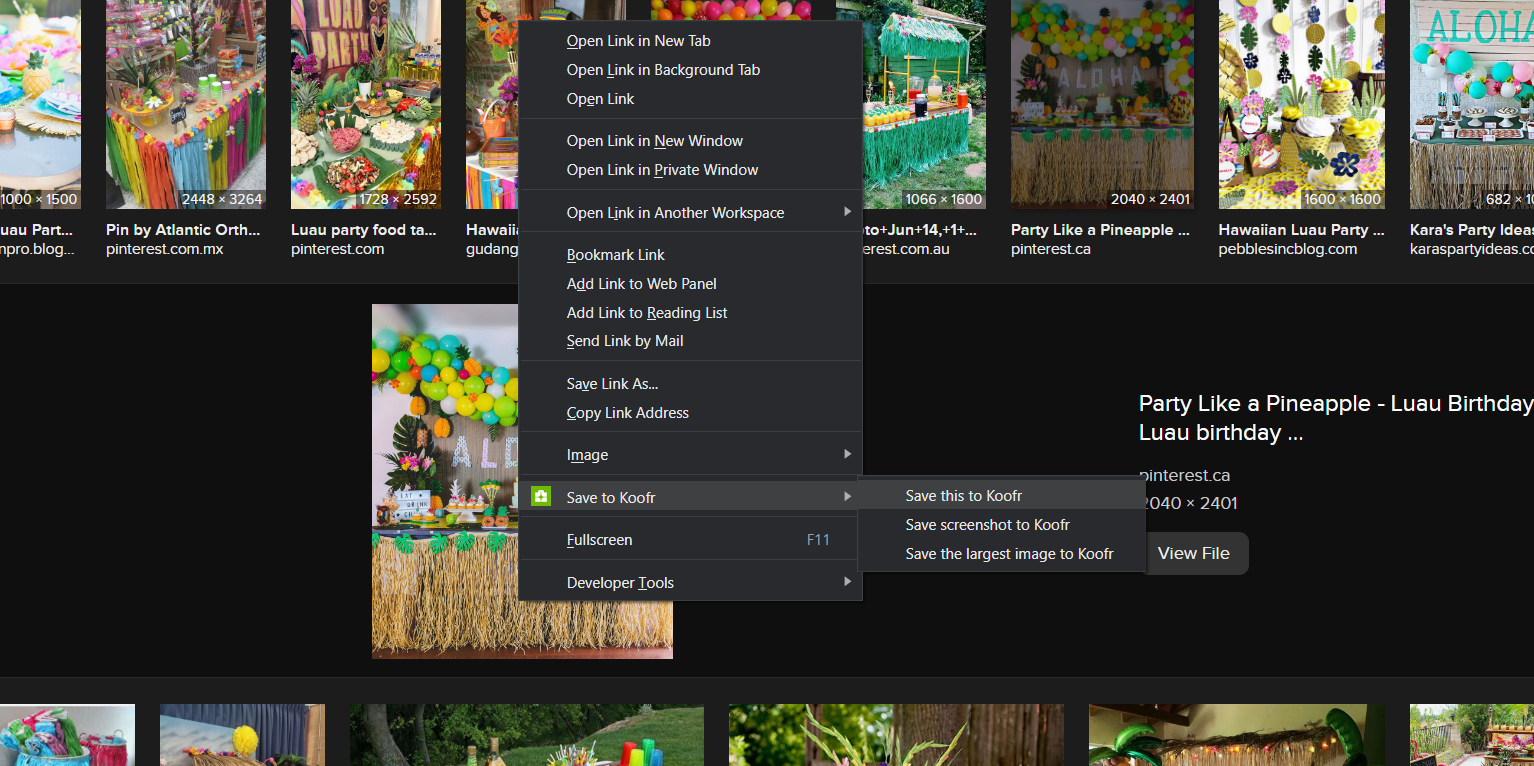 Saving something to Koofr using the extension is as easy as saving it to your computer. Right-click on the picture you want to add to your collection, then select Save this to Koofr.
Guestlist and invitations
You can use Koofr to keep track of your guestlist and RSVPs. This is helpful if you're doing a potluck, too: use a spreadsheet to assign a dish type (meat, veg, salad, etc.) for each guest to bring.
To make the whole shebang more memorable, why not design some beautiful, beach-themed invitations? Even if it's just for fun, you'll have them done in a breeze by using a free tool like Canva.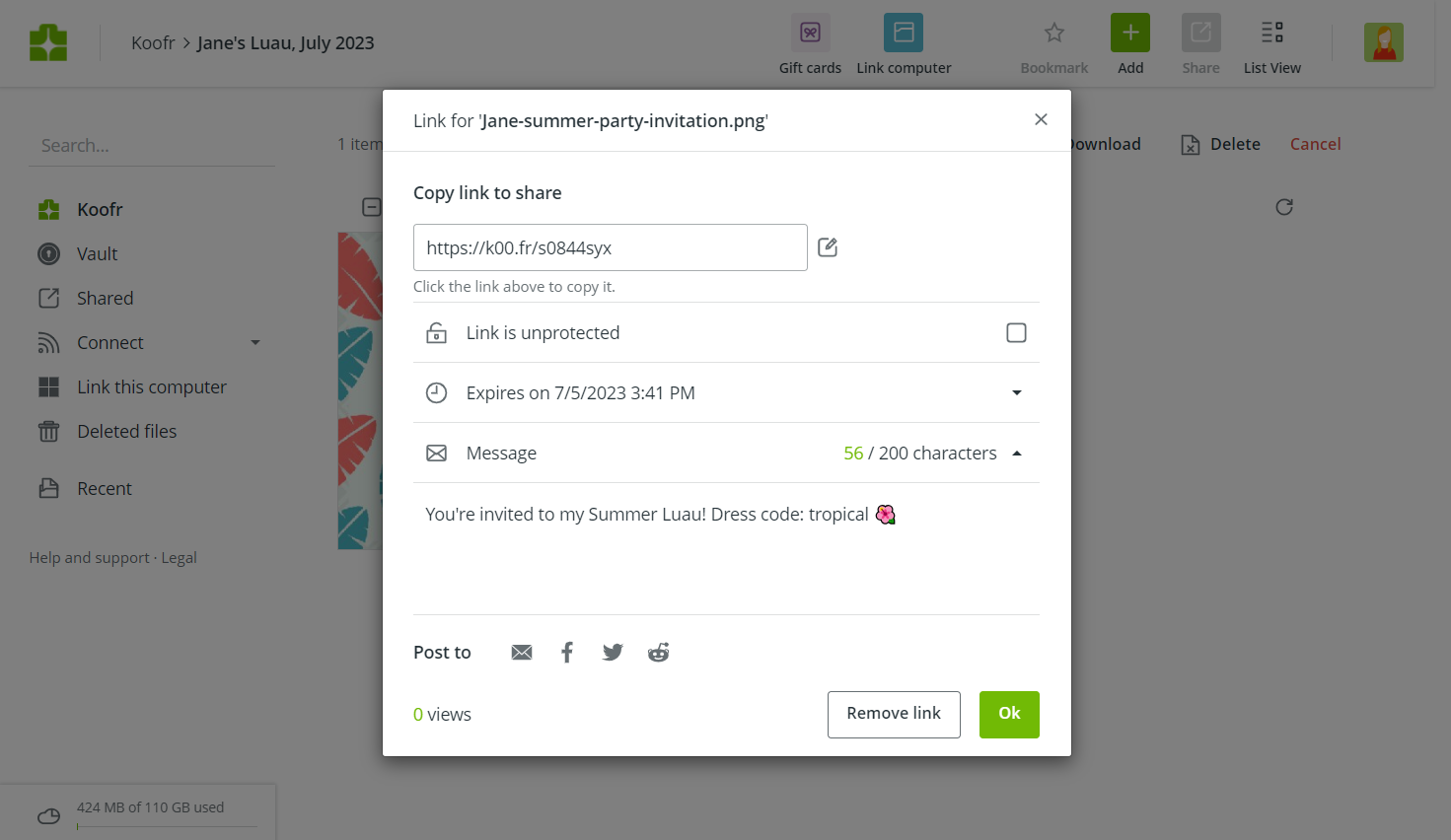 If you're feeling playful, you can design the invitation to double as a party prop, which people can print at home and cut out. For example, if you're hosting a luau, send them a Hawaii-style floral pattern that guests can use to assemble a lei.
Next, upload the invitation to Koofr, then use the Send link feature to send the invites to your guests. They will be able to access the file and save it to their device whether they're Koofr users or not.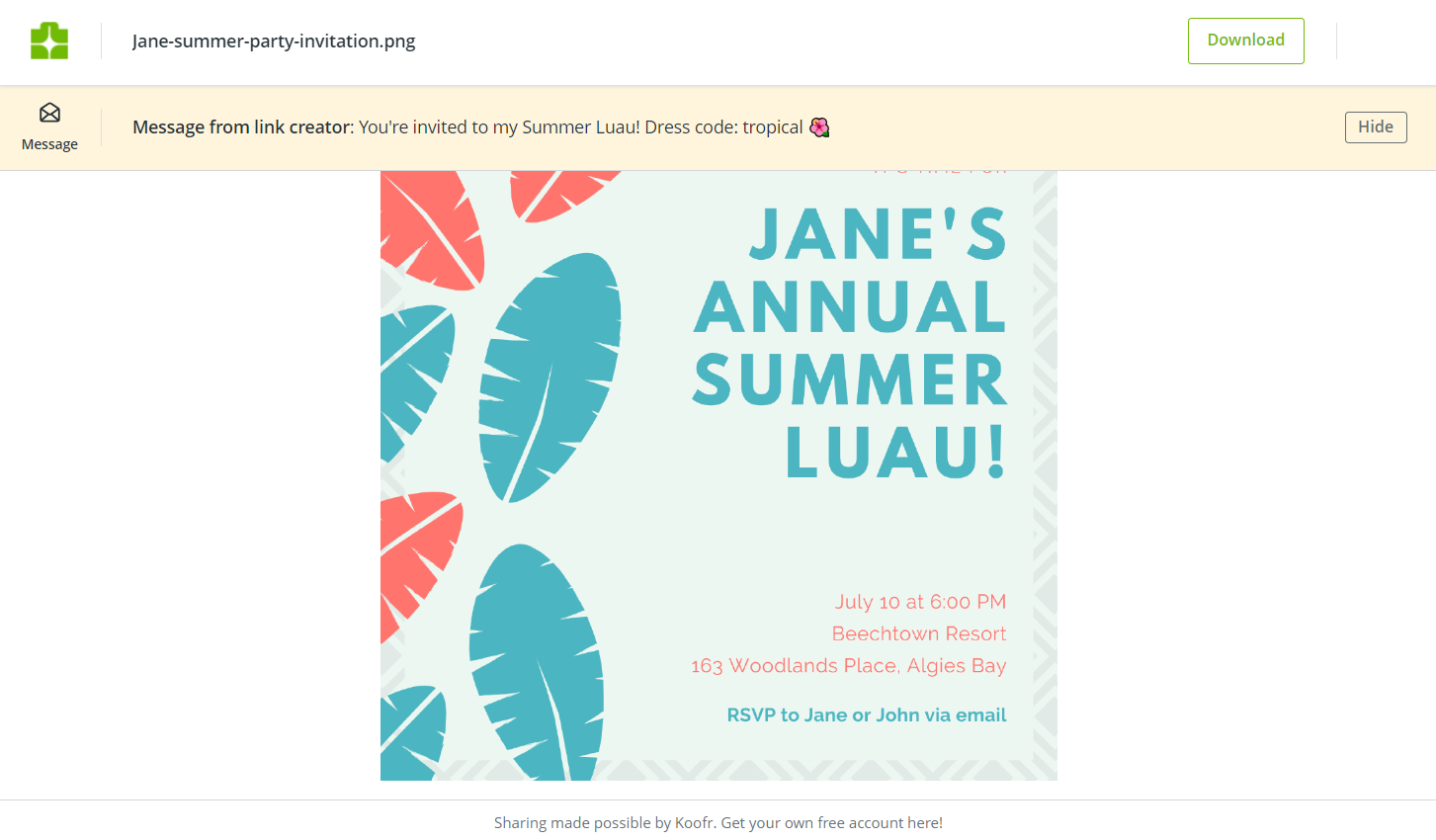 Share your photos
Get everyone to share their memories together by collecting everybody's photos from the party in one spot. First, create a folder in your Koofr cloud storage and give it a descriptive name, like "Jane's Luau, July 2023". Set up a Receiving link for the folder, adjust your sharing settings if needed, then send the link to your guests. Everyone will be able to upload their photos to your folder using this link, even without a Koofr account!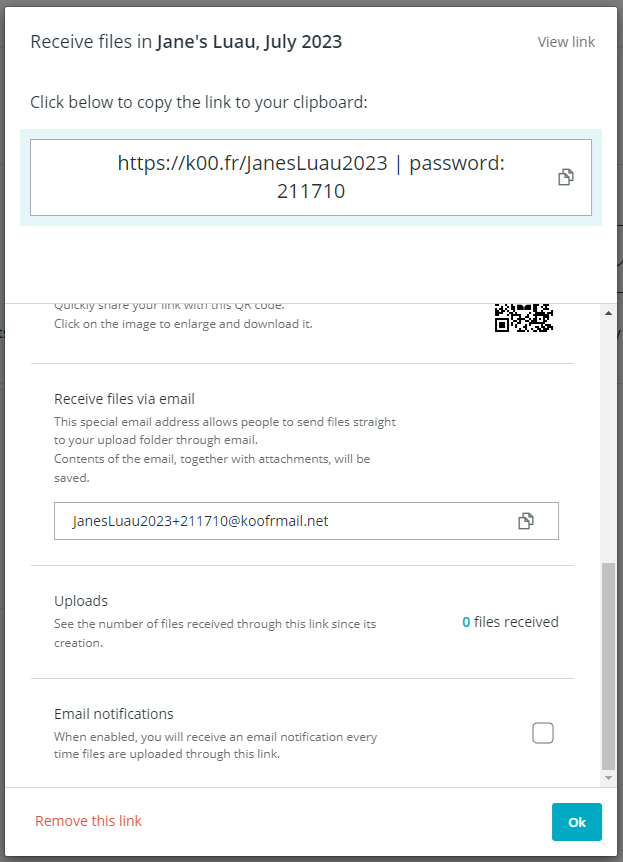 Finally, don't forget to share the folder by using Send link or Add people, so all your partygoers can have a look at the pictures.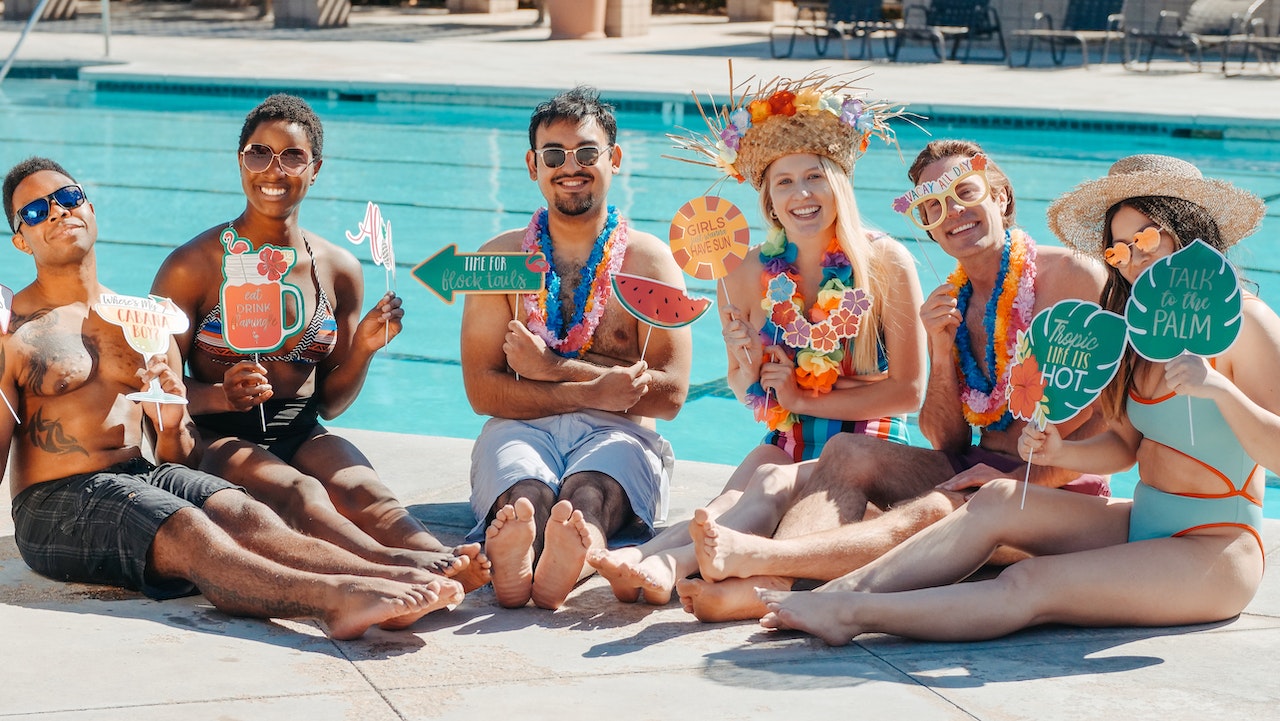 ---
Have you got any more tips for hosting a roof-raising summer bash? Join our community on Reddit and let us know!