The most common issues when using Koofr Vault explained
Do you enjoy the benefits of Koofr Vault but occasionally encounter some issues? Today we will highlight and explain some of the most common issues some of you face while using Koofr Vault.
Last December we proudly presented Koofr Vault: an open source client-side encrypted folder for your Koofr cloud storage, offering an extra layer of security for your most sensitive files. While our intention was to create our new feature with the utmost user-friendliness, it has come to our attention that a few of you are still encountering challenges when using it.
Before we delve further, let's establish that Vault and its Safe boxes are generally just folders on Koofr. The only difference is that all content gets client-side encrypted when you access them using the Koofr Vault web application or rclone. Thus, if you access those folders using the Koofr web or mobile application, WebDAV, etc., you will see only random characters instead of names. Additionally, if you attempt to open files, you won't find recognizable content within them, because it is encrypted.
Let's take a look at some of the most common issues.
(1) Uploading, copying or moving files into Koofr Vault through the Koofr web/mobile application or by using WebDAV
ISSUE: Many of you try to upload, copy or move files or folders to your encrypted folder (Safe Box) through a Koofr web or mobile application or via WebDAV, which results in an error: the file/folder name in Koofr Vault appears in red along with an error sign and you cannot open it.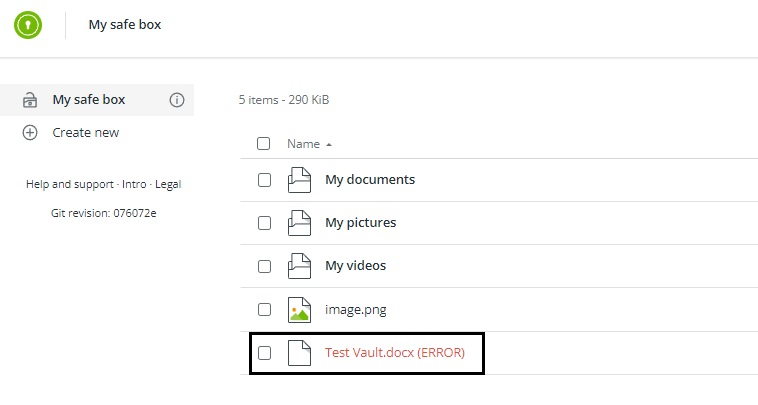 EXPLANATION: When you upload, copy or move a file or folder in this manner, it means that you are uploading, copying or moving an unencrypted file or folder into your Safe Box (encrypted folder). Consequently, an error appears.
Koofr Vault is a client-side encrypted service. When you upload files to Koofr Vault, they need to be encrypted on your computer before upload, this cannot be done on the server. Therefore, uploading files or folders is only possible through Koofr Vault. It is also not possible to copy or move your unencrypted files or folders into Koofr Vault through web and mobile applications or via WebDAV, as they do not get encrypted in the process.
At the moment, there are only two ways to upload, copy or move files to Koofr Vault:
Through the Koofr Vault application
Through rclone
How to delete or move back unencrypted files from your Safe Box?
Open your Vault Safe Box folder in Koofr Vault web application, click on the information icon next to the name on the left side, and then on the Open in Koofr button. On the page that appears click "I know what I am doing. Show me the encrypted files anyway!", select your files and move them out of the Safe Box or delete them.
(2) Syncing a folder on the computer with your Safe Box
ISSUE: Another issue that some of you have encountered involves syncing a folder on your computer with your Safe Box. Lots of you attempt to synchronize a folder on your computer with the encrypted folder in Koofr Vault, leading to errors.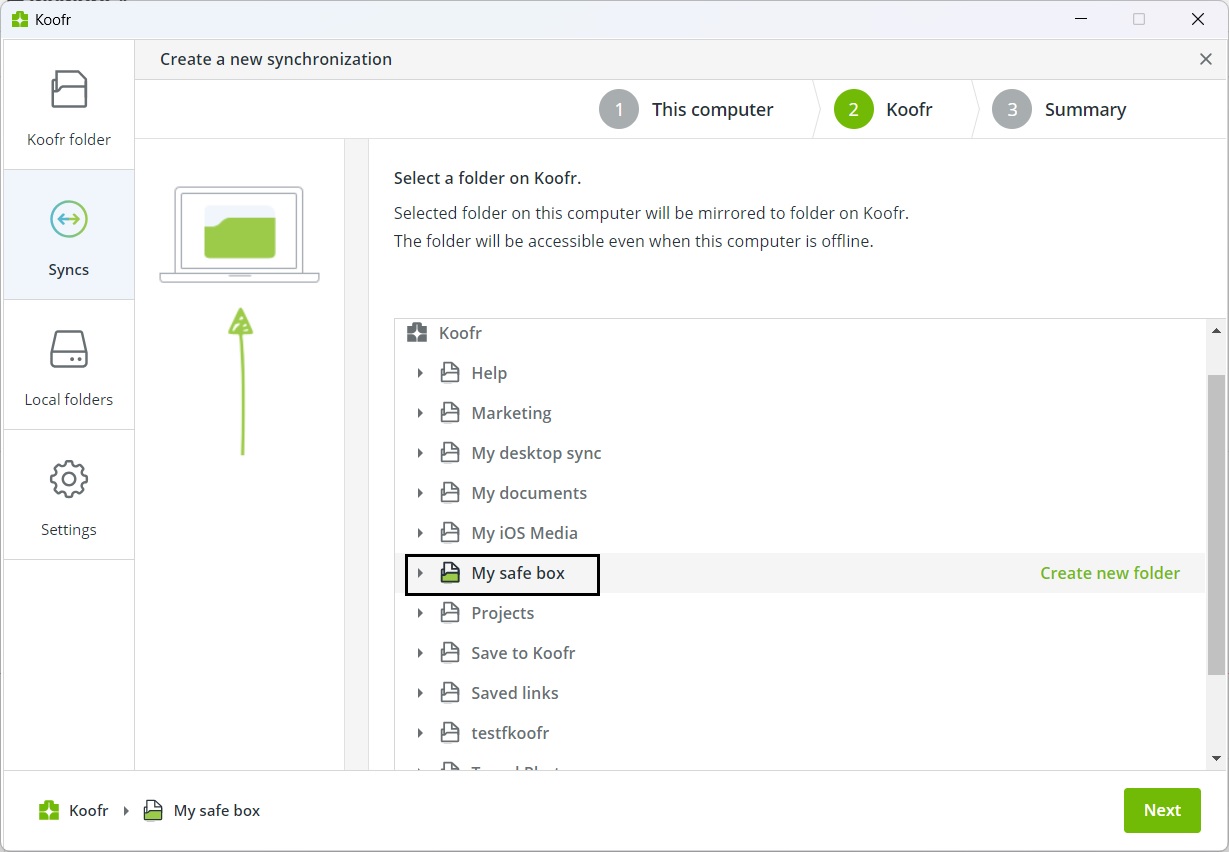 This process just downloads encrypted files on your computer, with file names displayed as random characters instead of their actual names. When you try to open these files, no content is found, as it is also encrypted. Furthermore, synced files within Koofr Vault present a similar issue; the file names are highlighted in red, along with an error sign, and cannot be opened.

EXPLANATION: The current version of the Koofr desktop application does not support syncing of your Safe Box. If attempted, this results in the download of encrypted files to your computer and the upload of unencrypted files or folders to your Safe Box. Combining encrypted and unencrypted data within a folder is not possible.
Currently, you cannot sync a folder on your computer with a Koofr Vault Safe Box.
(3) Safe Box in the Mobile App
ISSUE: Many of you try to open your Safe Box in your mobile application, but the file names are displayed in disjointed characters. When attempting to open these files, no content is found.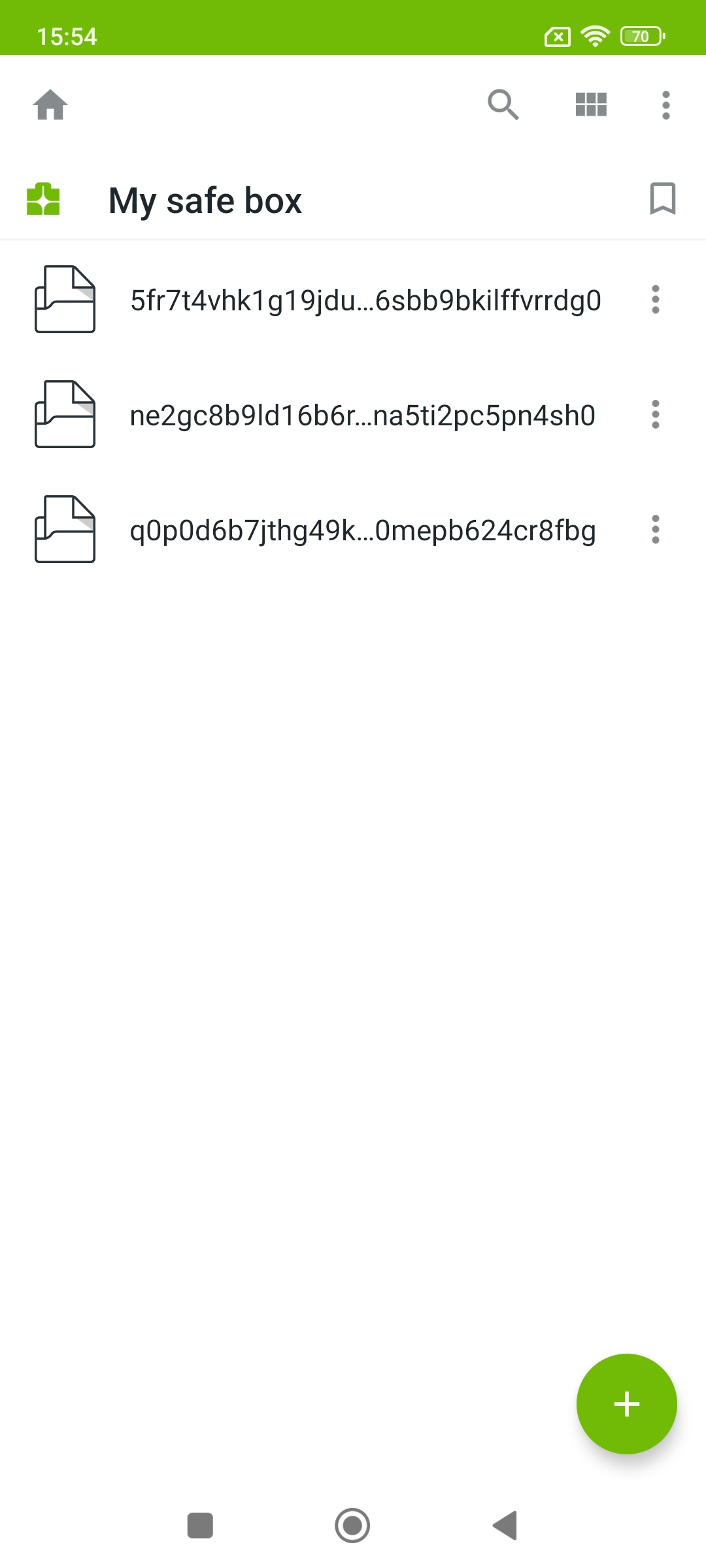 EXPLANATION: Koofr Vault is currently not available as a mobile application, it can be accessed through your mobile browser on all platforms at https://vault.koofr.net/. You can access the encrypted folder in the Koofr mobile app, but the files within it can only be visible in the Koofr Vault. As mentioned earlier, accessing your encrypted files and folders using a 'non-Vault' application (such as a mobile app) will display random characters instead of names. Additionally, attempting to open files within these folders will reveal no recognizable content due to encryption.
(4) Unknown Network Error
ISSUE: A few users have come across an issue when uploading files from your computers into the Safe Box. Despite the upload process being executed correctly, an 'Unknown Network Error' message appears, preventing the completion of the upload process.
EXPLANATION: If uploads into Vault are not functioning, it indicates that the browser fails to encrypt files before uploading. This can happen on either older unsupported browsers or (more commonly) when users have certain JavaScript blockers or extensions enabled. We recommend attempting the upload using a different browser without extensions or blockers.
Read more about Koofr Vault in our previous blog posts Beginner's guide to Koofr Vault and Using rclone with Koofr Vault.
---
Want to talk to us? Join us on the Koofr subreddit!