Tips
3 easy steps to backup your files
Quick tutorial on how to regularly backup files from your computer to Koofr.
To backup or not to backup, that is not the question. The real question is how to backup your data. Computers are nice little things, but sometimes they stop working for no reason. And sometimes they get stolen. According to statistics, more than 50% of people know someone who has lost his data due to numerous reasons, and believe me, you do not want to be part of that statistics.
Best way to create a backup is to store it to a different physical location, and Koofr can help you with that.
So, what do I need to create a backup?
A computer running Windows (you can follow similar steps on other operating systems).
Some files to backup, I believe everyone has them. It may be your precious holidays photos, draft of your next best-selling novel or important documents of your small business.
A backup software. We will use Duplicati, which is a free and open sourced backup solution with many features.
A Koofr account. You can get it for free here or in the links below.


Lets prepare
First, get your free Koofr account if you do not have one yet. You will need it later. Then, proceed to install Duplicati on your computer. You will find a download link on their home page in top left corner. Select appropriate package for your computer. In case you run a recent version of Windows (Windows 7 or later), you probably need Duplicati 1.3.4 for Windows - (64bit, msi)
Setup the backup
Now we have checked off all the prerequisites and it is time to setup the backup. Open Duplicati by going to Start Menu, click on All Programs and look for the Duplicati. When you open it, you are presented with following screen: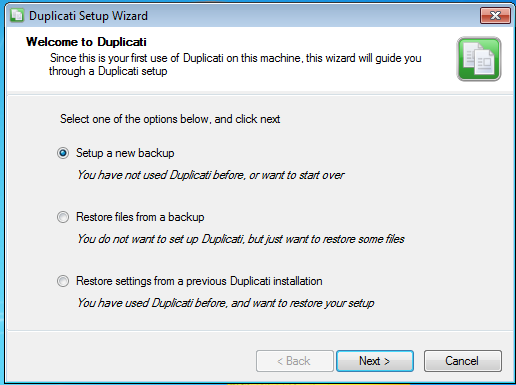 Select Start a new Backup and click Next button. It will take you to the next step.
Here, we select a name for our backup. You are free to choose any name that suits you, we will use My Backup here. Once you have a fine name for your backup, click Next and you are taken to the screen where you choose which files to backup.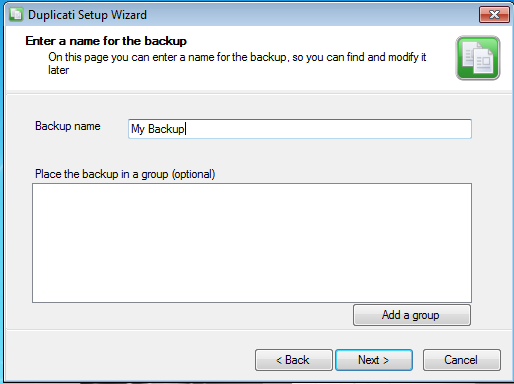 You are presented with two options, one being My documents and another Custom folders list. Unless you stored your documents to some other location than My Documents, you do not really need the second option. Under My Documents option, you have multiple checkboxes. There are some smart defaults set by Duplicati, but you might also want to check some additional folders.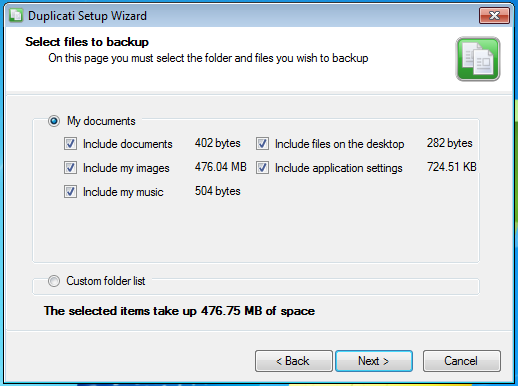 Once you are sure you checked all locations you want to backup, proceed to next step.
Here you can decide if you want to protect your backup with a password. By selecting this option, your data will be encrypted before being sent to backup destination, ensuring that you and only you can read this data. I would recommend leaving this option enabled and choosing a secure password for your backup. When clicking Next button, you will be prompted to enter the password again. Just enter same password you entered before.
On the next step, you can choose where do you want to store your backup. Since Koofr supports a WebDAV interface, select WEBDAV based option on the bottom of the list and click Next.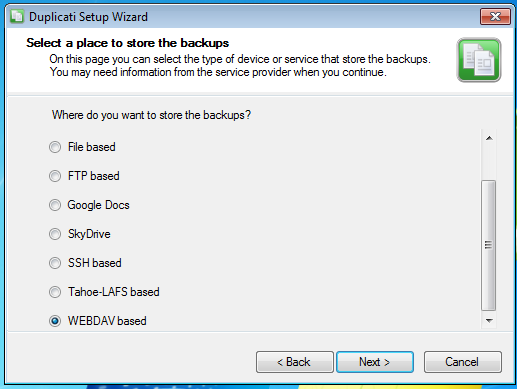 Next step can be scary, but do not fret. In the Server field enter app.koofr.net and for Path enter dav/Koofr/My Backup. The path must start with dav/Koofr/ and the last part My backup is the name of the folder where the backup will be stored. You can choose anything, but we decided to use the same name as we used for the backup name in first step. In Username and Password fields enter your Koofr username and password. If you signed up with Google or Twitter, you have to set up the password first. You can do this here.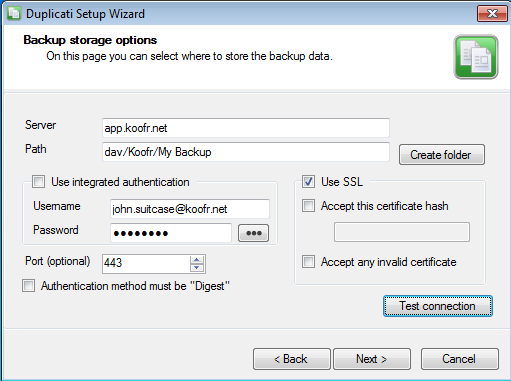 Once you have entered all the data, click on Test connection. If the destination folder does not exists yet, you might be presented with this screen.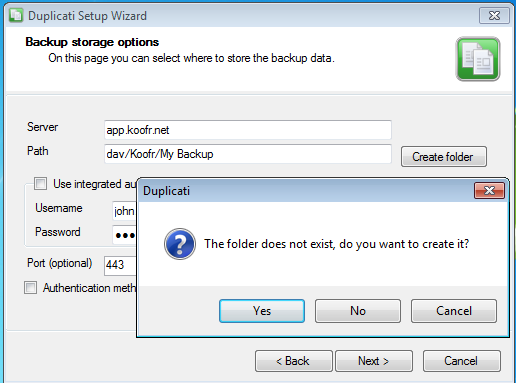 Just click on Yes and Duplicati will create this folder for you.
Now, we are almost finished. When you go to the next step, you will get some Advanced settings. If you are unsure what to do, just leave them as they are and click next.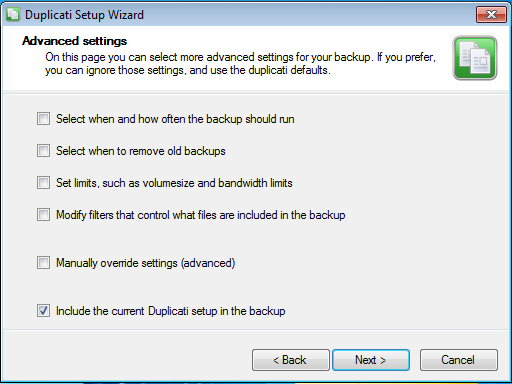 In last screen you are presented with a summary of the configuration, but the only important is to put a check before Run backup now.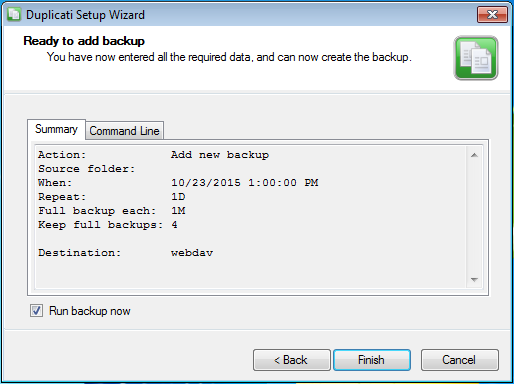 Check if everything went OK
Lets just check if everything went OK. You should find Duplicati icon in your tray.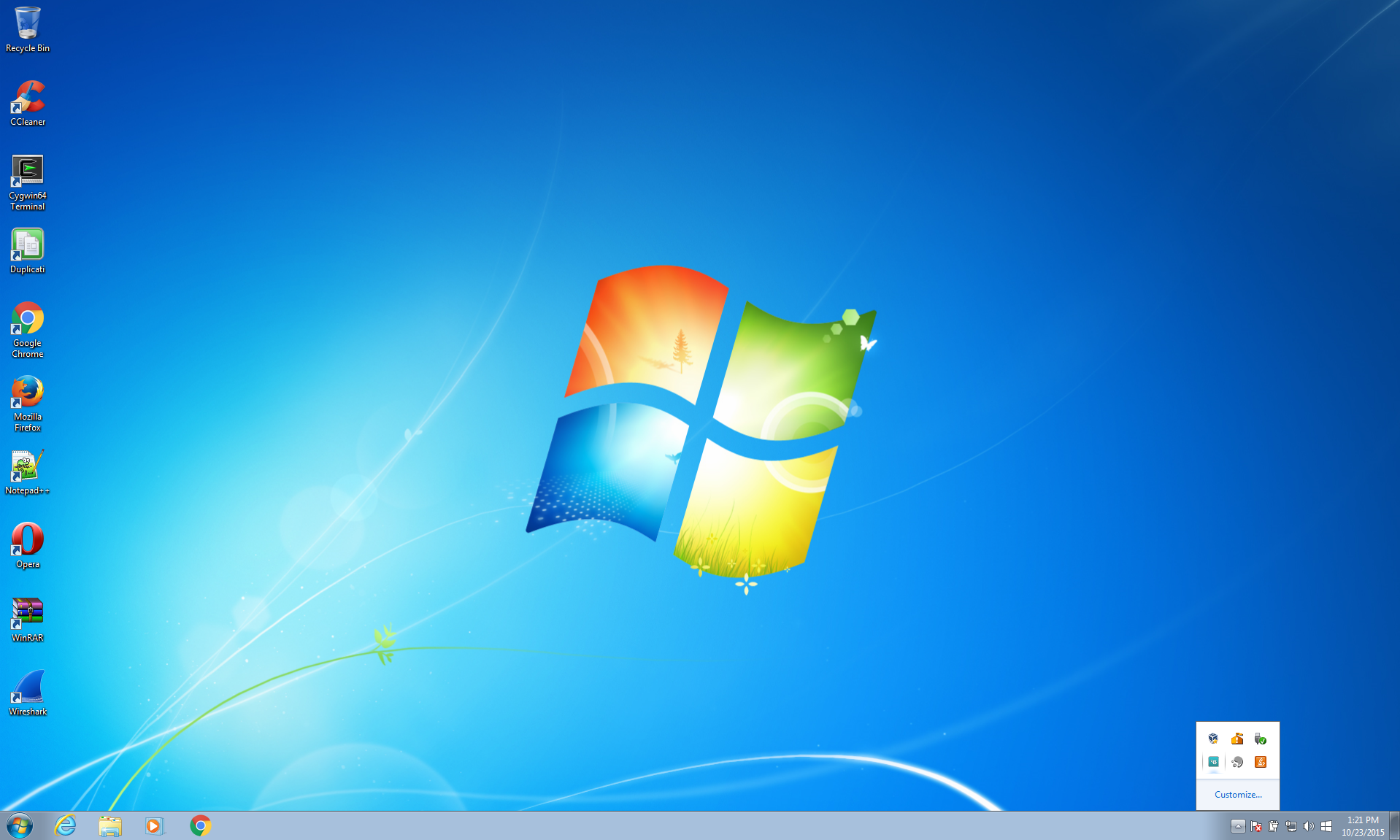 When you click on the icon, you get this window, showing you the progress of the backup. When the backup is completed, you will see it in Completed backups section on bottom of window, together with possible warnings and errors.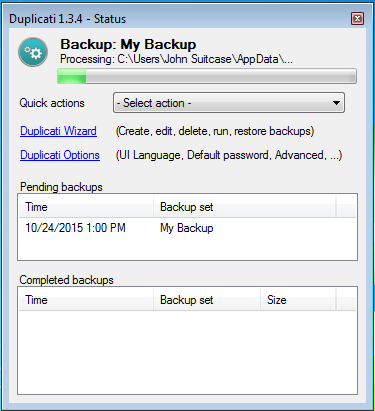 That's all for now. Happy backuping!