4 useful tips for organizing your files
Is your desktop a chaos of files and you're constantly relying on "Search" or "Find" function to locate a specific file on your computer – yet often fail? There are a few simple habits you can implement and avoid this in the future.
[Updated, Jan 2020: added link to the video, other minor updates]
Organize your files with our four simple tips.
Check out our video.
1. Delete, delete, delete!
The first important step is to get rid of the files you don't need. Be ruthless and delete! Start with the ancient files you haven't used in years. Continue with duplicate files and multiple versions of a certain work presentation (usually you only need the last version). Head into the Downloads folder and delete all the email attachments you will never ever need again. Empty the Trash bin.
Delete as you go. Make a habit of deleting files you no longer need. Regularly empty the Downloads folder, the Trash and sort work documents after a project is finished to get rid of the numerous versions and unnecessary files.

Koofr tip: When deleting files in your Koofr account, you have 7 days to restore any files you deleted accidentally. Also, the files in the Deleted folder do not take up space in your storage plan. If you want, you can also click on Permanently delete to delete your files from the Deleted forever. But be careful, this action is irreversible.
2. A filing system that works
The trick is to find a filing system that works for your needs, but certain simple rules can be applied to most of us. We are basically trying to create a hierarchy of files so that finding the right file will be easier since we'll know, at least roughly, where to look for it.
Create a few main folders. Try to avoid too many - you will rarely need more than 3 to 5. The main folders are created according to their broad purpose or a field they cover, such as Work, Home, Entertainment etc.

Create subfolders in main folders. Examples of subfolders in your Work folder could be different clients, projects, years, a subfolder with finances, a subfolder with contracts etc. The Home folder could contain subfolders such as Photos, Books, Travel, Recipes etc. A handy trick to make sure the more important subfolders are at the top of your list is to start the name of the folder with a number, for example, 1_Photos, 2_Books, 3_Travel etc.

Archive folder. A very useful subfolder you can create is one called Archive - for files from projects that are finished or perhaps some important files you probably don't use on a daily basis but you also don't want to lose, such as insurance documents, contracts etc.

Desktop folder. Not capable of kicking the habit of saving all your files on your Desktop? To avoid the worst clutter, one solution is to create a separate Desktop folder on the desktop and store it there – sounds counterintuitive, but at least you won't be looking at tens of icons every time you turn on your computer. But do make sure to clean it up regularly!

Koofr tip: Archiving files in Koofr is really simple if you set up automatic syncing. Connect your computer by downloading our desktop client, choose folders you want to sync to Koofr and your files from that folder will be automatically synced and safely stored in your Koofr account. Read more about it here.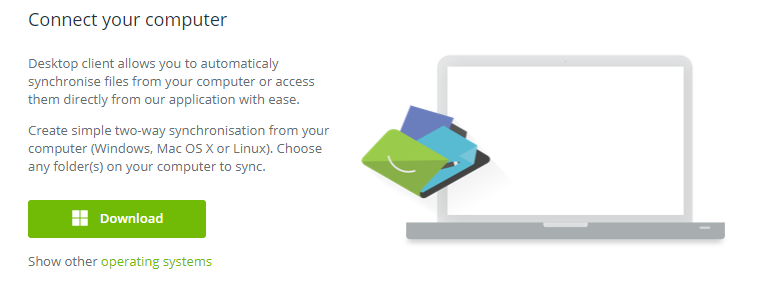 3. Naming your files
You want to name your files in a way that will help you locate them later with ease. Two rules apply: be short and be descriptive. The names of your files should describe the most important aspects of the files, for example, the project name, the location of your holiday photos, date, version of the presentation etc. Avoid special characters and spaces to make sure that the naming system will work over many different systems. Underscore is a better choice: CompanyName_Contract_2015.
Version numbering. Avoid using descriptions of versions such as Project_Offer_correction or Project_Offer_Final as they rarely work. A good way of avoiding chaos is using numbers for versions, for example, Project_Offer_v0.2. For those in need an even more detailed system a description for a second small amendment to the version 0.3 could be named something like Project_Offer_v0.3_0.2.

Koofr tip: So your naming habits weren't so great in the past and you're stuck with a flood of files that need renaming in the same manner? It's easy to rename multiple files in Koofr. Select the files and rename them with the Rename Multiple Tool. The options to change the names are numerous and we're sure you'll be able to find one that fits your filing system.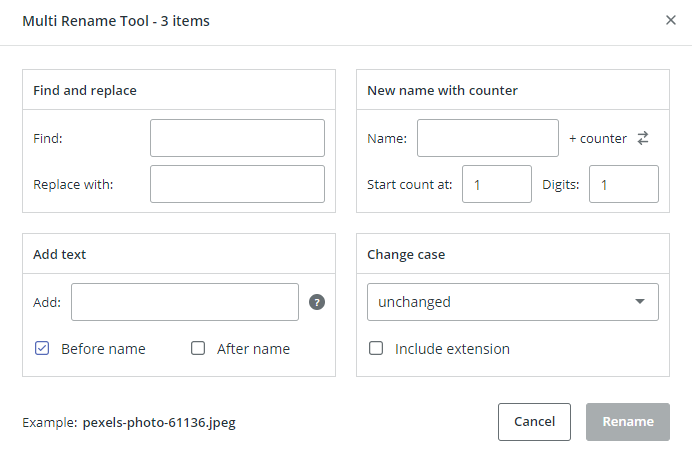 Note: The multi-rename option is only available in the paid Koofr accounts.
4. Sticking to the system
This last tip is the most important - all these tips won't help if you don't stick to the system you created. Make sure you save new files in the same way as the old ones, that you clean up the clutter in the Downloads and Trash folders from to time and of course keep your files backed up and safe in your Koofr account.
Don't have a Koofr account? Open a free one here.
Want to talk to us? Join us on the Koofr subreddit!