Are you looking for affordable cloud storage?
Koofr is here for you and your digital storage needs – with new, lower prices for versatile cloud storage plans. Check it out!
[Update April 2022: As we step into Koofr's 10th year of service, we're introducing several changes to our plan structure. All Koofr users now receive 10 GB of free cloud storage space instead of the previous 2 GB of free space, no matter what plan they are on.]
NOTE: For current pricing always look here.
Spring brought about many changes – and new Koofr cloud storage pricing is one of them! Along with working on new features, we also carefully and continuously analyze our user's needs. Many people are using the 2GB plan which we offer for free. And we also have a number of trusty users who need more cloud storage than that and decided to go for one of our affordable paid plans.
Our philosophy

We firmly believe that you should only be paying for the cloud storage space you need. That's why we don't offer just two plans – one free with way too little space and a second one that starts at 1TB – with an appropriate price tag attached. Why should you be paying for GB of space you'll never use? Isn't it more reasonable to pay for the plan that makes sense for your storage needs?
That's why Koofr has been offering various paid plans since its beginning. After following the numbers of users who are deciding on different plans, we are now making some changes and offering the plans for an even lower price!
New pricing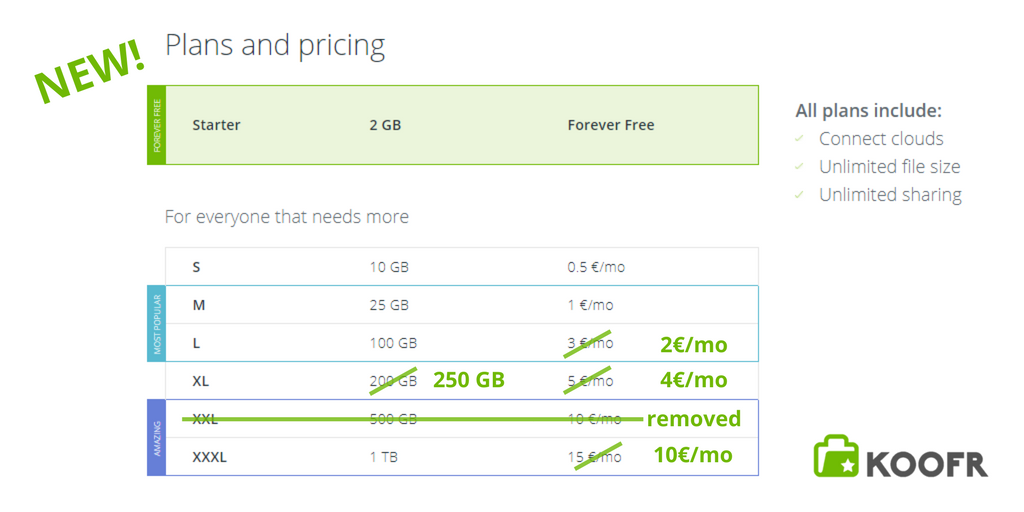 Above you can see the new pricing chart for Koofr paid cloud storage plans. Keep in mind that the 2GB Starter plan is staying free – and always will be! The biggest change is the price tag on bigger plans. We've lowered the price for the 100GB plan and 1TB plan. If you need a lot of space, the 1TB will only cost you 10€ per month. For others, there's a new 250GB plan for a price, which is even lower than the old 200GB plan. Pretty neat, huh? Did you already have a 200GB plan? Good news for you then – you've been automatically upgraded to 250GB. Along with these changes, we've also decided to remove the 500GB plan – honestly, there wasn't much interest in it.
It's not all about the price, right?
We know. Cheap doesn't mean good, and we support this belief. That's why we are dedicating lots of our time to making Koofr even better, offering you a cloud storage solution you'll love using.
Starting with the feature that has been differentiating us from other cloud storage providers – connecting your storage drives in one app. It's amazingly simple to set up and saves you a ton of time. With just a few clicks your files from Google Drive, OneDrive, Dropbox or Amazon Drive will be accessible in your Koofr account.

Here's also quick sharing and receiving files, sharing a single file inside the Koofr app, mobile and desktop apps, Chrome plugin and the Firefox add-on and much more. Check out some of the key features we're proud of and some of the latest upgrades and news.
Do you want to try it out for free? The 2GB plan is forever free and the upgrades are optional – create your cloud storage account today!
---
Want to talk to us? Join us on the Koofr subreddit!