Koofr Features
Introducing Amazon Cloud Drive integration
Koofr extends third-party cloud connections with Amazon Cloud Drive.
[Archived in October 2019 due to Amazon discontinuing access to Amazon Cloud Drive to the third-party applications from 8th of November 2019]
We are really happy to say that a new third-party cloud connection is now available in Koofr. This time it is Amazon Cloud Drive.
You can connect Koofr to Amazon in our web application.
To do that find Connect in the Main menu on the left, and select Amazon Drive. You can also do that by following similar steps in the Koofr mobile application.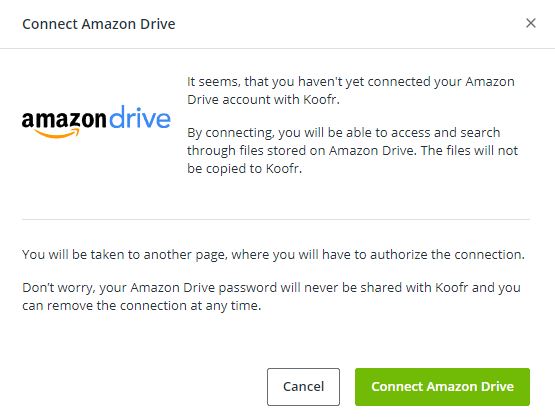 You will have to sign-in to your Amazon account and give authorization to Koofr by clicking Allow. After successful authorization with Amazon, you will be able to access your Amazon Cloud Drive files from all of the Koofr applications.
There are a few things to keep in mind when it comes to Amazon Cloud Drive, which are specific because of the provider limitations:
Amazon doesn't support copy operation on files inside Amazon Cloud Drive, so all of the copy actions you initiate inside your Amazon account will fail in your Koofr account as well. But, you can copy to and from Amazon inside your Koofr account with no problems.

The move operation is supported in Amazon, but files cannot be renamed while moving, meaning that if a file with the same name already exists in your Amazon Cloud Drive folder, the move operation will fail.
Connect Amazon Cloud Drive to Koofr so you can see all of your files in one place or create a free account here if you don't have it yet.
Want to talk to us? Join us on the Koofr subreddit!