6 tips to keep your smartphone safe and secure
The following advice might strike some of you as really basic – those can consider this as merely a reminder. Others, grab your phones and make the necessary adjustments. ;)
[Updated April 2020: Added a link to the YouTube video]
Read our tips or check out our video.
1. Use a password and lock your device

We are all aware of this, but so many people still keep their phone unlocked due to simple convenience. That's a very bad idea, so make sure to overcome this type of laziness.
The hierarchy of authentication types in terms of security is as follows: biometric pass (fingerprints – we are not getting into the debate of face recognition just yet), which offers the most protection, followed by passcodes and 4-digit PIN numbers. The least secure way of protecting your privacy is a swipe pattern – just think about greasy fingers leaving trails on the screen.
It goes without saying that no protection in the world will help if you leave your phone unlocked. Luckily, most phones have a setting that automatically locks the screen after a set amount of time. You also have to be careful with "smart unlock" features which unlock your phone when you walk through the doors of your home – those can make things much easier for the potential thief.
Another good idea is to lock separate apps with special mobile apps since data in certain apps is more sensitive than in others.
2. Antivirus programs aren't just for your computer

In case you're not aware yet, your smartphone is basically a mini-computer and therefore a potential victim to the same threats as your laptop. There are numerous apps to protect you from these threats and many of them offer additional features such as call blocking, remote data wipe, app lock tools and more.
To make your decision easier – most big online security companies that protect your computer also offer mobile antivirus apps. If you have a favourite one for your computer, check their mobile app and see it offers the best protection for your needs.
3. Update your operating system

Updates not only mean that your phone will run more smoothly, but it also means that any vulnerabilities that might have existed, have been resolved and patched up in the new version of the OS. It's important to update your phones' OS it when it's available.
Sometimes automatic updates are problematic as some users can experience certain early issues with the new OS. Still, that's not a reason to keep your phone subjected to threats because your latest OS is from 2015 - just give it some time and update a bit later when those potential issues have been resolved.
4. Be cautious with apps

Apps which aren't downloaded from a trusted source (those being official app stores, Google Play Store and App Store) can pose a threat to your phone. Be careful to read the reviews of apps that come from other sources, but keep in mind that even that doesn't guarantee your safety. The truth is that even apps on Google Play (which has a bit looser vetting process for apps than App Store) can sometimes be malicious.
Another thing to keep an eye on is app permissions. Many apps require more than basic permissions and in most cases they make sense. A messaging app will need access to your contacts and a navigation app will require knowing your location. Nothing fishy about that. But if you come across an app in which permissions don't make much sense, be careful. If you're not sure, check reviews again, search for more info online or just skip installing the app.
5. Tracking and locking your phone

Don't wait for your phone to be lost or stolen to start thinking about protecting your data. There's a number of different options and apps to protect your data in this unfortunate scenario – your phone can erase all data after a certain number of incorrect attempts to enter the password, apps that help you locate your phone by ringing or by showing it on a map, apps that let you lock or wipe your phone remotely and much more. Check out the apps available and pick one that suits you best.
6. Back up your phone data
How often do you save the photos from your phone or other devices or back them up? Only when you get a new device? Yes, that's quite often the case and sadly, not a good idea for many reasons. In case your phone is stolen, irreversibly broken or lost, you can retrieve your photos easily if you have them backed up. You can also remotely wipe the data from the phone if you suspect that your phone was stolen without worrying, that you will end up stumbling onto your phone under the sofa, beating yourself up for deleting all your precious data for nothing.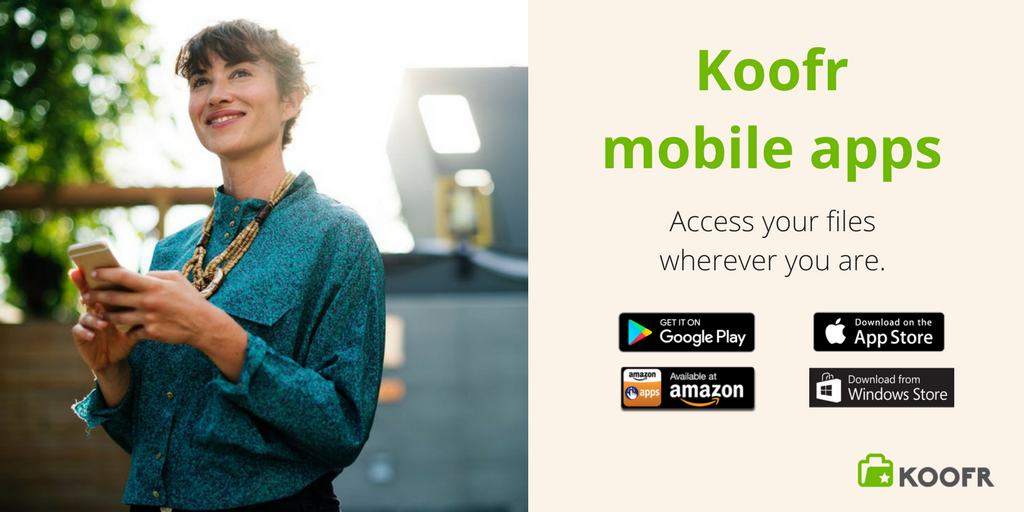 Koofr mobile app enables you to automatically backup your media files so they are always in your Koofr account. Get your free Koofr account and try it out!
Want to talk to us? Join us on the Koofr subreddit!