All your files in one place? It's possible!
Now you can connect your existing storage accounts with your Koofr account. We're very proud of this feature which also saves you time while searching for files in your existing online drives with Koofr unified search engine. Find out why our users love this feature and how it works in our blog post.
[Updated, Jan 2020: Due to changes in Amazon policies it is not possible to connect Amazon Drive accounts to Koofr anymore. Amazon Drive is deleted from the post and pictures are updated to reflect the change.]
So you've been using other online storage services for a few years now, but now you've found Koofr and you wanna give it a go. Fantastic! We're big fans of keeping things tidy and in one place – that's the core of our storage solution.
The great news is that you don't need to download all your files from existing drives to keep them all in one place. Koofr offers a simple solution which connects your existing storage accounts with your Koofr account with just a few clicks. It works for the most popular storage service providers such as Google Drive, Dropbox and OneDrive.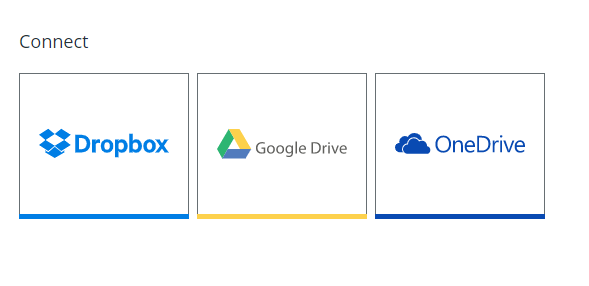 Another main advantage of this feature, which our users really appreciate, is that you can then search through all your drives in one place. No need to think where one of your files might be – Koofrs' unified search engine does this for you and it does it fast. Pretty handy, right?
Setting it up is simple and fast. Open your Koofr app (if you don't have an account yet – you can create a new, free account with up to 10 GB of storage HERE) and head to the Main menu on the left. Click Connect and pick a drive you want to connect your account to. You'll need to allow access to your drive (no worries, Koofr doesn't get access to your password) and with another click, the connection is established.
The connected storage account will appear in the Main menu on the left, just below the main Koofr folder. If you click on the folder (for example Dropbox), you will see the files that are stored in Dropbox.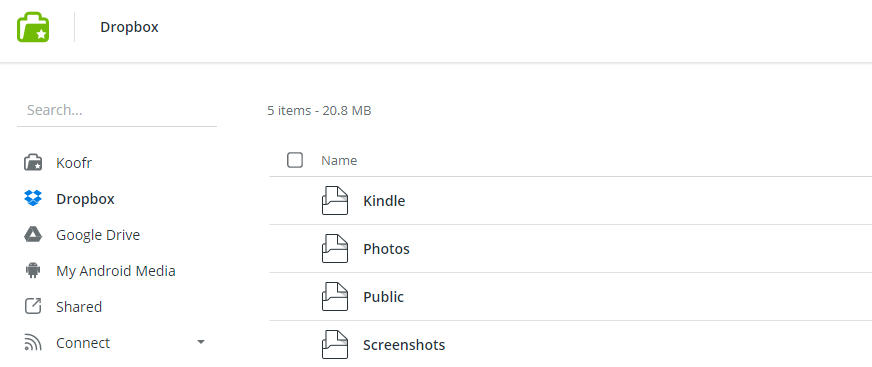 When you're searching through your files, Koofr will search all your drives, making it easy to find what you're looking for. And if you ever decide you want to disconnect it for any reason (perhaps you'll only be using Koofr from now on :)), that's also easy. Just click on the same drive in the Connect menu and follow the instructions.
Want to talk to us? Join us on the Koofr subreddit!