How to share a single file inside Koofr
Sharing a single file inside Koofr is a great and long-awaited feature as many of you have been asking about it. We are proud to announce it's now live on the Koofr desktop app and coming soon to the mobile app.
Sharing a single file inside Koofr is the most secure way of sharing since the file is not shared with a public link but rather inside the app. You can still share your files with by creating a link, but read on and see if you'll perhaps prefer this way of sharing.
So how does it work?
Firstly, you can share files this way only with Koofr members. But don't worry! Even if the person you're trying to send the file is not a member, they will get an invitation to join Koofr with our free account and easily access the file. They also get up to 10 GB of storage space - for free!
The process of sharing is easy and it only takes a few clicks inside your Koofr app. Head to the file you want to share, click the Share button, choose Add people and choose the member by typing their name in the input field.

Then click Add button next to the name and then Close. That's it! You can share the file with as many Koofr users you want.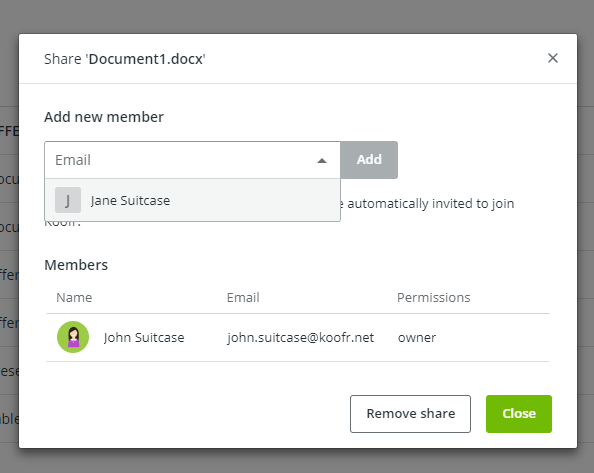 If you want to share the file with a non-member (someone who is not using Koofr yet), just type in their email address, click Add next to the input field and Close. They will receive an email inviting them to access the file by becoming a Koofr user.
What happens if you no longer want to share the file with someone? Easy – just remove them. Head to the file you're currently sharing, click Share. You will see the list of people who have access to the file. Click on the Remove button (little circle next to the person's name) and then confirm your decision.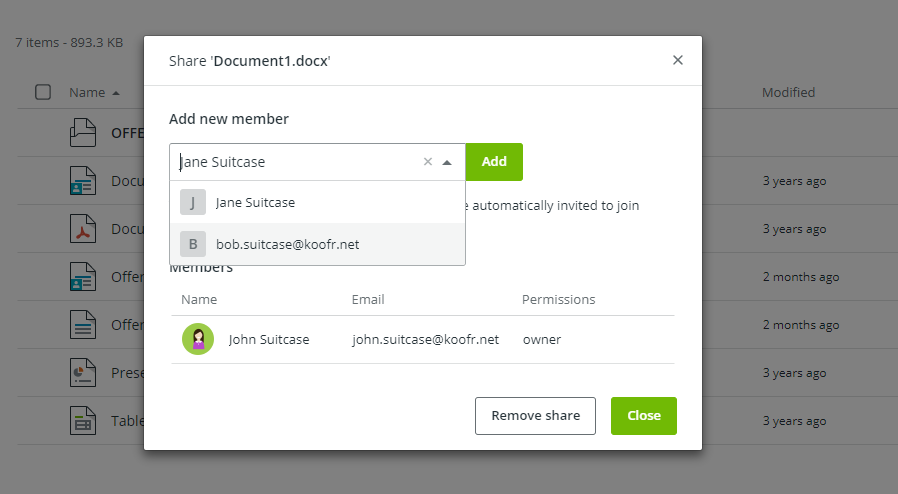 Do you like this feature but you're not a Koofr user yet? No problem. Create your FREE Koofr account with up to 10 GB of storage today!
Want to talk to us? Join us on the Koofr subreddit!