Koofr integrates with Microsoft Office for the web
Work on your Word, Excel, or PowerPoint documents from anywhere, at any time - with our new integration of Microsoft Office, you only need your Koofr account and a browser.
Have you always wanted to work on Microsoft Office documents directly from your favorite cloud storage account? Now you can. We integrated Office for the web into our services offering so our users have an easier way to work on their Office documents, needing only their Koofr account and a browser. Work on your Office documents in Koofr from anywhere, at any time, with a new level of flexibility.
Our users with paid Koofr accounts can now view, edit, and create Microsoft Excel, PowerPoint and Word files directly in the Koofr web app, as well as collaborate and work together on documents online with colleagues.
By simply clicking on the Add button in the main Koofr window, they can now create new Word documents, Excel spreadsheets and PowerPoint presentations.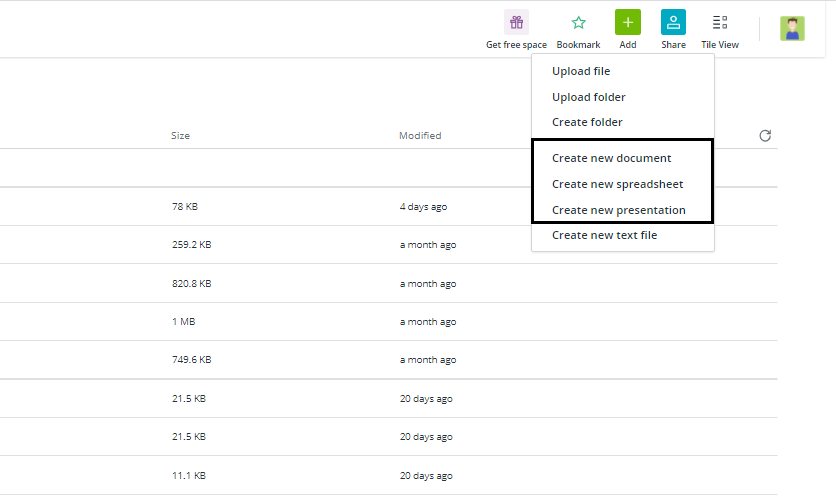 The right-click menu includes the option to open existing document files in Office in a browser; (specifically, Word in case of a text document).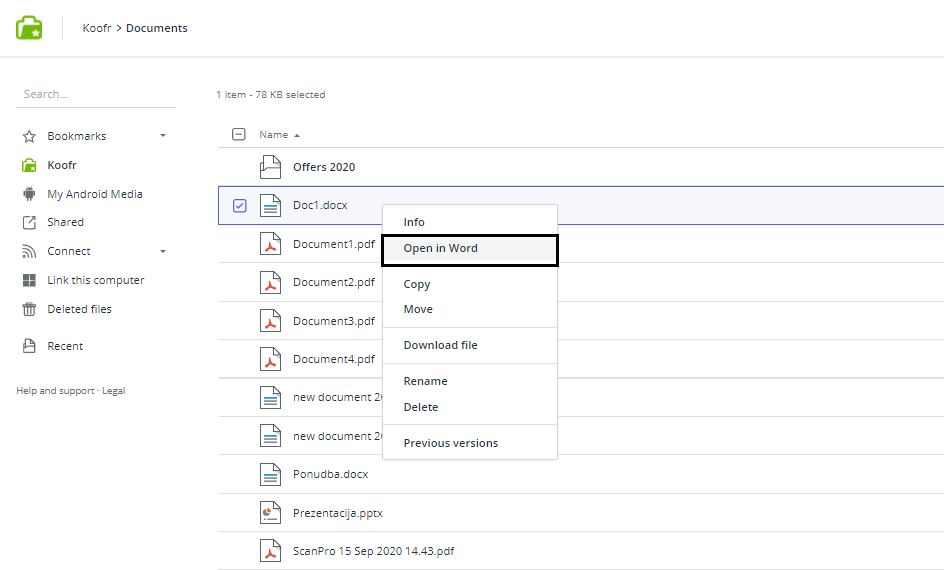 Note: You can only open, create and edit Office files if you have a paid Koofr account. You can upgrade your account in the Account Menu under Upgrade account.
Features of Office for the web
Office for the web offers all of the fundamental capabilities of Microsoft Word, Excel and PowerPoint, which you can now use on the go. It automatically saves your documents when changes are made, making sure you never lose your edits. You do not need to worry about clicking on the Save button anymore.
The web version of Office enables you to edit any Word, Excel or PowerPoint document in Office Open XML (OOXML) format, which is a standard format since Office 2007, in Koofr.
This includes all documents with .docx, .xlsx and .pptx extensions, and their corresponding template files. Older, binary document formats, such as .doc, .xls and .ppt, can be viewed, and, if editing is needed, converted to the new OOXML format.
You will not be able to run or edit any macros in Office for the web, but macros will be preserved in the document and may subsequently be edited in the desktop Office applications.
Users are also able to edit shared Office documents with other Koofr users at the same time. That includes all documents in the shared Koofr folders. Folders need to be shared with the Add people option allowing for all collaborating parties to open documents in the shared folder simultaneously in their Koofr accounts in the browser.
Here you can check detailed features of Word, Excel and PowerPoint in Office for the web.
Terms of Service and Privacy Policy
Before the first use of Office in Koofr, users need to agree to Microsoft's Terms of Service and Privacy Policy.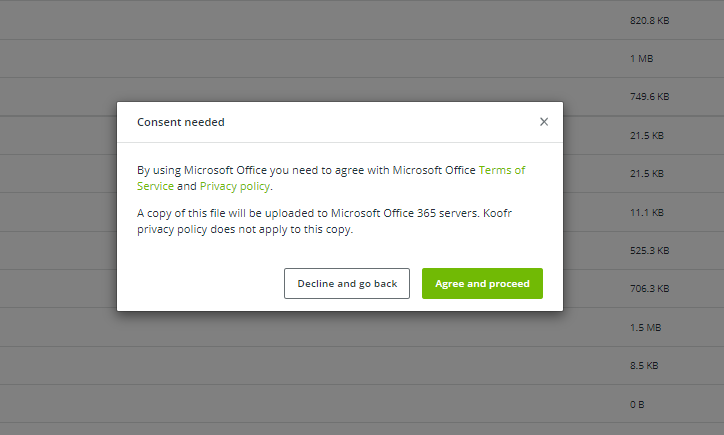 By clicking on Agree and proceed you agree with the fact that copies of your Office files will be uploaded to Microsoft Office 365 servers and Koofr privacy policy will not apply to these copies.
You can, of course, also decline to do so and keep using Koofr's integrated document viewer or revoke the Microsoft permission at any time later on in the Security settings of your Koofr account by clicking on the Revoke access button.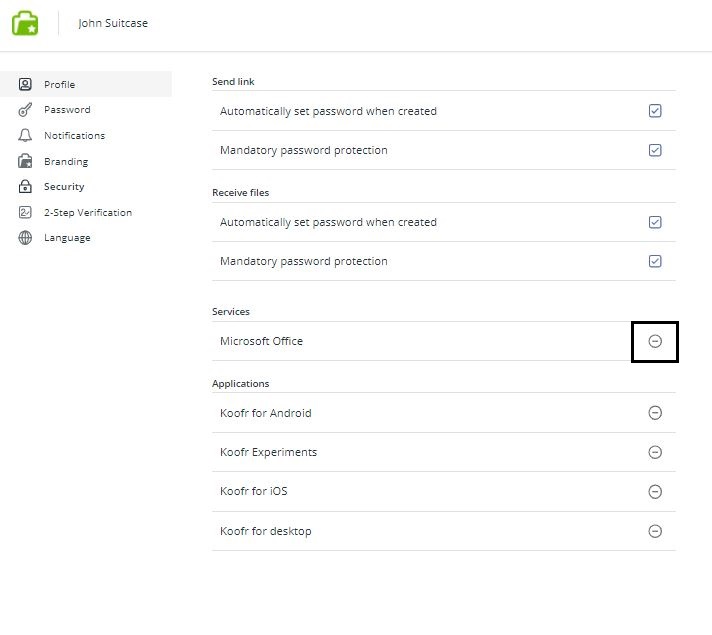 Read more on our website dedicated to this integration.
Want to talk to us? Join us on the Koofr subreddit!