Transfer a copy of your Facebook photos and videos to Koofr: a shortcut
You can use Koofr's shortcut to transfer a copy of your Facebook media to cloud storage. It's a quick and simple way to save your memories to your own space. Follow our guide and transfer your photos and videos from Facebook to Koofr today!
Back in 2020, Koofr was one of the first cloud storage services to be supported by Facebook's data portability toolset. Since then, thousands of users have transferred their photos and videos from Facebook to their Koofr accounts.
Thanks to one of our recent updates, you can now use a shortcut in the Koofr web app to transfer your Facebook content to your cloud storage! As you may have noticed, we've added a Facebook icon to the left-hand sidebar menu in Koofr to make it even easier to transfer your data.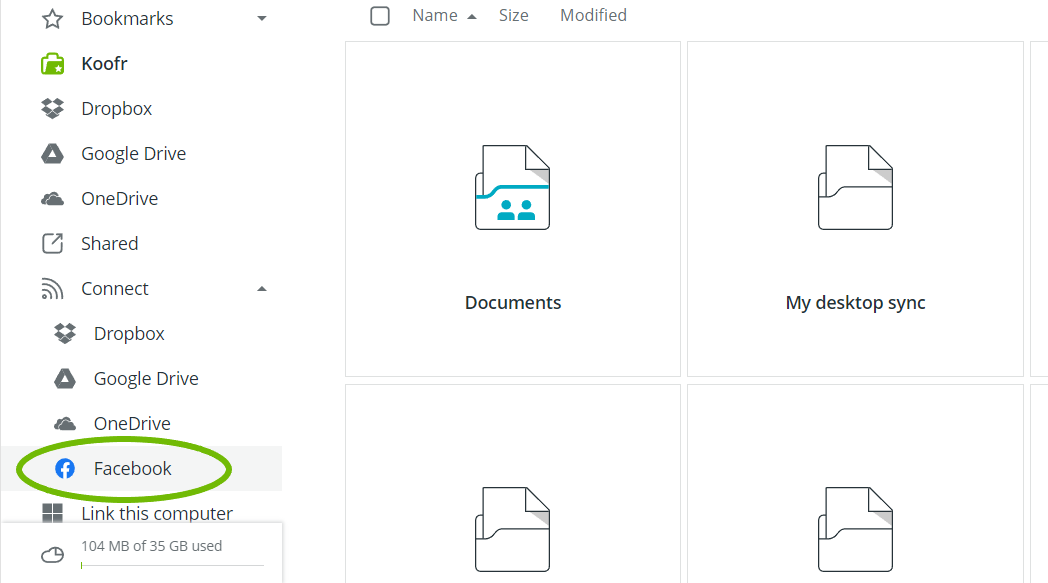 If you're concerned about privacy, then don't worry - we don't access your Facebook account or anything like that. We just provide a handy link that takes you directly to the data portability tool in Facebook's account settings, saving you a few clicks on the way. The only permissions you'll be granting is for Facebook to upload photos and videos to your Koofr account, and this is automatically revoked once the transfer is complete.
Follow the steps below to save a copy of your Facebook photos to your Koofr.
How to transfer Facebook photos and videos to Koofr
Note: Make sure you are logged in to Facebook before you start, otherwise you'll need to start over.
In the Koofr web application, open the Connect submenu in the left-hand sidebar, then click on Facebook.

Get started with the data transfer by clicking on the Transfer button. You'll leave Koofr and move to Facebook in the next step.

Next, you'll choose which photos and/or videos you'd like to transfer from Facebook. You can specify a date range to export, select specific albums or videos, or transfer all photos and/or videos. Only transfer photos or videos by setting the other media type selection to None. Click Next to continue.

Next, you'll have to temporarily connect Facebook to Koofr. Do this by clicking on the Connect button.

Give Facebook permission to access your Koofr account by clicking Allow. Note: This permission will be revoked automatically once the transfer is complete.

Everything is now ready for the transfer to start. Click on Start transfer.

Wait for the transfer to complete. You can close the page or navigate elsewhere on Facebook if you like, since the process will continue in the background.

You'll receive a notification once the transfer is complete.

Moving back to Koofr, you'll see a newly created folder: Data transfer. This is where all Facebook content is transferred to. The Data transfer folder contains up to two subfolders, depending on whether you exported photos, videos, or both.
That's all, folks! You've successfully transferred your media from Facebook to Koofr. You can repeat the process with customized settings whenever you like.
---
Want to talk to us? Join our community on Reddit.