5 ways Koofr keeps your files safe
How does Koofr keep your files safe and how you can make sure you're using all the features in this aspect?
[Updated Feb 2020: Added a link to the video on How to generate application-specific passwords inside your Koofr account.]
We've written a fair share on the topic of passwords and online security already. We know that hackers don't take holidays and that ransomware attacks can happen to anyone. Backing up your files to a cloud and away from fires and floods is crucial in preventing many headaches.
But are you familiar with all the features and settings Koofr offers on that front? We've put them all in one place for your convenience, but you can also check out our video.
1. Strong password protection
Are you backing up sensitive and private data? Or maybe you just don't want our family photos to be seen by some stranger? Of course, we all want to keep our files to ourselves. Make sure nobody can access your files and choose a strong password for your Koofr account. If you forget what it is, you can reset it through our password reset process.
Check out some tips for setting up strong passwords and some tips on how to remember them.
2. 2-Step Verification
A password alone can't do the best job of protecting your files, so Koofr offers another level of protection, called 2-factor authentication (2FA) or 2-Step Verification. Once you enable it, you will be able to sign into your Koofr account with a combination of your password and code this feature will generate on your phone.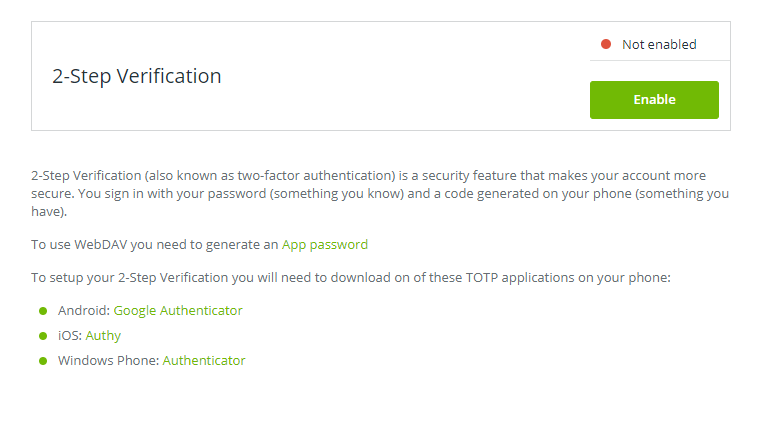 You can very easily enable it in your Koofr account settings. Just head over to your profile, choose Preferences and then choose 2-Step Verification from the menu on the left. You can find detailed instructions here, where we also describe this security feature in more detail.
3. Password for sending files with a link or receiving files with a link
Now let's take a look at a really useful and important feature - protecting the links to your files with a password. Koofr offers two very easy and fast ways to share files amongst people.
First scenario: you want to quickly share a file with a friend, co-worker or whoever. You click on the file (or a folder) and choose Share, then click on Send link. Once you do that, a window will open up where you can choose all kinds of settings – in this blog we're interested in setting up a password for this link. You can set a password and also set an expiration date for it. After that time, nobody will be able to access the file you shared.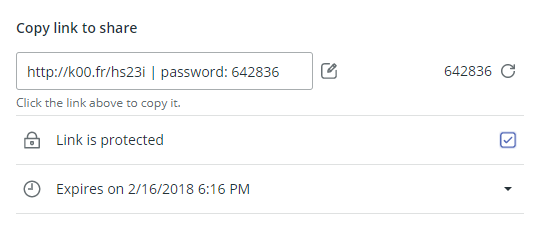 It always makes sense to protect a public link like this with a password. If you think that's too much hassle, try another option: sharing single files inside the Koofr app!
Second scenario: you want to get files from someone, so you suggest them to upload those files to your Koofr account. You create a folder and share it with them. The process is very similar to the one above, and it's described in detail here.
4. Other security settings
Following these two features, let's see what kind of additional settings exist for them. Go to the Preferences part of the Koofr app and click on Security to get to more settings. Here you can decide what kind of protection of your files you want in different situations.
Send link and Receive files. You can choose whether you want the link to be automatically protected with a password. You can also decide that all files sent and received need mandatory password protection. It's not a bad idea to choose both by clicking on the box next to it.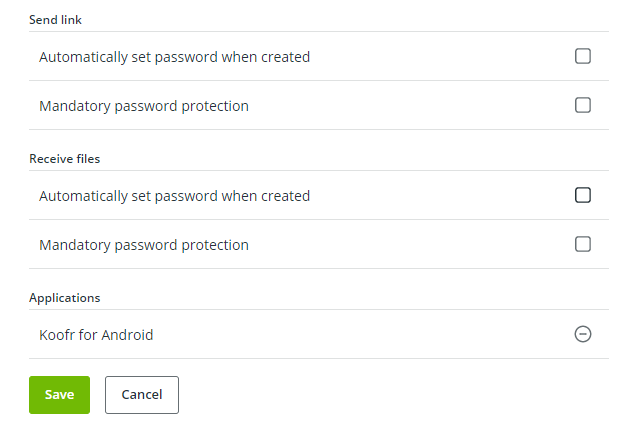 Applications. This field tells you what other apps have access to your Koofr account. Found some apps that shouldn't be there anymore or a similar scenario? You can easily revoke access by clicking on the round Remove button.
5. App passwords generator
Last, but not least: a password generator. App passwords are a security feature that makes your account more secure. Some applications (such as WebDAV client) only support username and password for authentication. That means you cannot enter 2-Step Verification code or sign in with an external authentication provider.
Koofr will generate these app passwords for you, and you won't have to remember them. Just note that these passwords cannot be used to sign into our web or mobile applications! How to generate one? We're back to Preferences. Click Passwords, and you should see the App passwords written below. Follow the instructions and easily create a new password or check out our video for more help.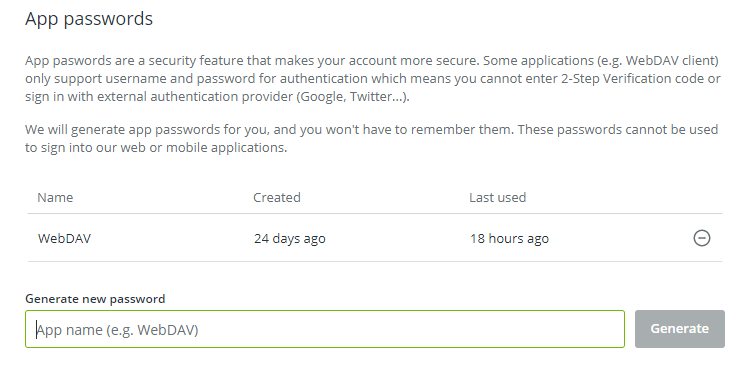 Are you curious about more Koofr features? Don't wait - get your FREE account with up to 10 GB of storage!
Want to talk to us? Join us on the Koofr subreddit!