Quickly save anything to Koofr in Opera browser
Save pictures, text, files and more while you browse with one simple click. Use the Save to Koofr extension for Google Chrome, even while using the Opera browser.
Sometimes, while browsing the web, we want to quickly save photos or interesting texts and view them later. Sure, there are plenty of ways to do that, but Koofr offers a simple solution to its users, which can do that through our easy to use Save to Koofr extension. You'll be happy to know that the extension initially made for Google Chrome can also be added to your Opera browser.
What is Opera browser?
Opera is a multi-platform, Chromium-based web browser. It distinguishes itself from other browsers through its user interface, functionality, and other features. It was initially released in 1995, making it one of the oldest desktop web browsers still actively developed today. In 2013, Opera switched from its own proprietary Presto layout engine to Chromium, thus adding support for Chromium-based plug-ins. It can be used on Windows, macOS, and Linux. Amongst its features are a built-in ad blocker, free VPN which shields your browsing from tracking, a built-in messenger and others.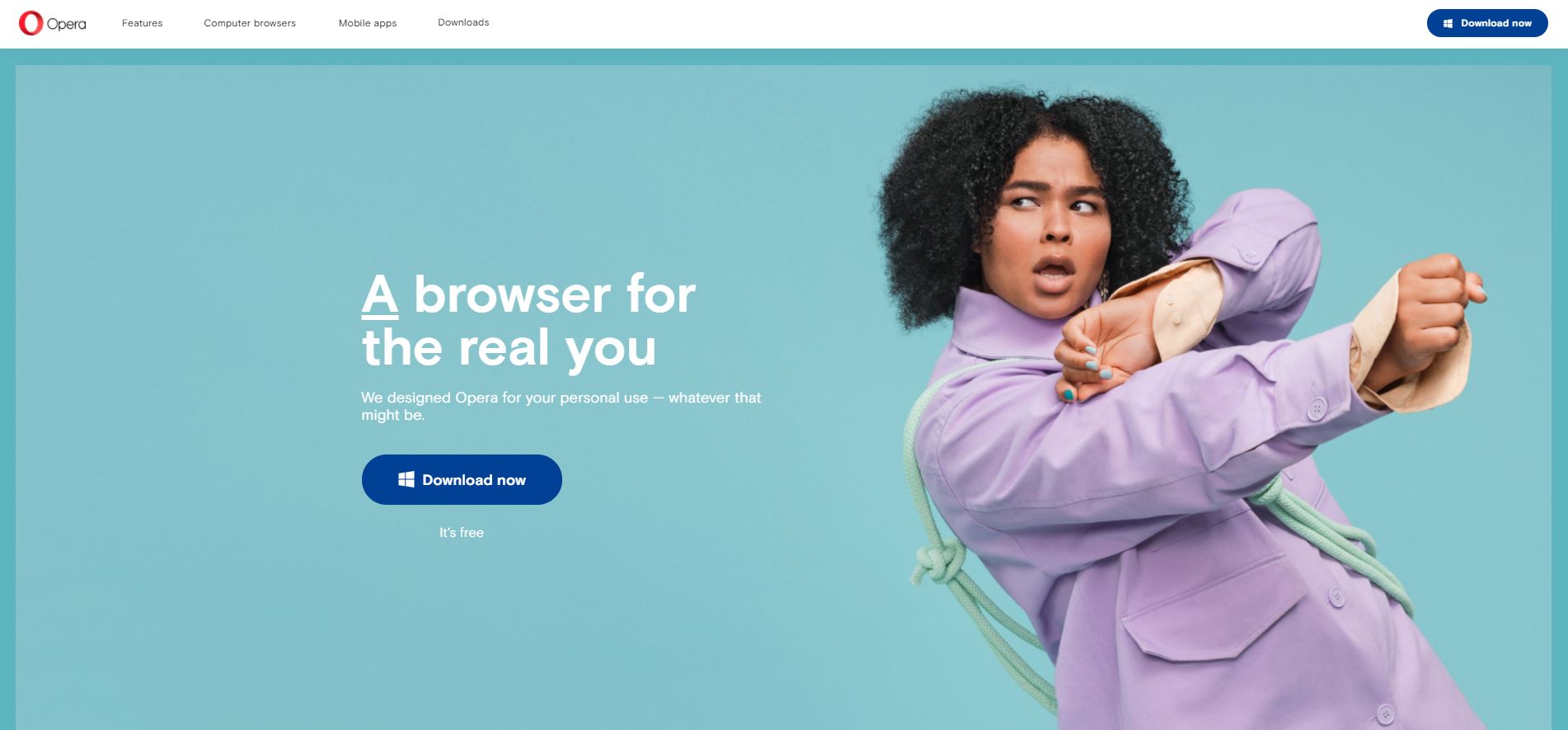 How to install Save to Koofr to Opera?
Why use Save to Koofr? Because all of the files you save to your cloud storage this way are accessible from anywhere and across all of the Koofr apps.
To install our Save to Koofr extension from the Chrome web store follow these steps:
Open the Opera browser.

Open the Chrome web store in Opera.

Find Save to Koofr extension and click on Add to Opera button.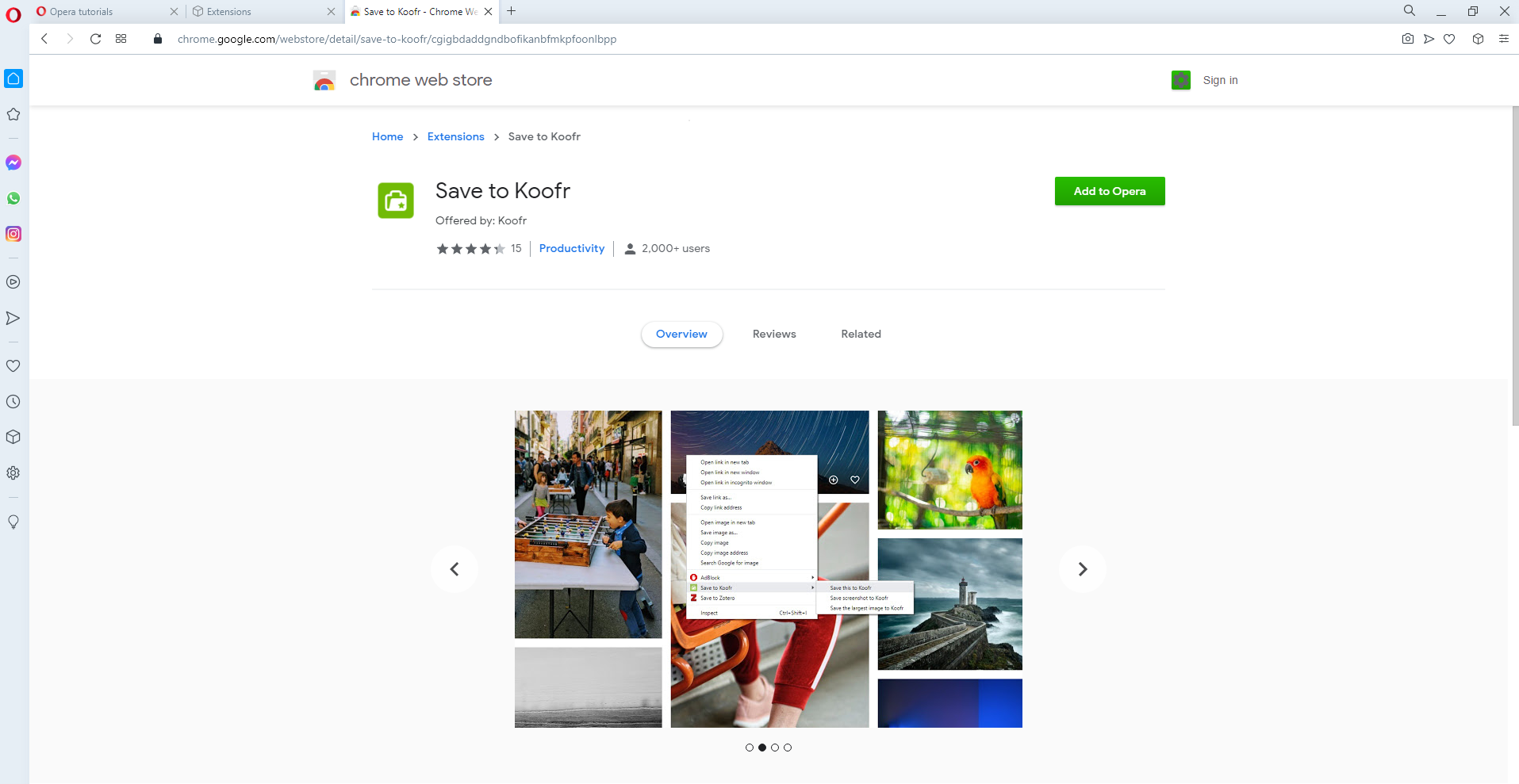 You'll see a pop-up prompting you to confirm the installation of a non-Opera extension by clicking on the Install button in the extension manager, like in the picture below.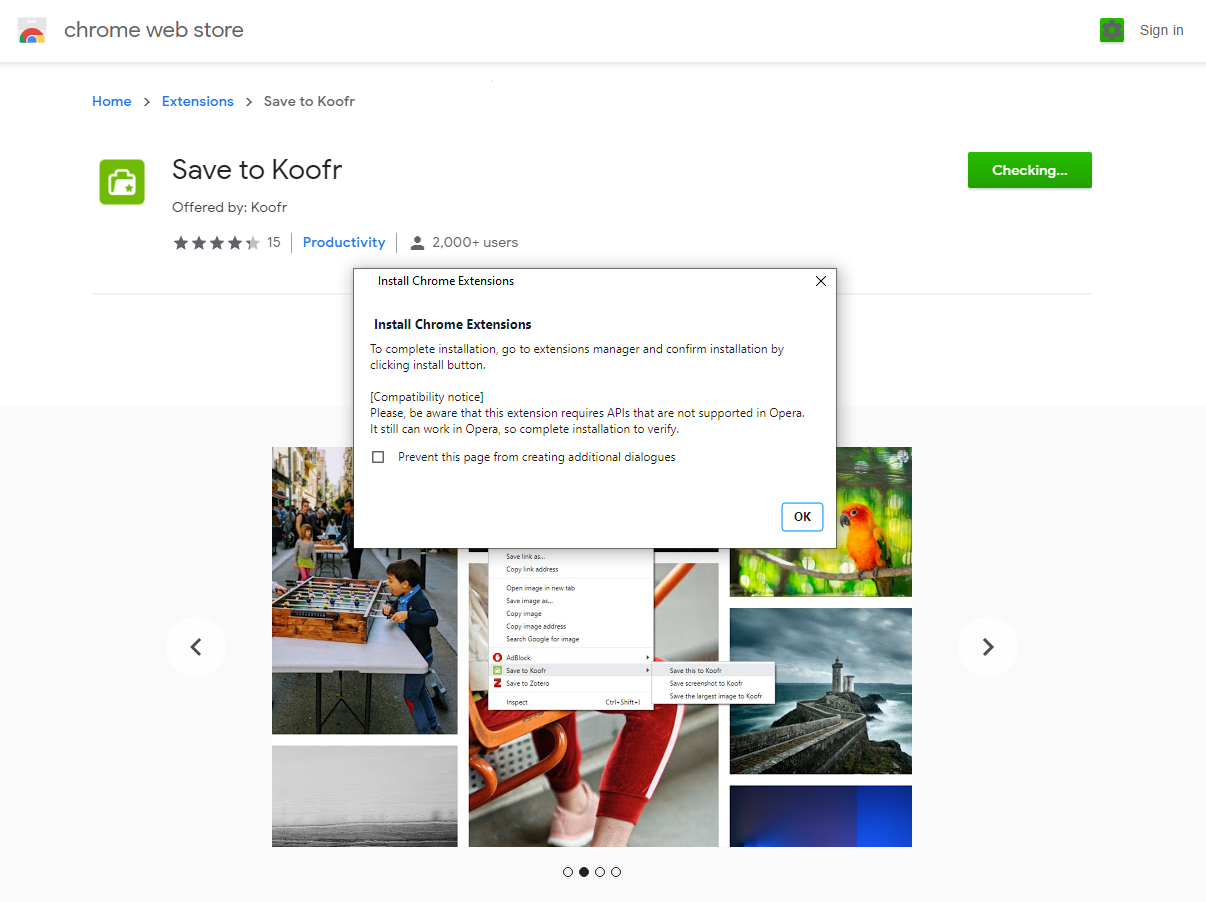 Go to the extension manager and click on the Install button.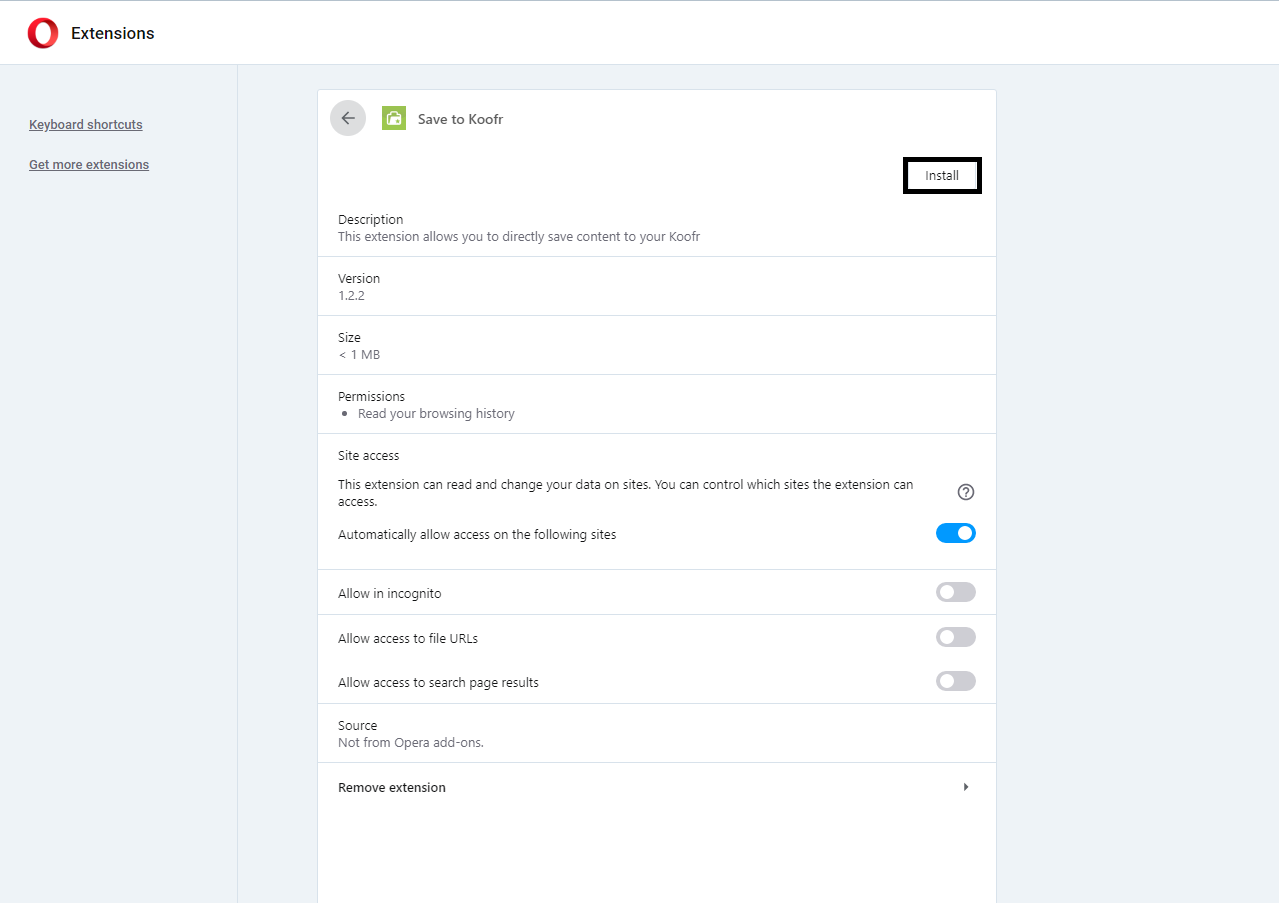 Once you see a pop-up, click on Yes, install to confirm the installation and give Koofr the needed permissions.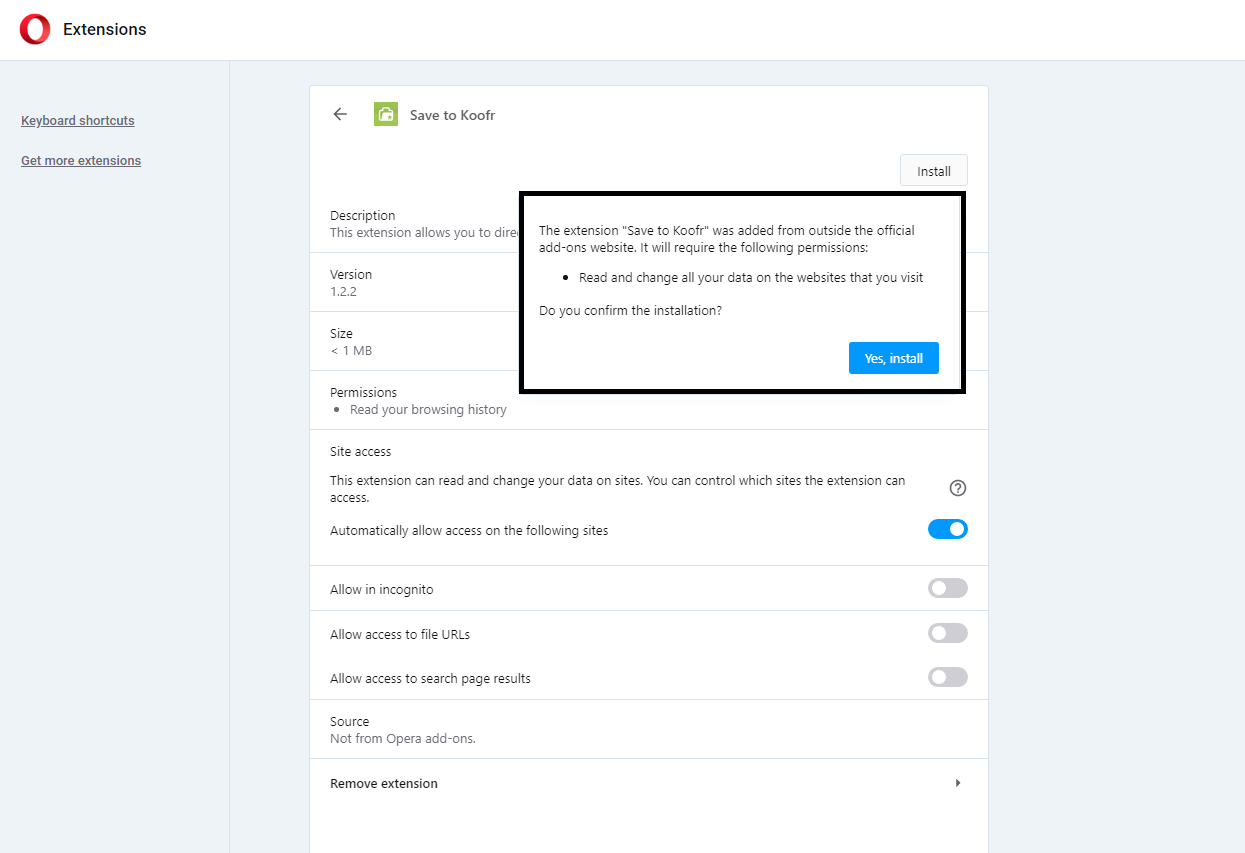 You will get a notification when Save to Koofr is added to Opera.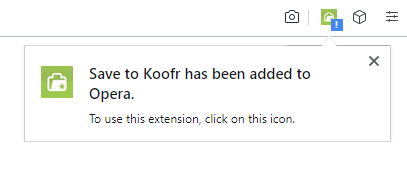 After that, you will be able to see Save to Koofr in the Opera sidebar under Extensions and in the Opera toolbar.

You will now have a new option called Save to Koofr in the right-click menu, which will show up whenever you right-click on a picture, video, selected text or a link to a file in your browser.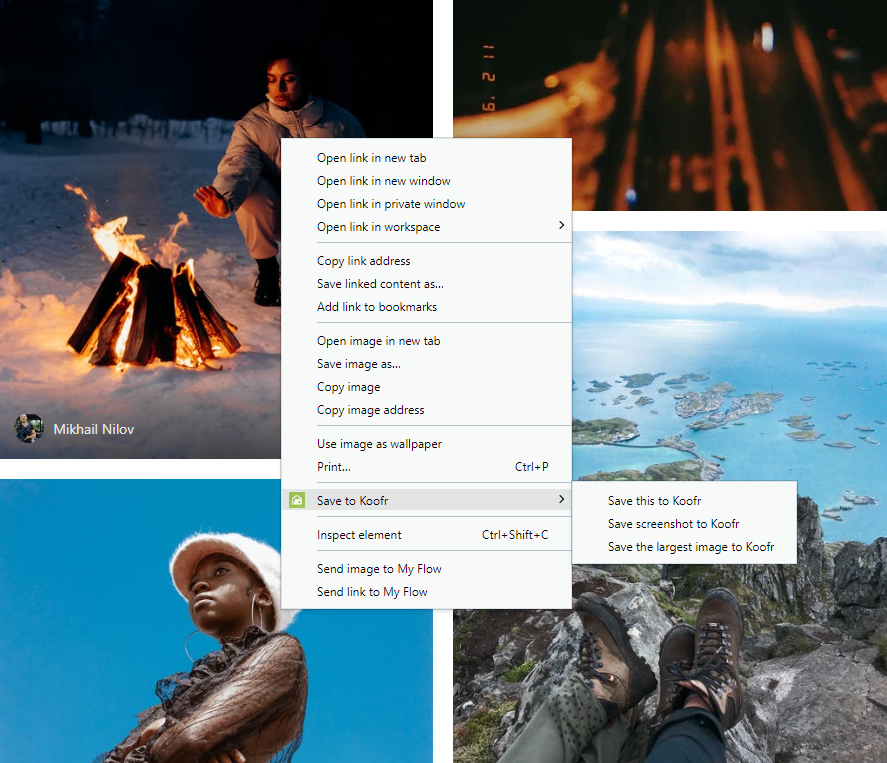 Note: Do not forget to log into your Koofr account for the extension to work.
How does Save to Koofr work?
Let's take a closer look at which options you have for different types of files:
(1) Picture or video files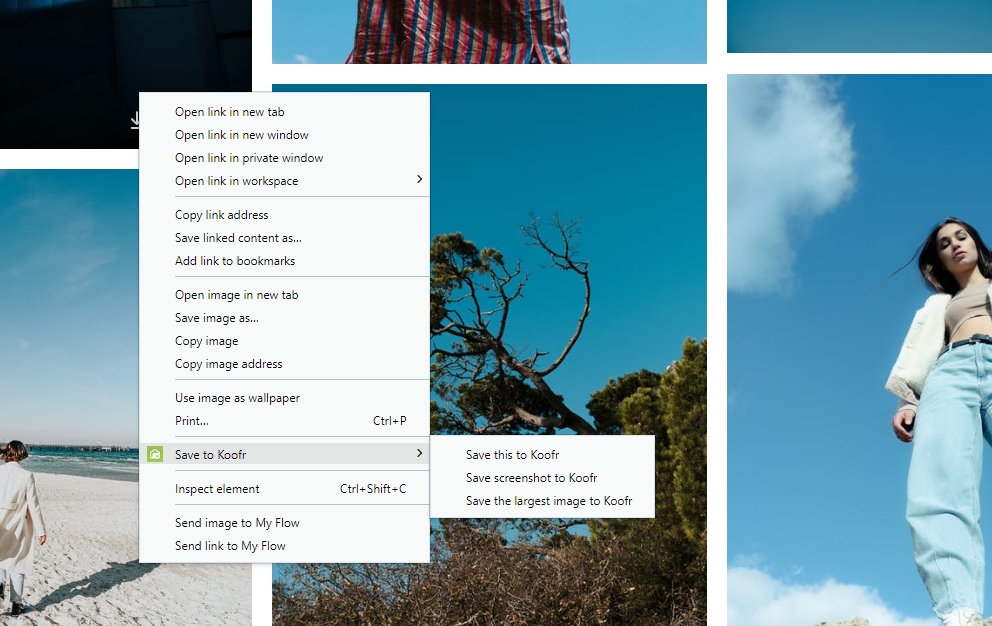 The Save this to Koofr option will save the selected picture or video to Koofr in the background while you browse. The Save screenshot to Koofr will make a screenshot of the web page that is currently open in your browser and save the screenshot to Koofr.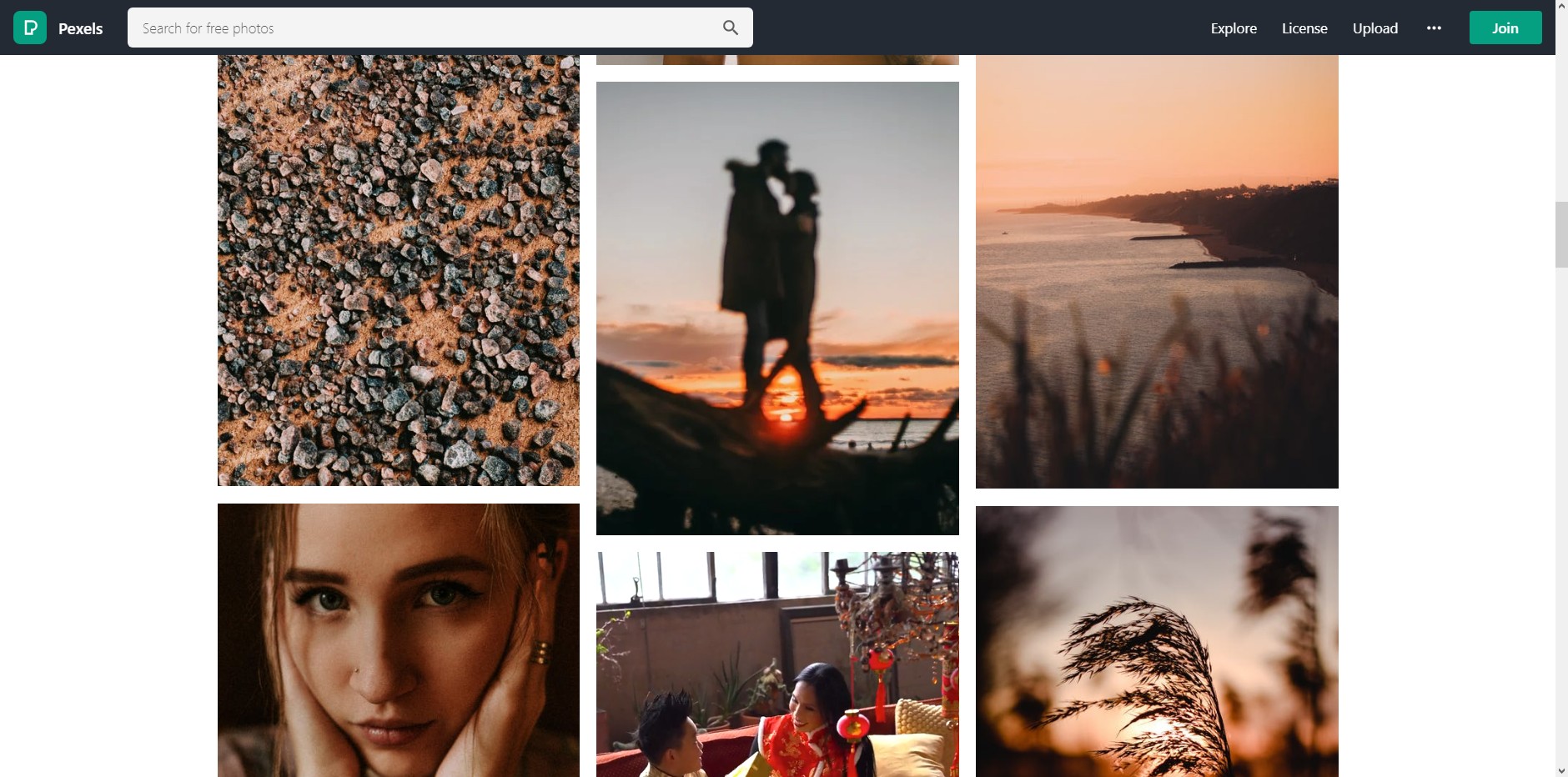 While Save the largest image to Koofr will save the largest image or video on the webpage that is currently open in your browser to Koofr.
(2) Text selection
This option will allow you to select a part of a text from a webpage with Save selected to Koofr option. Clicking on it will create a new text file (.txt) in your Koofr account which will be named after the webpage title and will contain both the original page URL and the selected text. This is especially useful when doing research for a thesis or a work project, where you have to collect information from various articles and sources.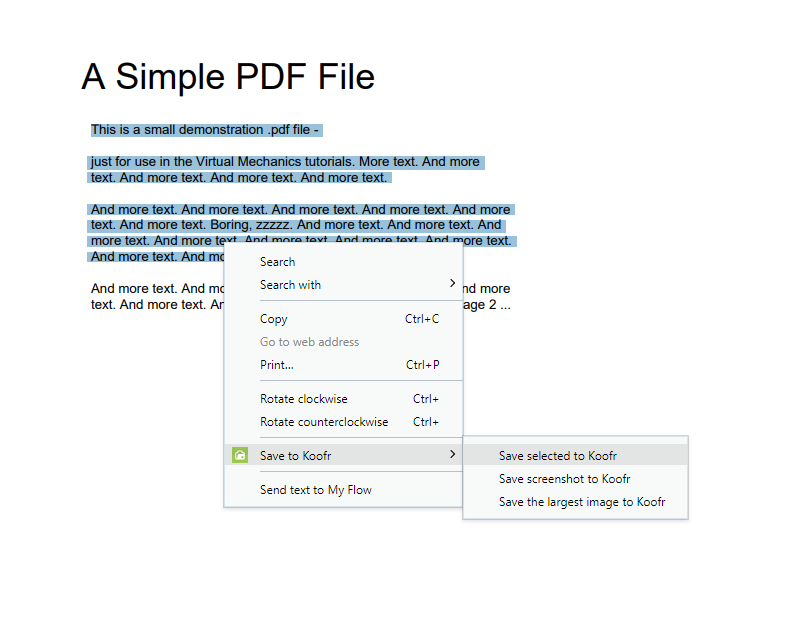 (3) Link to a file
Whenever you choose Save to Koofr on a link which points to a file (like an MS Office document or a PDF file) the target file will be automatically saved to your Koofr account. If you click Save to Koofr on a web link which points to a webpage, the webpage will be saved to your Koofr account. That's it. Simple right?
But wait, where do all of these saved files go?
Everything saved through our extension will end up in an automatically created folder in your Koofr account, named Save to Koofr. In case you use all of the supported browsers – Google Chrome, Mozilla Firefox, Brave, Opera and Edge, the files you save from any of them will be waiting for you in the same Save to Koofr folder in your Koofr account.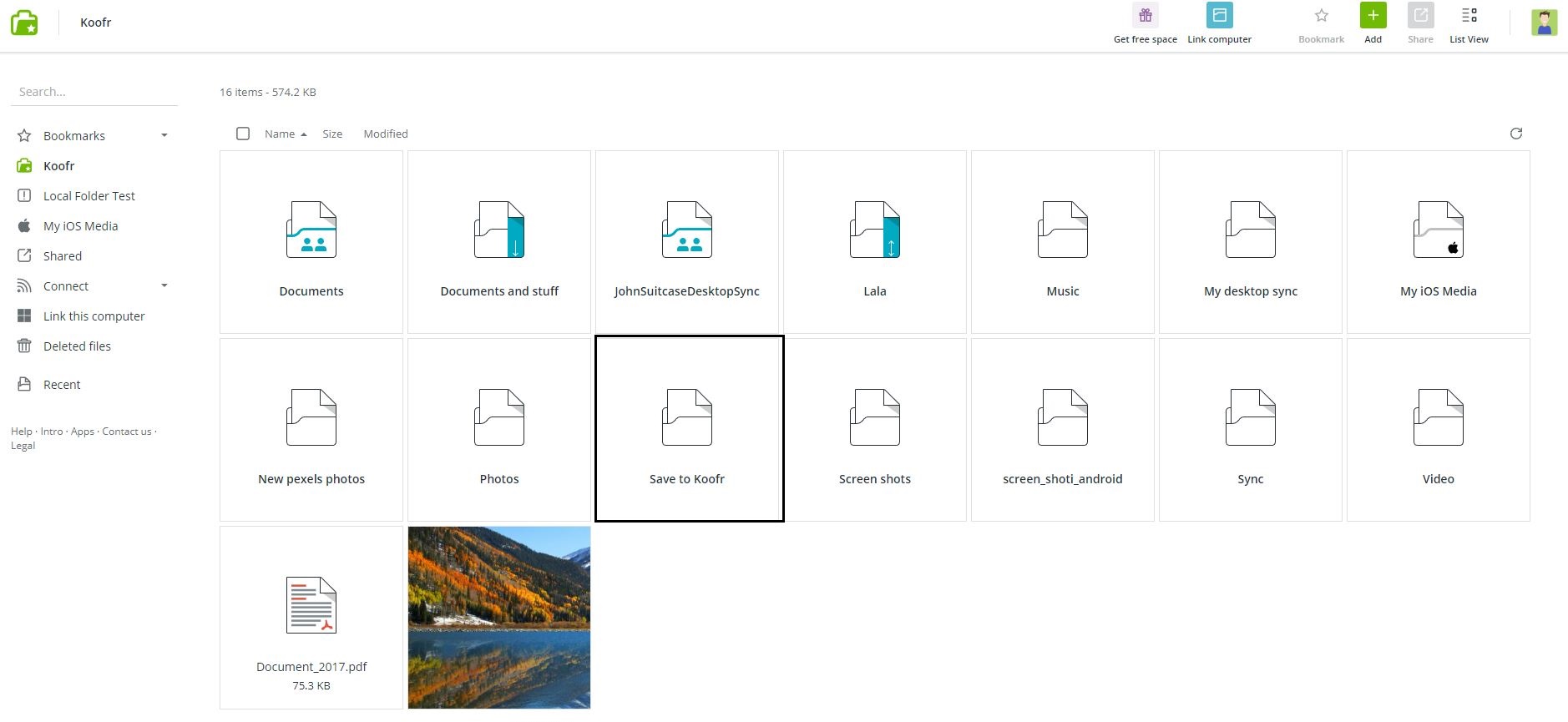 You can read more about the Google Chrome extension and Mozilla Firefox add-on in our Save to Koofr from Chrome blog post and Save to Koofr from Firefox blog post. If you are a fan of Brave browser check out this blog post and if you use Microsoft Edge check out this blog post.
PS: If a friend has shared files with you through a Koofr link and you would like to save them into your Koofr account, you can save them with one click with Save to Koofr option in the Download menu. The files will be waiting for you in your Save to Koofr folder, inside your account.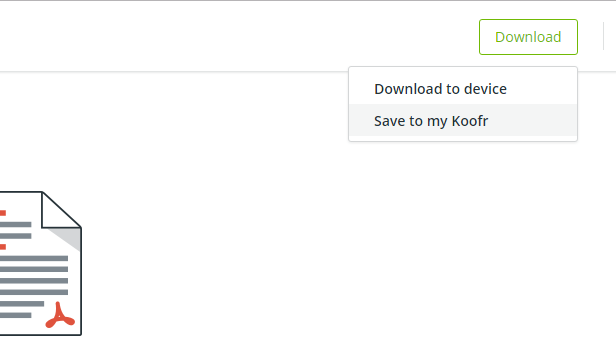 Want to talk to us? Join us on the Koofr subreddit!