Quickly save anything to Koofr with an extension for Brave browser
Do you know how to save pictures, text, files and more with one simple click while you browse? Learn more about our cool Save to Koofr extension which can do that for you, now also from Brave Browser.
Sometimes, while browsing the web, we want to quickly save photos or interesting texts and view them later. Sure, there are plenty of ways to do that, but Koofr offers a simple solution to its users, which can do that through our easy to use Save to Koofr extension. The extension can now also be added to Brave browser.
What is Brave Browser?
An open-source browser built by a team of experts focused on privacy and performance. Brave is fast, blocks ads and trackers and unwanted content (and also keeps count of trackers per site). It blocks the software that follows you around, fights malware and keeps your information safe and secure. All of that goes really well with Koofr values btw.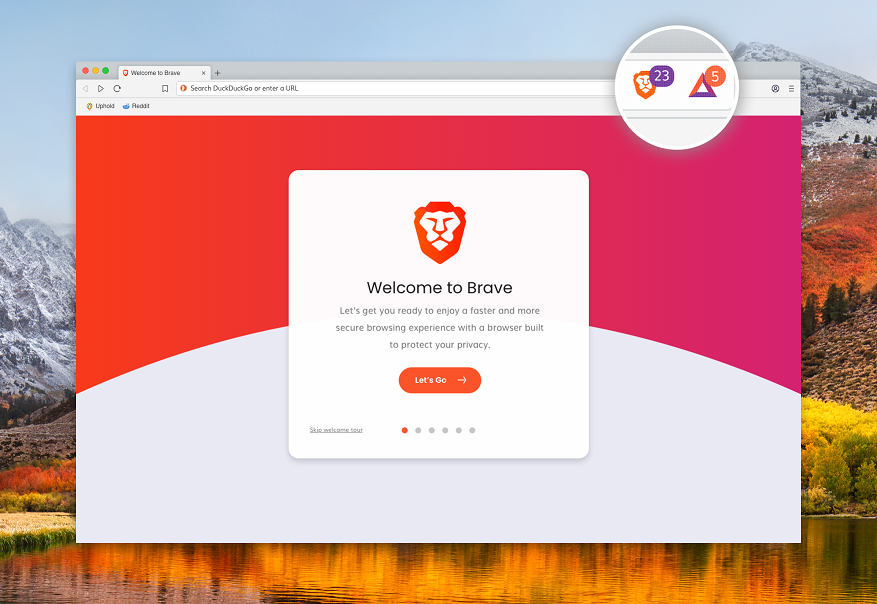 Why use Save to Koofr?
Because all of the files you save this way are accessible from anywhere through Koofr apps.
Let's have a quick look at how Save to Koofr works
Open the Brave browser
Install our Save to Koofr extension from the Chrome web store
Note: Save to Koofr add-on for Firefox does not work with Brave browser, you have to use Save to Koofr for Chrome extension.

Once you see a pop-up, click on Add extension to give Koofr the needed permissions.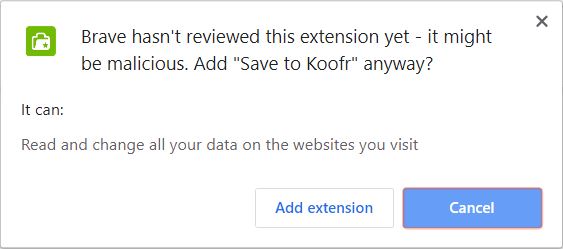 You will get a notification when Save to Koofr is added to Brave

You will notice the Koofr icon in the Brave toolbar (in the top right corner of your browser)
You will now have a new option called Save to Koofr in the right-click menu, which will show up whenever you right-click on a picture, video, selected text or a link to a file in your browser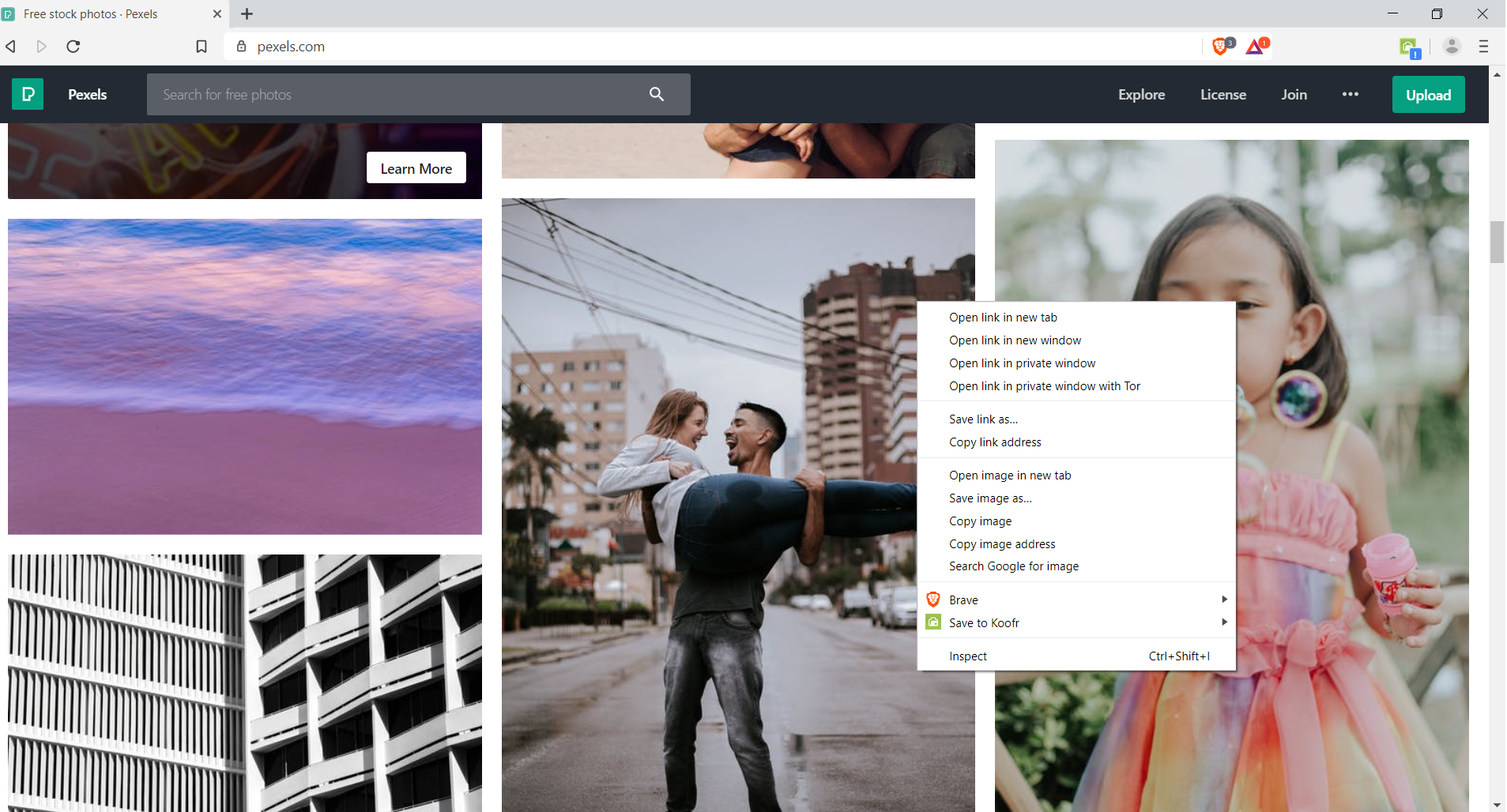 Let's take a closer look at which options you have for different types of files:
(1) Picture or video files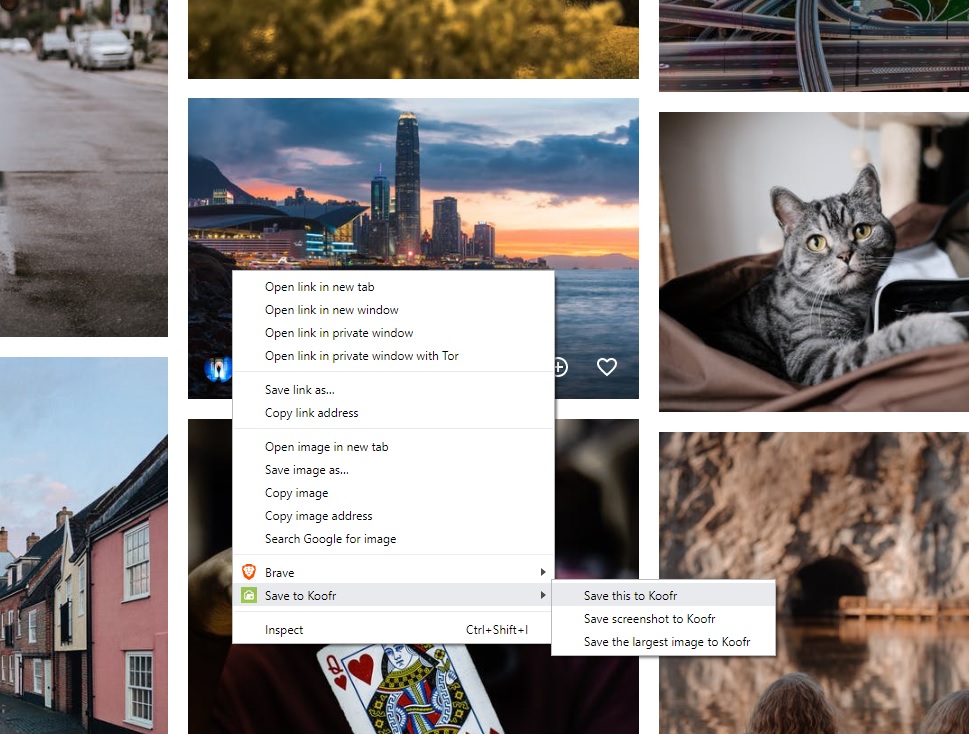 The Save this to Koofr option will save the selected picture or video to Koofr in the background while you browse. The Save screenshot to Koofr will make a screenshot of the web page that is currently open in your browser and save the screenshot to Koofr.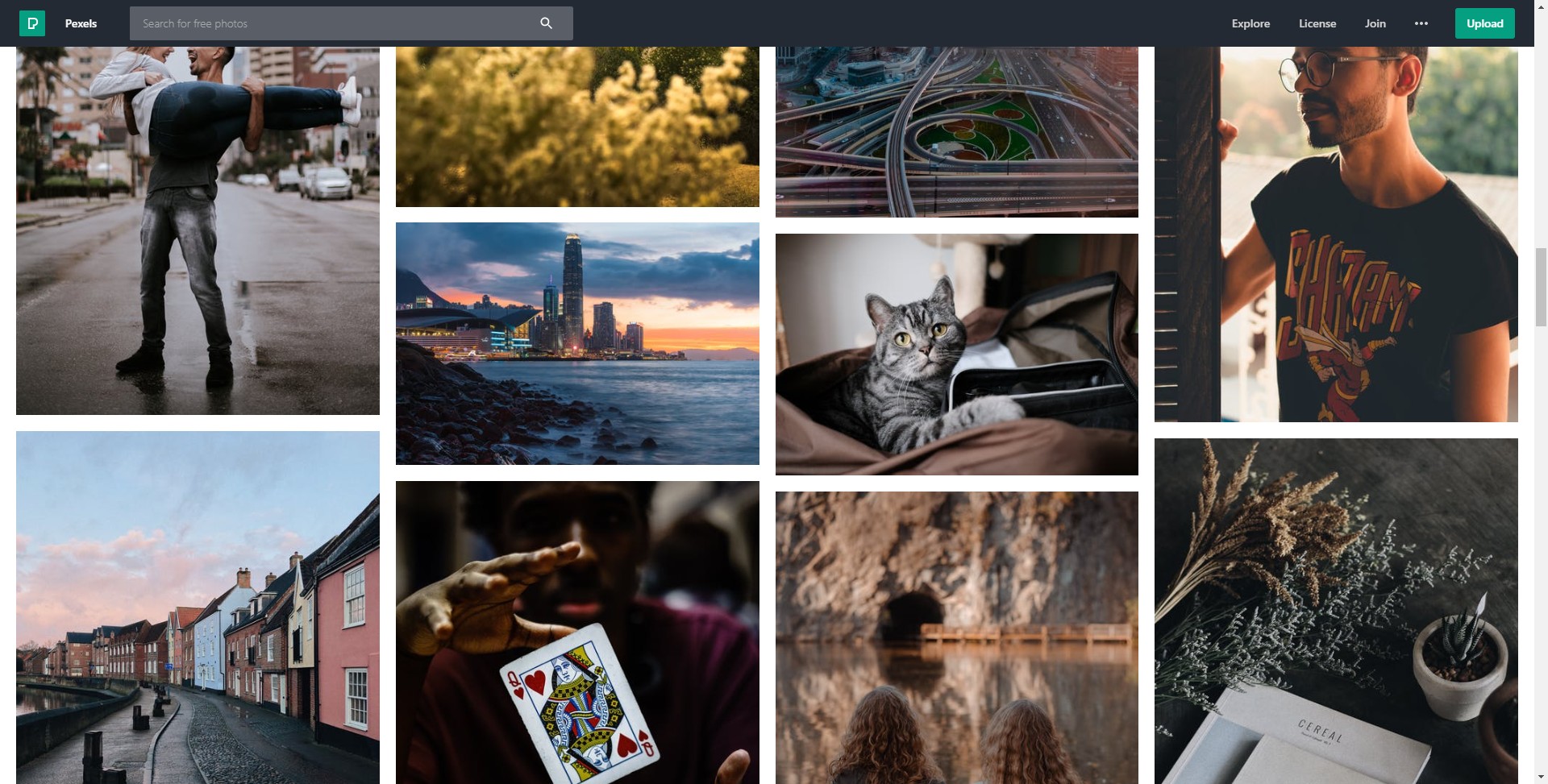 While Save the largest image to Koofr will save the largest image or video on the webpage that is currently open in your browser to Koofr.
(2) Text selection
This option will allow you to select a part of a text from a webpage with Save selected to Koofr option. Clicking on it will create a new text file (.txt) in your Koofr account which will be named after the webpage title and will contain both the original page URL and the selected text. This is especially useful when doing research for a thesis or a work project, where you have to collect information from various articles and sources.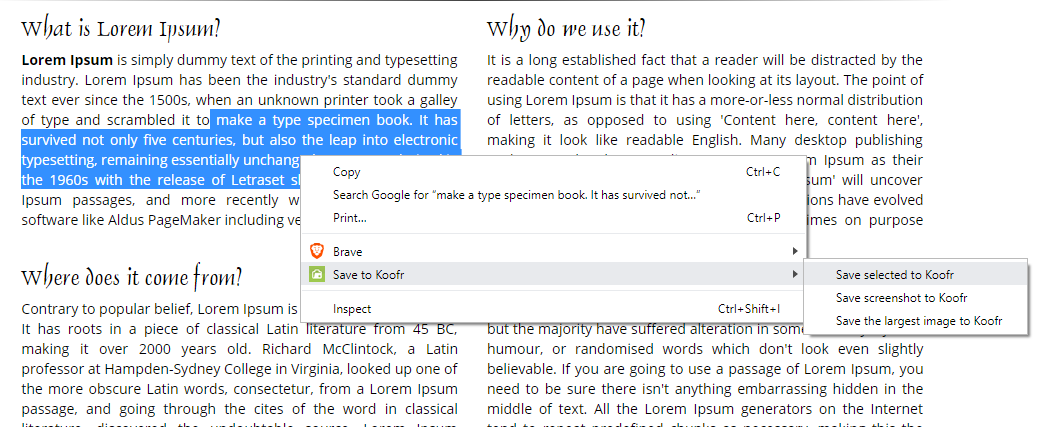 (3) Link to a file
Whenever you choose Save to Koofr on a link which points to a file (like an MS Office document or a PDF file) the target file will be automatically saved to your Koofr account. If you click Save to Koofr on a web link which points to a webpage, the webpage will be saved to your Koofr account. That's it. Simple right?
But wait, where do all of these saved files go?
Everything saved through our extension will end up in an automatically created folder in your Koofr account, named Save to Koofr. In case you use all of the supported browsers – Google Chrome, Mozilla Firefox and Brave, the files you save from any of them will be waiting for you in the same Save to Koofr folder in your Koofr account.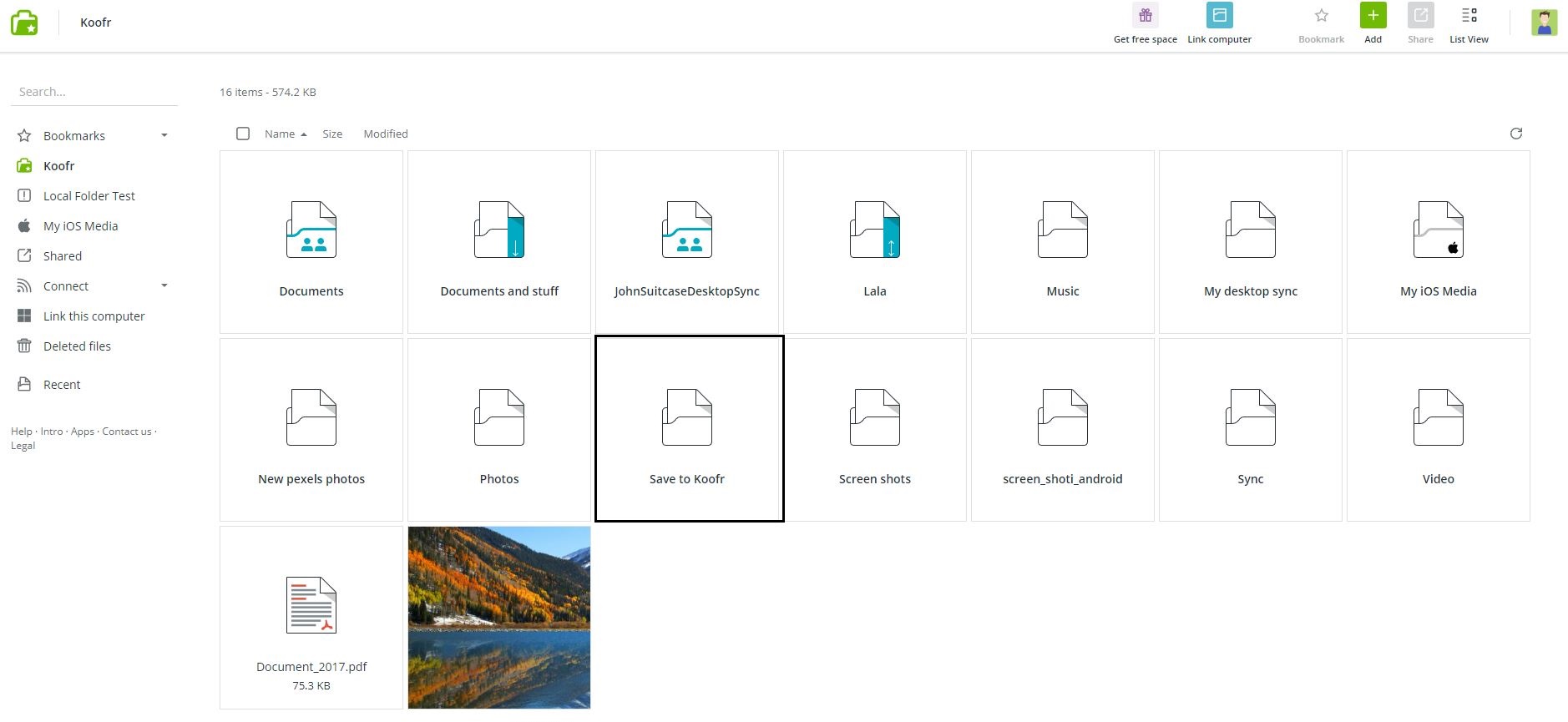 You can read more about the Google Chrome extension and Mozilla Firefox add-on in our Save to Koofr from Chrome blog post and Save to Koofr from Firefox blog post.
PS: If a friend has shared files with you through a Koofr link and you would like to save them into your Koofr account, you can save them with one click with Save to Koofr option in the Download menu. The files will be waiting for you in your Save to Koofr folder, inside your account.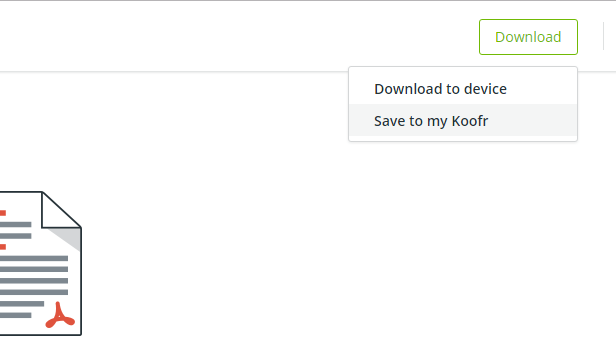 Want to talk to us? Join us on the Koofr subreddit!