How much cloud storage space do you really need?
When choosing a service for backing up your files online, one of the main decisions you need to make is the one about the amount of space you need. We are here to help!
[Update April 2022: As we step into Koofr's 10th year of service, we're introducing several changes to our plan structure. All Koofr users now receive 10 GB of free cloud storage space instead of the previous 2 GB of free space, no matter what plan they are on.]
You've decided that it's time to stop dreading the moment when your computer or external hard drive breaks down and takes all your family photos and work documents down with it. Fantastic! Backing up your files online is a smart decision for many reasons. You can read more about them in our blog post. Now you're probably looking at different options, applications and services for backing up your files safely and without a hefty bill. But, the first question you need to answer is: "How much cloud storage space do I need?"
So how do I know how much cloud storage I need to get? Watch our video and follow the steps below to find out!
1. Your current situation
This step will require some digging around your computer and your existing drives. You need to take a look at the files you intend to store online. Check the sizes of folders and files, and add them together if needed, to come to a total, which will help you determine how much space you should buy. The rule of thumb is to multiply whichever number you get by at least two and you get the amount of cloud storage you need.
2. Types of files
The size of storage space you'll need in the long run mostly depends on the type of files you intend to back up. The actual sizes of files vary and depend on many different factors. For example, if you're a professional photographer, your photos will take up more space than if you're only taking photos with your smartphone. If all you want to store are Word documents with very few pictures, you will likely need a smaller plan. Rich PowerPoint presentations are bigger. If you're a graphic designer, the files you work with will be significantly bigger.
Despite these differences and variations, we put together a table of average file sizes which will hopefully help evaluate storage needs for an average user.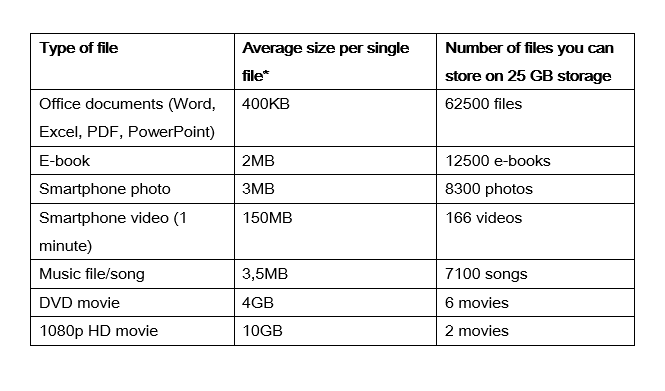 *Keep in mind the sizes may vary. Do a quick check of your files to see how big most of them are and determine an average.
A practical example: let's say you only want to backup the photos you're taking with your phone. You want your photos to be automatically backed up on your cloud. Let's say you take 3 photos per day and a 1-minute long video, per week on average. A 10GB storage account will offer you enough room for about a year. Of course, don't forget about the photos you might already have on your drive and want to back up! 25GB should cover your needs for a while.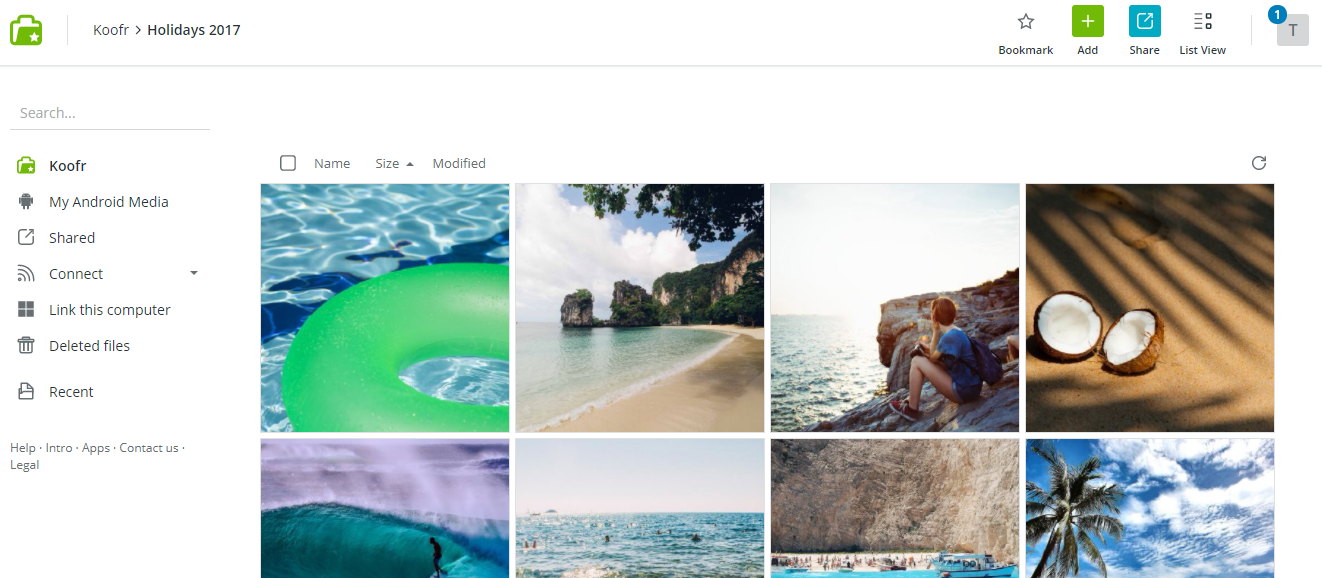 3. Bigger is not necessarily better
One important advantage of cloud storage is the fact that you can start small. If you realize you need more space, you can always upgrade the plan. Most online storage services offer a set amount of space with a free account, which ranges from 2GB to 15GB. For many users, that won't be enough to cover all their storage needs in the long run. Advanced, premium plans then suddenly jump up in price significantly.
You don't necessarily have to go big right away and buy a 100GB, 1TB or an unlimited plan, as practical and attractive this solution might seem. Because unless your backup needs are very specific, you'll probably never need this much space. And you probably don't want to pay for space you don't need, right?
This is where Koofr really comes through for you – we offer a number of smaller, more affordable plans that cater to your specific needs and store your files in a secure place with many additional features you might enjoy, such as simple sharing, connectivity with other storage services, access to your files through different devices and many more.
Interested? Open your free Koofr account and try it out.
Want to talk to us? Join us on the Koofr subreddit!