Use Koofr to support your photography with cloud storage
Whether you are a professional photographer or just a passionate hobbyist, reliable cloud storage is an indispensable tool that will render itself useful often in your photography journey. Read on to learn how.
If you are into photography, chances are you invest a lot of time and money into your equipment and photography software. Yeah, a collection of different lenses is indeed great, but have you tried using cloud storage as a solution for your vast collection of photos?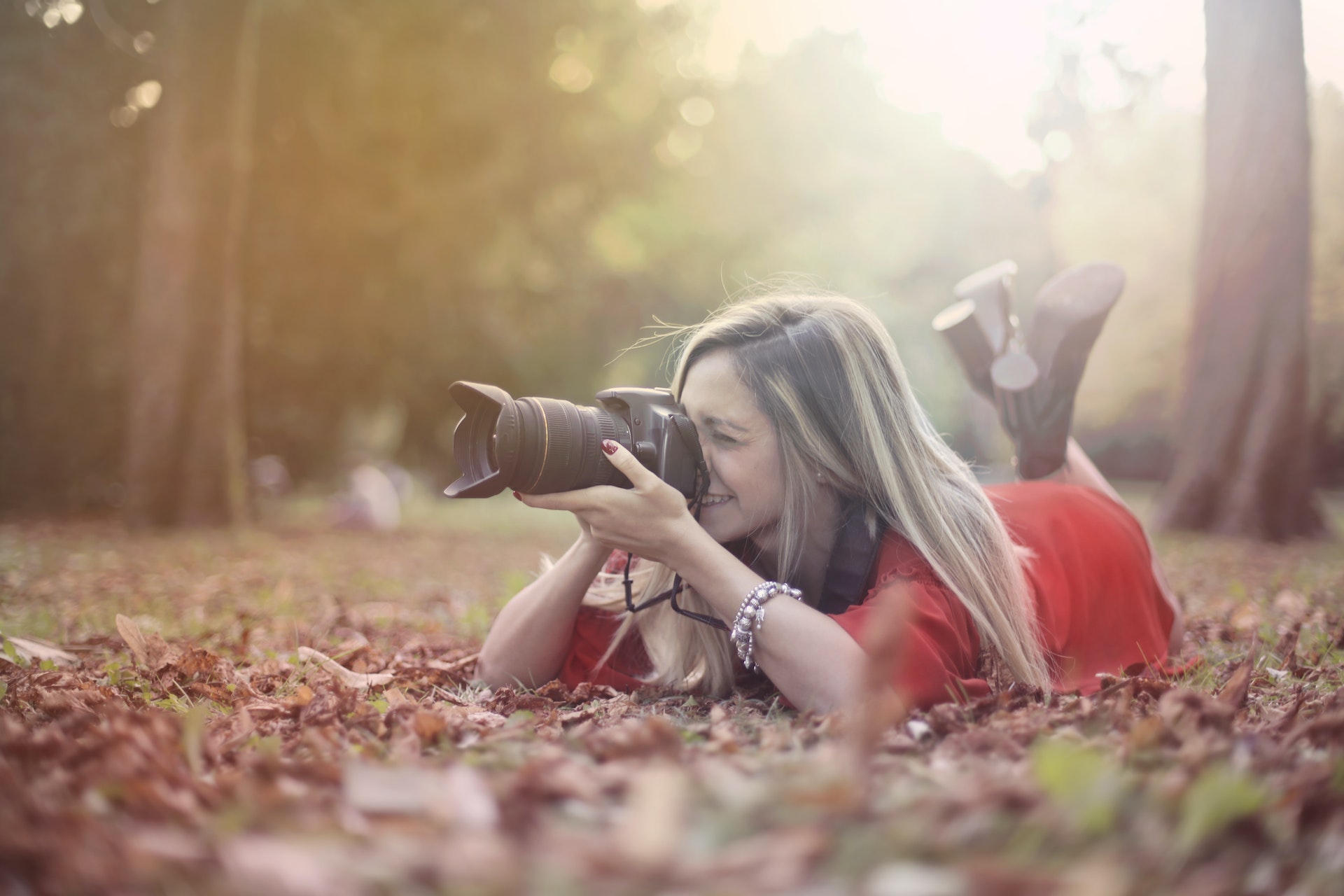 There are many ways cloud storage can help support your photography lifestyle, whether you're a professional or just an avid hobbyist. Koofr's unique set of features makes it a good choice both as a storage solution as well as a means to transfer files to your clients. Let's look at them.
Backup and archives
Losing your work can be tedious - like if you need to redo a batch of edits - or even downright nightmarish - like if you accidentally wipe the RAW files from a client's wedding! It's a good idea to add regularly backing up to your work process as soon as possible.
A reliable way to ensure you don't lose any photos is to back them up to your cloud storage. There are several ways to do this in Koofr, so try them out and see what works best for your workflow.
One option is to have one or more folders on your computer synced to Koofr. You can easily set up as many custom syncs as you need using the Koofr desktop app. This way, all your work in the synced folder will be automatically saved to your cloud storage too.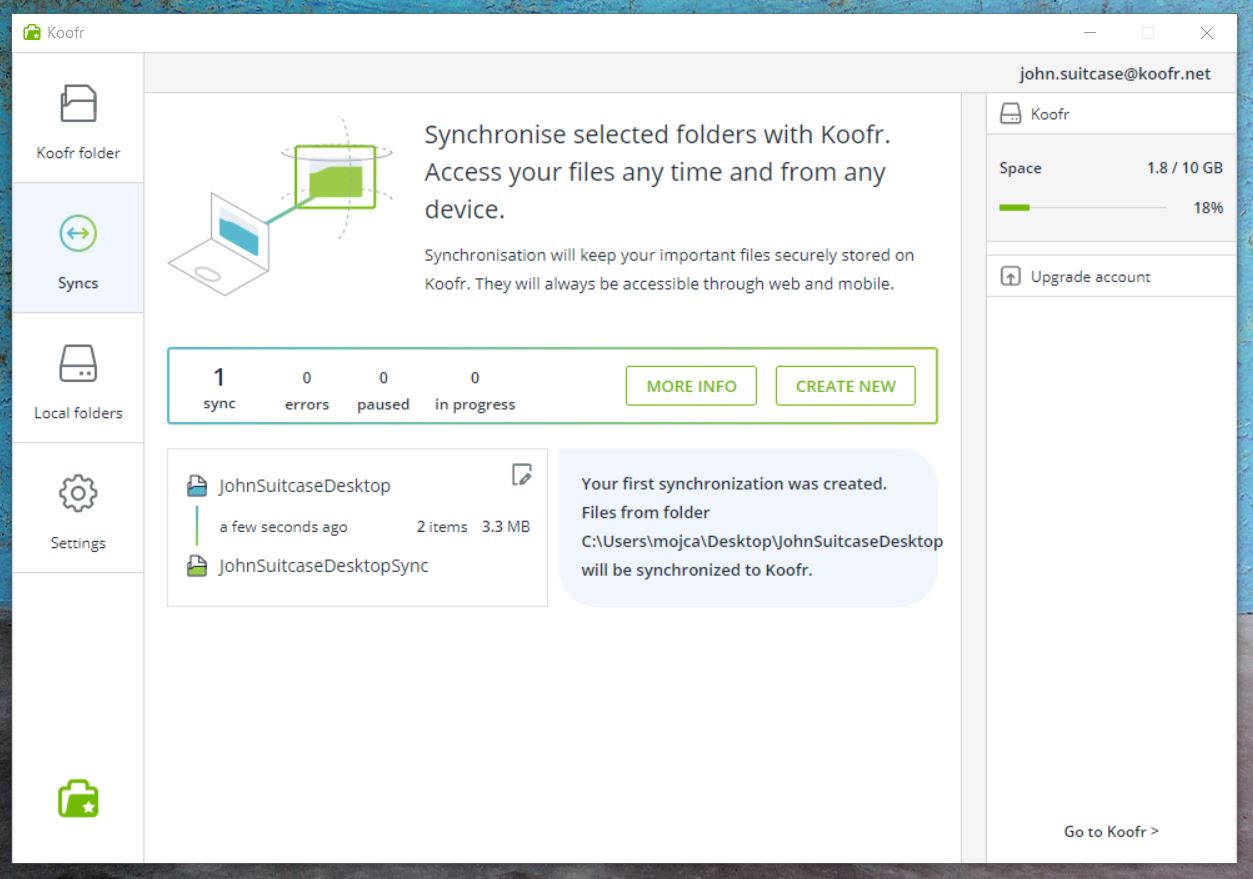 An alternative approach is to map your Koofr cloud storage as a network drive on your computer. This, too, allows you to work on your cloud-based files in real-time.

You can also use your cloud to store your archived files. Physical storage devices can do the job, but they are also prone to failure. Since you won't access your archives often, you can compress your photo collection into sensible chunks. For sensitive content, add an additional layer of security by encrypting your files using rclone or Cryptomator.
On-the-go access
Having your entire archive at your fingertips when you are out and about can come in handy. Instead of sending examples of your work after a meeting (because we know you are not hauling heavy folders of your prints around), you can use the Koofr mobile app to showcase anything from your library of work on a whim.
Koofr also supports RAW files and is able to display them in the gallery view of the web and mobile applications.
Sharing photos with clients
After a photo session with a client, you can use Koofr to send them preview photos or ask them to select the ones they would like to be processed. Koofr links are perfect for this since your clients don't need a Koofr account to access the linked files.
Koofr links can be protected with a password and set to expire after a certain period of time. You can also email them directly from the Koofr app.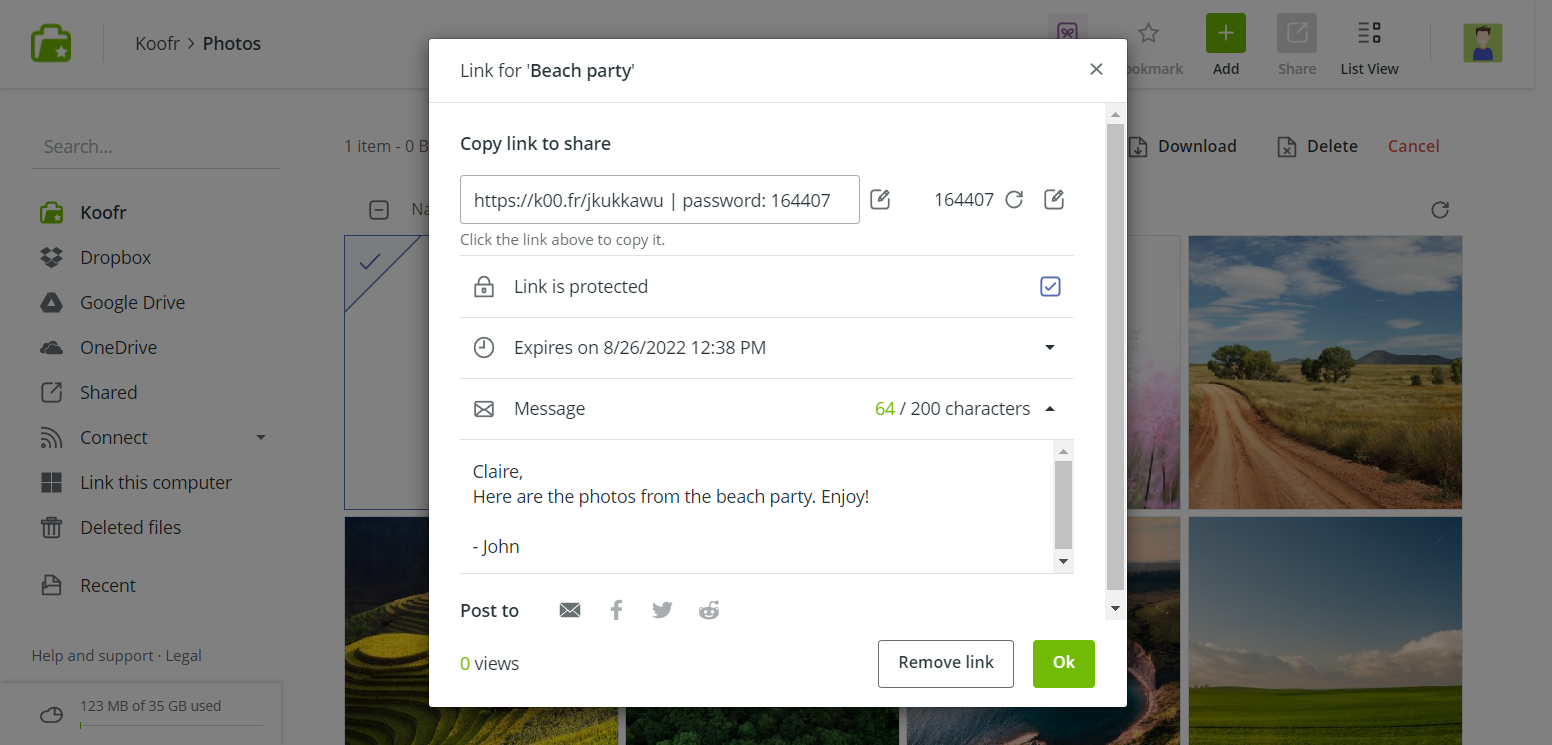 Branded links
For a more professional touch, you can customize the look and feel of your Koofr links by using a logo for your profile picture and adding a custom message to the link.
You can also customize the URL, which can be practical if photos are expected to be shared with a broader audience (for example wedding photos).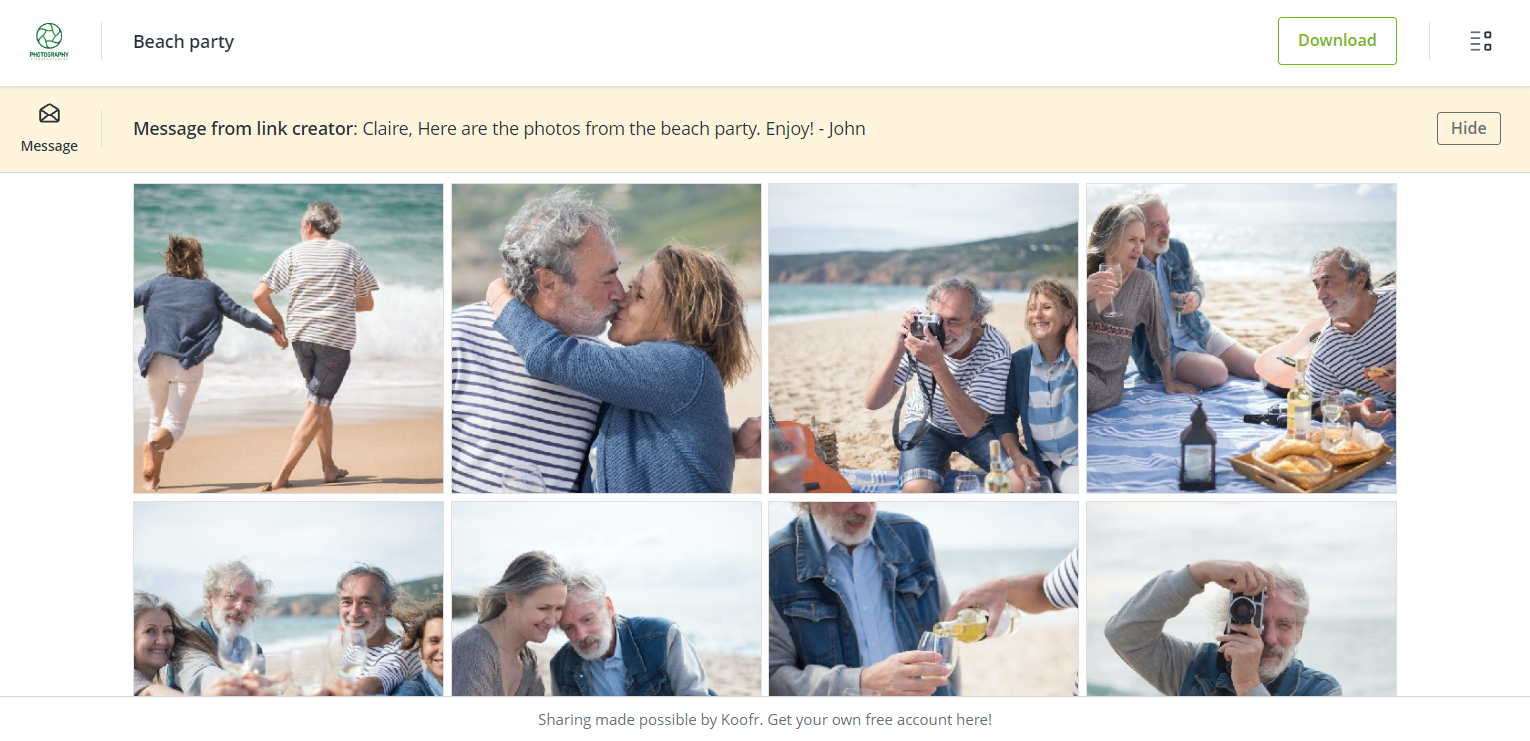 Image Editor
One of Koofr's neat features that may prove useful in a pinch is the built-in image editor. This tool lets you resize, crop, rotate images and more - and all you need is a browser and an internet connection.
While it is certainly not as powerful as your image editing tool of choice (like Photoshop, GIMP, or other), you can use it to make quick and simple edits, or as a format conversion tool (converts to PNG and JPEG).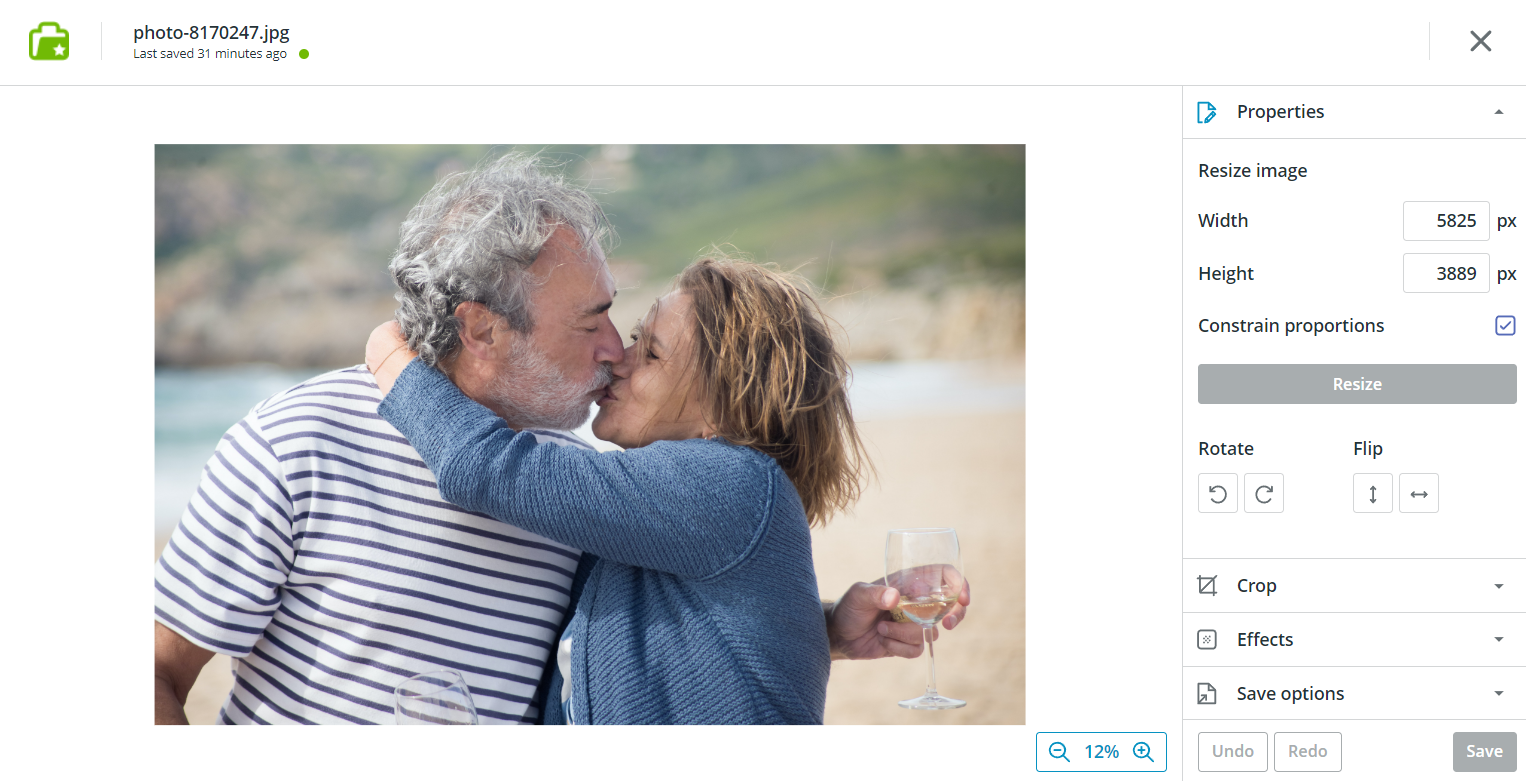 Read more about what you can do with Koofr's image editing tool in our blog post.
---
Are you an avid photographer or photography professional? Try adding Koofr to your photography stack and let us know how you like it on our subreddit!