Product comparison: Koofr vs. Icedrive
Are you considering both, Koofr and Icedrive cloud storage, but can't decide on which provider to choose? Read our comparison to find out which of the two is a better fit for you!
Koofr and Icedrive are both cloud storage providers based in Europe (Slovenia and the UK, respectively) focused on privacy and security. While both providers have a similar core offer, there are a number of features that set them apart. In this post, we'll try to cover these differences to help you figure out which of these services is best for you.
Pricing and plans
You can get started with either Koofr or Icedrive (or both!) for free. Both providers offer a free plan with 10 GB of storage space and limited features.
As for paid plans, Koofr offers a variety ranging from 10 GB to 10 TB in storage space, which is counted in addition to the 10 GB included in the free plan. In addition to the increased storage space, higher-tier plans also include some premium features, which we'll get to later. Subscriptions are available on a yearly basis, and users can upgrade their plans whenever they need more storage.
Currently, only yearly subscriptions are supported.
| S | M | L | XL | XXL | XXXL | 10XXL | 20XXL |
| --- | --- | --- | --- | --- | --- | --- | --- |
| 10 GB | 25 GB | 100 GB | 250 GB | 1 TB | 2.5 TB | 10 TB | 20 TB |
| 0.5 €/mo | 1 €/mo | 2 €/mo | 4 €/mo | 10 €/mo | 20 €/mo | 60 €/mo | 120 €/mo |
| 6 €/y | 12 €/y | 24 €/y | 48 €/y | 120 €/y | 240 €/y | 720 €/y | 1,440 €/y |
*prices as of 27. 7. 2022. Current prices are always available on our pricing page.
Icedrive offers three tiers of paid plans, which can be purchased on a monthly, yearly, or lifetime basis. You can get started with a free plan which includes 10 GB of storage space and a bandwidth limit of 3 GB per day.
| Lite | Pro | Pro + |
| --- | --- | --- |
| 150 GB | 1 TB | 5 TB |
| n/a | 4.99 €/mo | 17.99 €/m |
| 21.99 €/y | 49.99 €/y | 179.99 €/y |
| 89 € | 199 € | 499 € |
*prices as of 27. 7. 2022.
Verdict: Icedrive has lower prices for the same amount of storage, but Koofr offers more storage sizes and unlimited bandwidth.
Privacy and personal data
Koofr and Icedrive are both based in Europe, so they are both subject to tough privacy laws. Both providers place high importance on data privacy and security.
Koofr is based in EU member state Slovenia, and all its data centers are located in the EU as well. This means it is regulated by and compliant with the GDPR. What does this mean?
Well, Koofr has a strict no-tracking policy. It doesn't use any pixels or cookies to track you on its site and around the web. This is something you can easily test by using your browser's Inspect feature. Only data needed to provide the cloud storage service is collected, nothing more.
In line with its philosophy of transparency, Koofr has also broken down its Privacy Policy into easy-to-understand bullet points.
As for Icedrive - even though it is based in the UK, they've been around long enough to ensure GDPR compliance in spite of potential changes related to Brexit. The option to download or delete collected personal data is supported in-app, and the company has an opt-in approach to all communications (except system notifications). However, as some of their servers are located in the US, they also need to comply with US laws such as DMCA.
Like Koofr, Icedrive also does not use third-party trackers like Google Analytics.
Though it's easily accessible in its legal center, Icedrive's Privacy Policy is not the most user-friendly.
Verdict: Both providers have a similar approach to privacy, with some minor differences in implementation.
Security and encryption
Privacy-oriented cloud storage enthusiasts have debated whether to favor client-side or server-side encryption. There are benefits and drawbacks to each approach, and solutions vary across the industry.
Let's clear up some terms first. Server-side encryption simply means that data is encrypted the moment a data package leaves your computer, not before. Nobody can access the data without your private key (your user password), but there are mechanisms that allow you to recover your account in case you lose it.
The main disadvantage of server-side encryption is that if a third party somehow gains access to your account, they can access all of your files. We wrote a few tips on how to prevent this.
With client-side encryption, the difference is that the data is encrypted before it is handed off to the server. This means that the server cannot access the encrypted content - the provider technically cannot see what you've uploaded. This concept is also called zero-knowledge encryption.
The downside of the zero-knowledge encryption approach is that in case you forget or lose your password, your data will be permanently lost. There is no way of retrieving it. Zero-knowledge encryption also doesn't allow for block-level sync.
Back to our comparison. Icedrive offers client-side encryption as a paid feature available with all paid subscription plans.
Koofr believes in full transparency, so only implementation of strong, open-source encryption would be acceptable. A closed-source encryption system as embedded by other competitors leaves users with no way of verifying it actually works as intended. For the time being, Koofr has decided not to implement client-side encryption into its product yet, although this remains a long-term goal (more on this in our Reddit comment). You can still set up client-side encryption by using rclone or with Cryptomator.
Verdict: Icedrive offers closed-source client-side encryption while Koofr recommends using open-source command-line tool rclone to achieve this.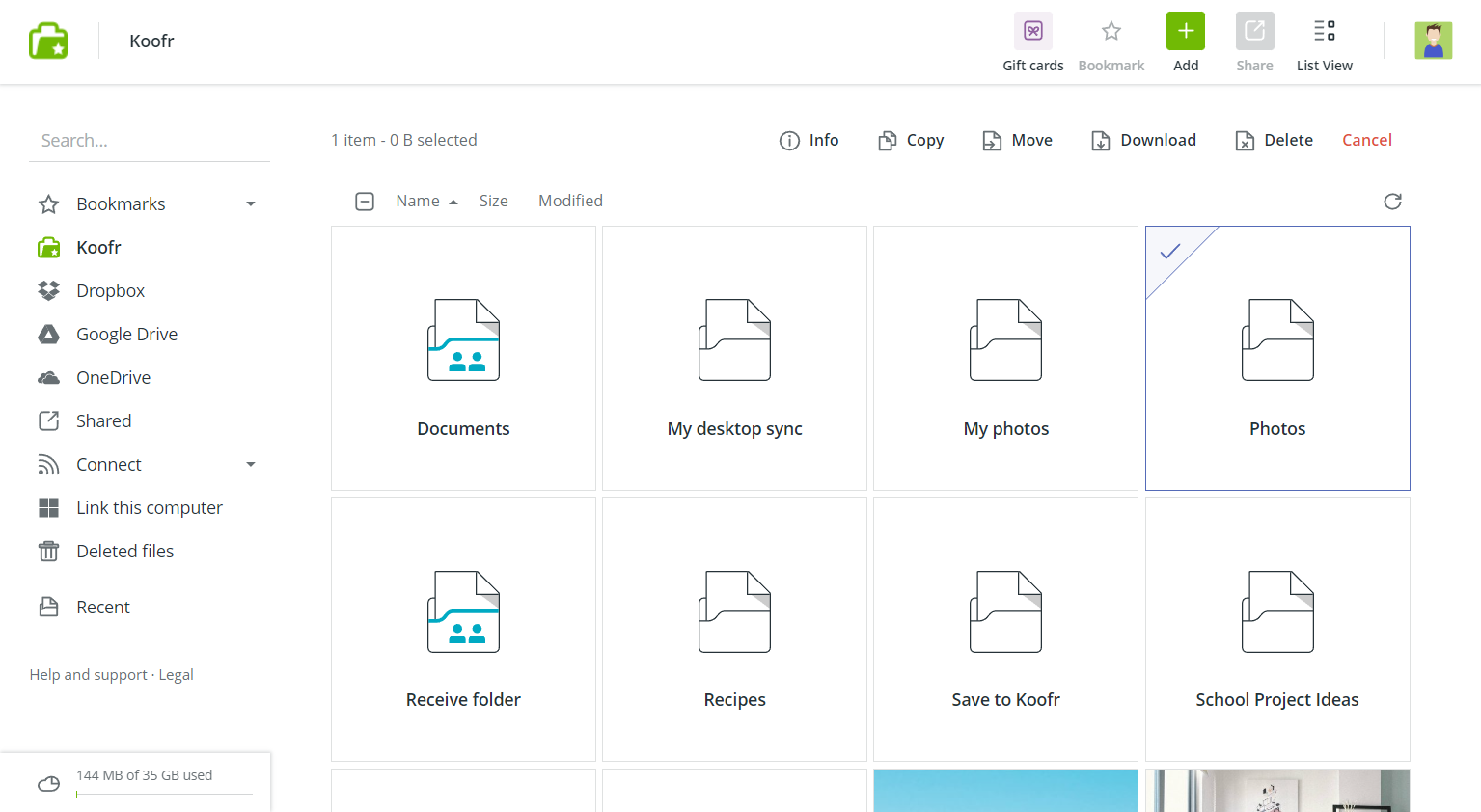 Connectivity and integrations
While Koofr and Icedrive have been found to be relatively equal so far in this comparison, connectivity and integrated services are where their paths diverge.
One of Koofr's unique features is the option to connect your Dropbox, Google Drive, or Microsoft OneDrive to your cloud storage and manage files directly. The unified search engine allows you to search for files and documents across all connected accounts.
With Koofr's Microsoft Office for the web solution, paid account users can work on their Office documents in the browser, without installing extra software. Koofr is also one of the few trusted services you can choose to download your data in Facebook's Data Transfer Tool.
You can also connect various third-party applications to Koofr via WebDAV and allow them to access your cloud storage directly. Some open-source examples include the Zotero citation management tool, the KeePassXC password vault software, and the Joplin note-taking app.
Icedrive currently does not feature any plugins or integrations. WebDAV is available only to paid users.
Verdict: Koofr offers a variety of connectivity options and integrations while with Icedrive, this is very limited.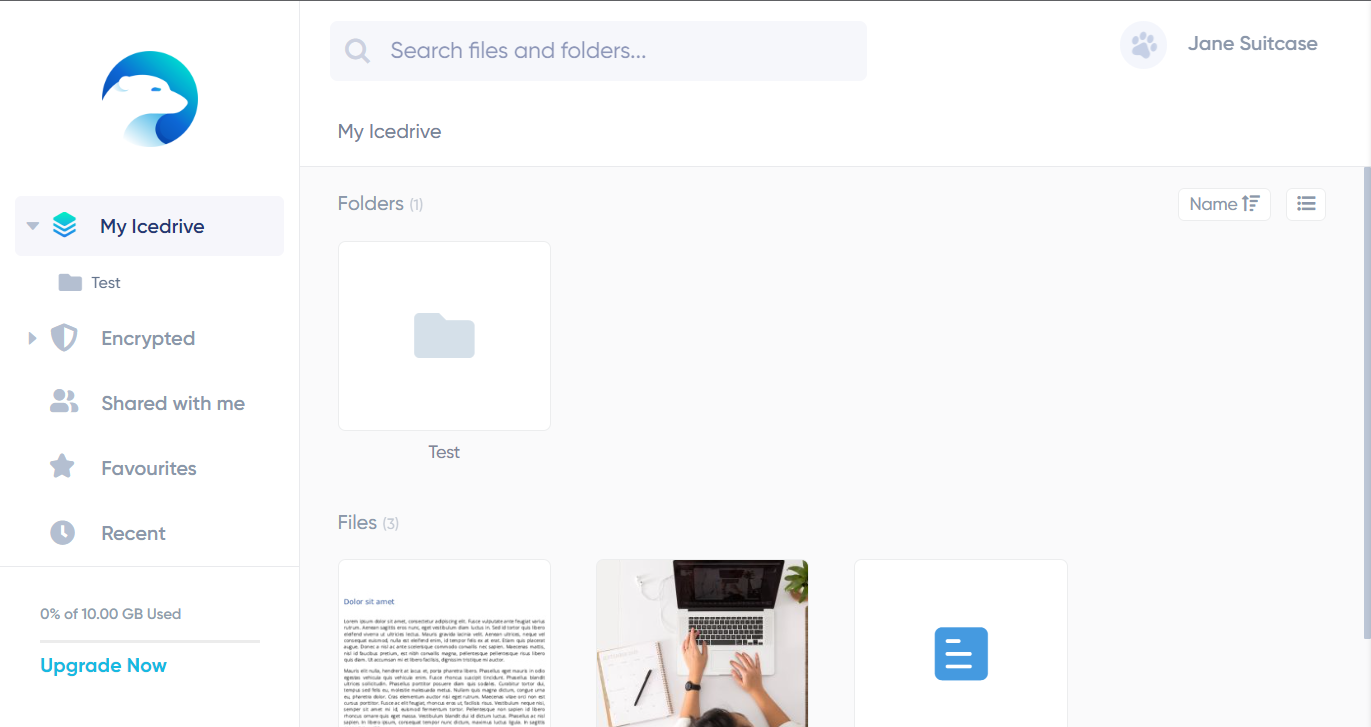 Usability and features
Many features we've come to expect from cloud storage providers are supported by both Koofr and Icedrive. Some examples include versioning, sharing files with users and via public links, and a similarly organized dashboard. Both products have a modern, clean design and similar user experience, and they are accessible across various devices (mobile, desktop, web app).
Features that give Koofr an edge include the following:
the ability to create and edit files in the cloud (.txt, .docx, .pptx, .xlsx files)
online image editor
powerful keyboard shortcuts
local folders allow you to access and share files from your remote computer directly, without transferring them to Koofr (paid accounts only)
Features that give Icedrive an edge include:
offers more 2FA options including FIDO/U2F keys and SMS/text messaging
preserves last modified timestamps of files uploaded by drag-and-drop*
*Note: Koofr preserves timestamps in syncs or uploads via rclone or webDAV, currently not on web and mobile upload
Verdict: Koofr offers more powerful features.
Conclusion
Choosing between Koofr and Icedrive may be tough, as they are both solid services that value their users' privacy very highly. Many of their core cloud storage features are similar, too.
In the end, it comes down to a trade-off: Icedrive is slightly more affordable but offers no productivity or connectivity features. It is relatively new on the market, having launched about 3 years ago as of this writing.
On the other hand, Koofr's price point reflects a realistic cost required to support an independent, profitable company with a 10-year track record and a team of experts dedicated to continuous product development and growth. This is completely in line with Koofr's philosophy of transparency. Koofr's cloud storage service is feature-rich, so users really get the most bang for their buck while staying in control of their data privacy.
If you're looking for a powerful productivity toolset, connectivity at your fingertips, and tailored and easily expandable storage space, why not give Koofr a try?
---
Want to talk to us? Join us on the Koofr subreddit!