How Koofr can help you boost your productivity at work
Is one of your resolutions to be more productive and use your time in the office better this year? There is after all never enough time to do everything we want. Read on and find out how you can increase your productivity with the help of Koofr and take that well-deserved coffee break when you finish your tasks early.
Productivity. A strangely elusive thing. Also, a word that describes the measure of the efficiency of a person or a company. It is a crucial thing, especially if you want to work smarter instead of more in terms of hours. And Koofr is here to help you.
How will cloud storage help you become more productive, you might ask? With our awesome features that can help you work faster (and smarter) and take that well-deserved coffee break when you finish early.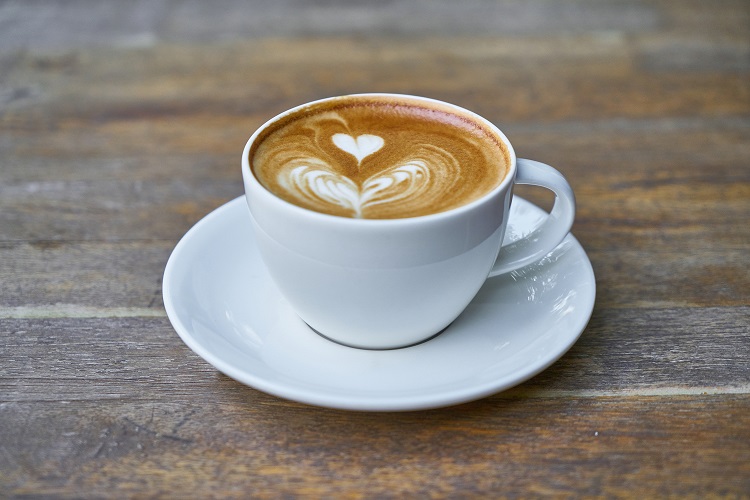 (1) Find what matters quickly, with our advanced search options
With our search options, you can search in any specific location inside your Koofr account. You can search for almost any file type. Our search supports searching for files, folders, images, audio, video, pdf files, documents, sheets, presentations, archives, code and text. To use it click into the Search bar and then on the downward-facing arrow to see all of the available search options.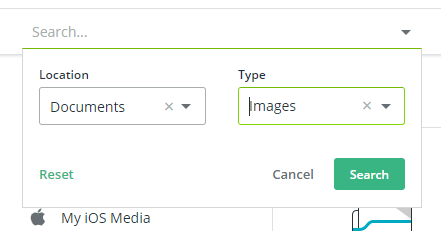 (2) Quickly select all of your files inside a folder by extension
The select box search bar can help you select all of the files of a specific type inside a folder and its subfolders. No more wasting time with extended searches for your files. When you are in a chosen folder inside your Koofr account, right-click on the select box, type in, for example, .pdf and click Select.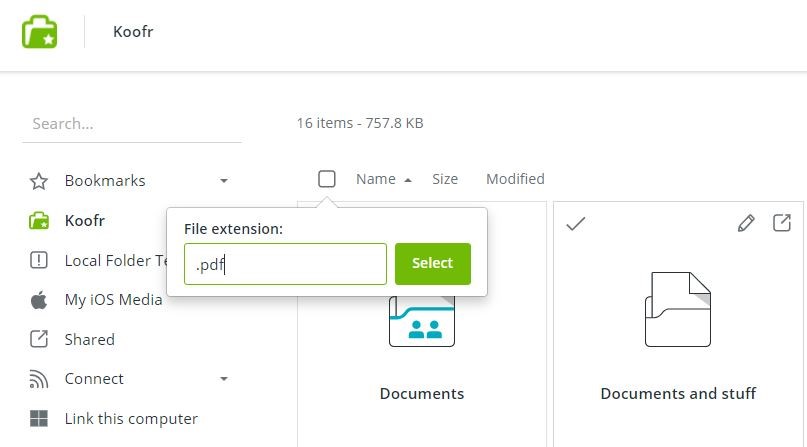 Find all of the pdf files inside a current folder and its subfolders.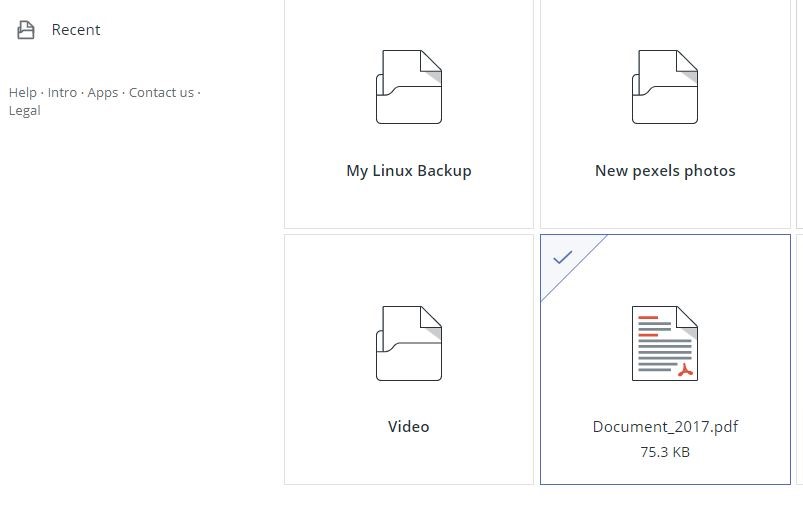 (3) Organize your files with the rename multiple files feature
No more wasting time renaming each file separately. This advanced renaming option enables you to rename your whole gallery (or something else) at the same time while giving you a chance to use additional renaming options: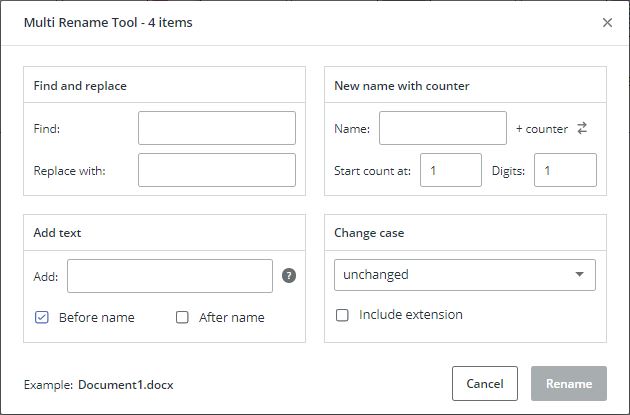 Find and replace a text in the name of the file/folder
Set a New name with counter option (for example from New Folder to New Folder 1)
Add text before or after the file/folder name
Change case in different ways
Click on the files/folders you want to rename to select them. When a checkmark appears in the upper left corner of the file/folder the file/folder is selected. The Rename multiple option will appear in the Editing menu. Choose the preferred settings and click Rename. If you are trying to organize a huge number of files this will help.
Note: This option is only available in the paid Koofr accounts.
(4) Quickly share a file with your colleagues
Are you ever in a hurry to get to (or out of) a meeting? If you need to share a file quickly, you can easily do that with the help of the Koofr web app. There you can share a file instantly – drag it from your computer and drop it in the Quick sharing field and Koofr will immediately create a link to the file. You can then share the link on social media or send it in an email.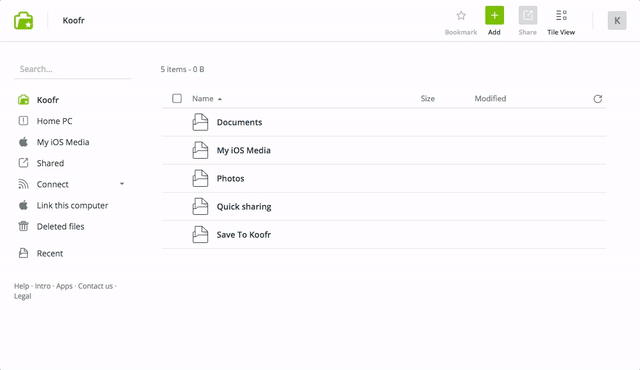 (5) Quickly save a picture or text with our Save to Koofr extensions
With our Save to Koofr extension that works with Firefox, Chrome and Brave browser you can save pictures, text and files with one click while you browse.

You can read more about the use of our Save to Koofr extension here:
Note: You can use the Chrome extension also with Brave browser.
(6) Automatically upload your work-related media to Koofr with our Android app
With our mobile apps, you can automatically upload your media files to your Koofr account. And if you are an Android owner you can also choose which folders in your Gallery are included in the automatic uploads of media. Open the Media upload settings of the Koofr app where you'll find a clickable option named Exclude folders. There you will be able to include or exclude folders from automatic upload to your My Android Media folder.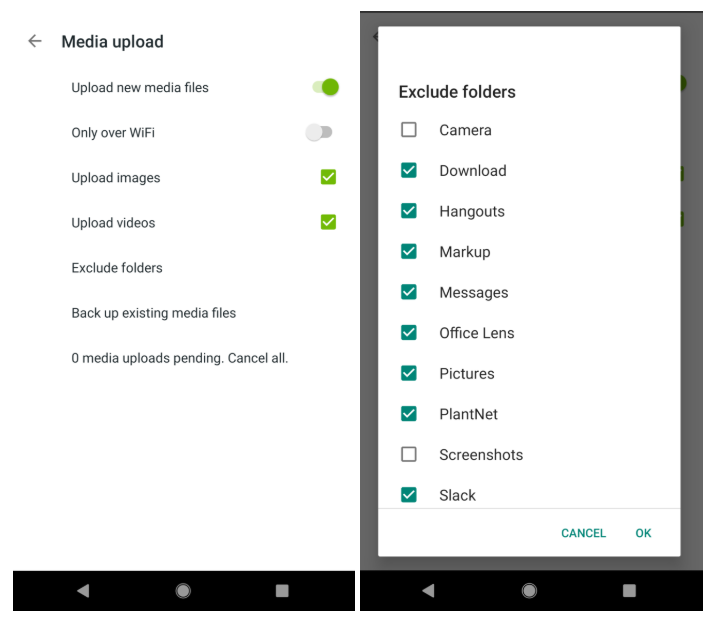 Note: Only folders that contain image or video files will be shown in the list.
(7) Synchronize your files across your devices
You can use the Koofr desktop app to synchronize your files across your devices. Check out how to set it up here. If you are writing your meeting notes on your laptop at work and want to look at them at home, you can automatically sync them to Koofr with our Koofr desktop app. They will be accessible from anywhere (as long as you have an internet connection), through any of the Koofr apps. This means you can also easily access them from your mobile device when necessary. Your files are always waiting for you in your Koofr account, as long as you synced them. You can even have more computers synced to the same Koofr folder. Read more about that option in our blog post.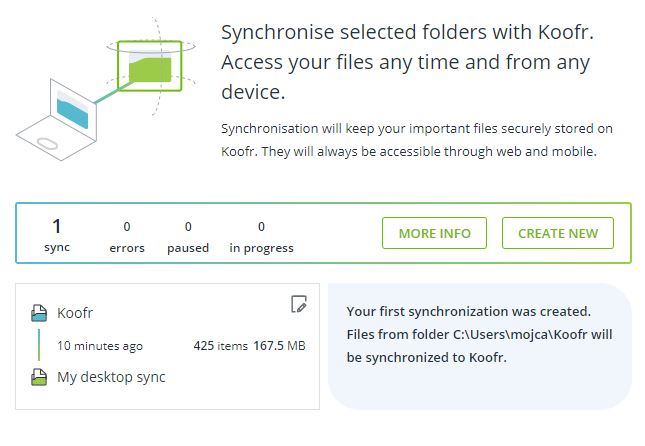 (8) Set up Koofr as a Network drive
This is an option we wrote about recently in one of our previous posts. It is a convenient option if you want to access your Koofr files with the file manager on your computer. You can also easily set it up through Koofr's desktop app as shown it the picture below.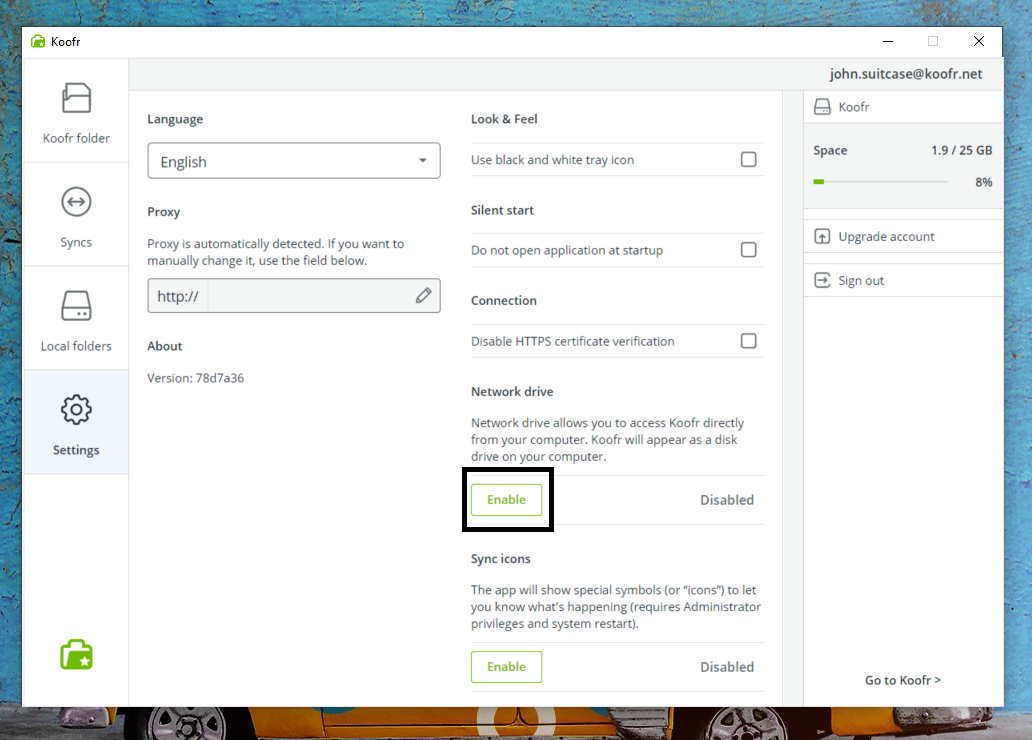 Once you set up Koofr as a network drive, you will see Koofr in the folder structure on your computer, making accessing your Koofr data even faster.
(9) Back up your important data to Koofr
With the help of the chosen back-up software, you can easily, regularly and automatically back-up all of your important files to Koofr. Making it impossible to lose your latest project or the draft of your yearly goals proposal. Read more about how to set up a backup with the help of Koofr for Windows, Linux or Mac in our blog.
(10) View your documents in Koofr
Last but not least, you can view your documents inside the Koofr web app, with the integrated document viewer. When you open a document in Koofr, it will open inside the web app. You can share a link to it with your co-workers, rename it, download it or delete it by clicking on the appropriate button in the toolbar, while the document is open in the viewer.

We hope your productivity increases with our help. Remember that increasing your productivity is always a work in progress. Being more productive doesn't necessarily mean getting more things done each day. It can also mean getting important things done consistently.
Want to talk to us? Join us on the Koofr subreddit!